Release Debut Indie-Electronic Record
DIGITAL BONFIRE

Available To Stream HERE
Following the release of their icy singles "Cold Sweat" and "Changes," leaning deeper into that hypnotizing computational glimmer, Philadelphia electronic-indie duo DECOUPLR (Bailey Walker and Adam Laub) have released their debut full-length album DIGITAL BONFIRE today, February 19, 2021.
Beginning 2019 in West Philadelphia, DECOUPLR came to be when they realized that meshing Bailey Walker's long history of live vocal performance with Adam Laub's world of electronic music (and electronics in general) created a unique sound altogether. Their debut DIGITAL BONFIRE is an 11 track album that offers a fresh take on the digital world's fusion with the physical.
Influenced by musicians like Trent Reznor, Sylvan Esso, and Flying Lotus, the album ranges from dreamy and sweet with tracks like "Keepsake" and "Osage", to punchy and playful on "Changes" and "Punchline". The album draws from the helpless feelings of countless pandemic hours spent sitting on voice chats and video calls, while at the same time snarkily expressing the hopefulness found in the changing forms of communication within our closest relationships.
On DIGITAL BONFIRE, lyrically, Walker opens up about everything from nomadically moving around the country, to growing up with touring musicians, to the feelings of dread and anxiety we have in our everyday conversations. Musically, Laub pulls deep, live sampled hip hop drums, mellotron flutes, vintage synth pads and twinkly arpeggiators to create a palette of electronic sounds that range from hip hop to dance. The digital age is a tether that keeps people connected no matter where they are, and DIGITAL BONFIRE explores the ever increasing feelings of loneliness that are associated with this new connection. It embraces the oftentimes cold nature of electronic music as a framework to express the very real feelings we have surrounding the uncertainty of our modern world.
DIGITAL BONFIRE by DECOUPLR is available to stream on all DSP's today, February 19, 2021.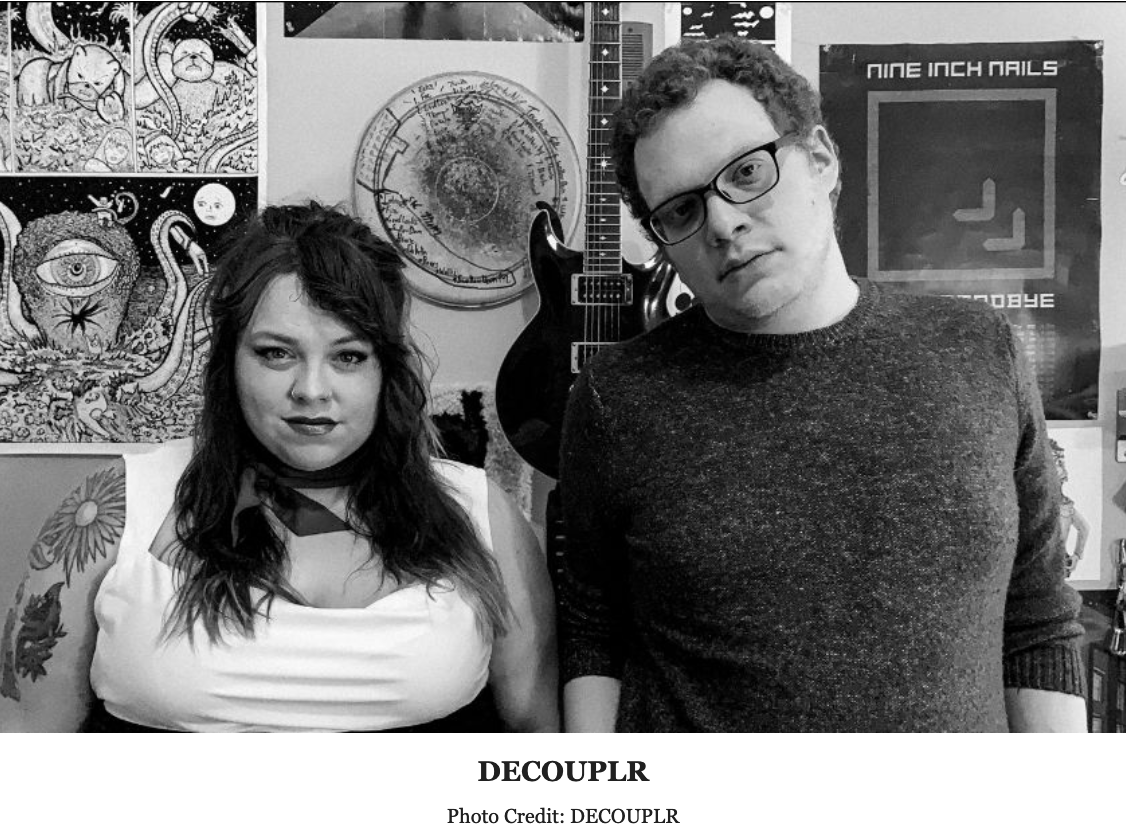 BAILEY WALKER
Inspired by musicians such as Lianne La Havas and Talking Heads, Bailey started her solo career in Savannah, GA performing with local musicians Rich Animals. After recording a solo EP under the name Bailey Mae Walker at Low Watt Recording with Sean and Brendan Kelly of A Fragile Tomorrow, Walker moved to Philadelphia and began performing live with local neo soul group, Likebirds.
ADAM LAUB
A long time resident of the Philadelphia music scene, Laub played drums in local wacky indie pop band, OhBree, before starting Sleepless Sound Studio with other Philadelphia area recording engineers. Laub has released electronic and trip hop music under the name <radioaddict> and annually produces and performs in a 24 hour long live streamed noise and ambient music performance as a member of the noise and ambient music collective, Tidal Archive.
DECOUPLR "Changes"
Link/Embed: https://youtu.be/3JNg-nSgf74
Smartlink: https://distrokid.com/hyperfollow/decouplr/changes