As fashion continuously evolves, it's so exciting to see what designers are coming up with. Some of my personal favorites are the up-and-coming ones who bring something fresh and unique to the table! Designer Julia Edwards does just that. Young and extremely talented, he is definitely someone to watch. Aiming for a more minimalistic approach, that is exactly what gives his clothing a loud voice. Here at VULKAN, we had the chance to speak with him and get to know a bit more about who he is, where his designs come from, and more. Enjoy!
What inspired you? 
When it comes to inspiration it comes from many things. For me, it's strongly influenced by my siblings. Always creatively expressively which in turn floats onto me. All through time they have lent me their fashion expertise and style.
Do you recall the first piece you ever made? Tell us more about it. 
The first Pocket Nails piece? There was a baby blue pair of sweat shorts. I was still getting to know embroidery at the time, but this was the first piece that came out precise and clean. I put four of the Pocket Nails stars on the legs. Two on each side. The two sets of stars were magenta and purple.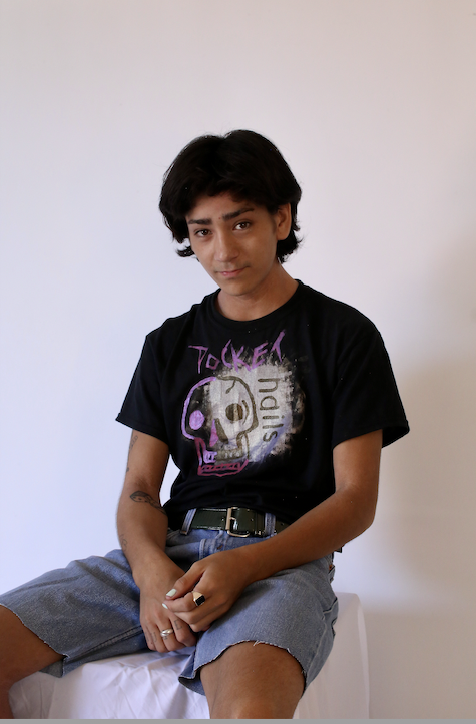 What does your logo mean to you? 
The logo goes means a lot. Maybe not just to me perhaps to others too… open to interpretation. I always wanted minimalism to be what's recognizable. But overall I wanted something original and represented myself. The singular, angled nail feels very sparse but holds so much space at the same time.
When people purchase a piece from your collection, what do you hope they will feel?
Purchasing Pocket Nails is only part of what brings me joy. What I believe people feel when they wear a piece I've designed is confidence. I find a lot of the clothes I design are a bit different from what everyone else is wearing. Wearing Pocket Nails is sticking out, it's noticeable. This is why I find my clothes inspire confidence.
Growing up, what relationship did you have with fashion?
I was constantly surrounded by thrift stores and flea markets. My mother would be the origin of this. Coming along as the youngest child, most of the time it was just us two. We would scourge the thrift stores of Southern California finding deals and discounted designer. My mom had such a sharp eye for finding the coolest items. A time I remember fondly; she pulled an authentic Burberry coat out of a Goodwill Outlet store bin. This was 2009 – 2013.
Walk us through a typical day of designing pieces. What steps do you take? 
A day of designing starts a little slow. It'll start with me drawing up a piece of clothing on paper or in Procreate. Typically it may be a jacket, button-up, or some interesting jeans. Once there's an idea I like I'll get to the fabric. Picking and mixing materials take the most brainpower. Cutting can normally take some time but it's quality that counts. Once things are cut and sewn I head back to the drawing board to find some designs to embroider and/or make patches. Finally when a piece is assembled, embroidered, and sewn it's complete! After this, I enjoy doing some personal modeling of the piece.
If you could collab with any designer, who would you pick and why?

Yohji Yamamoto. Yohji is a very big inspiration to a lot of my designs. Some of my favorites are his work with denim, and also Y-3. My favorite season of Y-3 was SS03. So many amazing pieces in that collection. Yamamoto has always made clothes that aren't quite normal, and that's part of my ethos. Going against the grain in a sense.
What does fashion mean to you? 
Fashion is a mental state. For many people, it's how they express themselves creatively. But this relates to how few people have their purpose in life. For me, fashion is a creative outlet but moreover, fashion is my purpose in life.
Where do you see yourself taking this company to? 
Eventually, I would love to gain some serious traction for Pocket Nails with the world. It would be really fun to see hard work pay off. But for the time being, right now I'm just enjoying the process. This is by far the best time of my life designing clothes and diving into the deep end of the fashion industry. For how long it's been I'm amazed at who I've already met and the chances I've been given.
It's five years from now, where are you? What are you doing? 
These types of questions are my kryptonite. I've always had such a nomadic lifestyle that it's hard to estimate something so far ahead. But I'll gladly cast some whimsical foreshadowing… In five years I'll still be designing and making clothes for the world. Possibly have some good people working alongside me and living the creative dream. I'd hope to have a physical location for Pocket Nails… Maybe Melrose!
@VULKANmag
Brand POCKET NAILS @pocket__nails
Interview ALEXANDRA BONNET @alexbonnetwrites