Our favorite up and coming artist of the week is musican dani bby. While dani bby is no stranger to the music industry, we are excited to see how she has evolved as an artist finding strength in her craft as a method to battling depression and anxiety. Her raw energy and emotion can be heard in the music she produces, which we know will leave the listener wanting more. A clear artist with an eye for an aesthetic (love her single cover) and ear for music (lover her next single), dani bby was great to talk to us on her growing career, single "I Grew Up in LA" upcoming collaboration with other artists including Willow Smith and more!
Thank you for taking the time to speak with us. So who is dani bby? Where does your artist name come from?
I'm just a girl that used to be a shit show and is now trying to figure out who she is through her music. In a way it's my autobiography up to this point, Memoirs of a Drunk Girl. The name, dani bby represents the rebirth of my sober self. Learning to walk, talk, act and live again.
With so many new artists and genres in the music/entertainment world, how would you best describe your music.
Non – fiction pop
What message / mood do you want listeners to come out with from listening to your music?
I want people to feel a little less lonely in this extremely alienating world.
Please tell me of your upcoming songs and projects including "I Grew Up in LA".
I Grew Up in LA came to me at about 5 in the morning. I couldn't sleep, which happens often because I struggle with depression and anxiety, and whenever I have moments like that I turn to my music. It was a quiet morning and it just kind of poured out of me. It started as a really angsty acoustic song and once I got in the studio (Redstar Recording) with my engineer and producer (Tim Sonnefeld) it really came to life. We were able to juxtapose the rawness of the lyrics with a PCH top-down vibe beat. Putting my trauma and struggles into my music is how I heal. We did a pretty incredible job of painting my 30 years of life into one song.
Another song that will be coming out in the next couple of months is "Swipe Right" It's a collaboration with Willow Smith and no joke, I still can't believe that it's actually a reality. She is someone I look up to so much for so many different reasons and being able to create with her is absolutely surreal. We did something on this song that really no one has done before and I am so excited to share it with the world. Fingers crossed we wrote 2021's breakup anthem.
What are some of the challenges in producing and writing? 
I'm my own toughest critic and biggest bully. I'm also a perfectionist, if I feel something is falling short then I end up scratching it and redoing it over and over again until either it's finished, or I go so far down the rabbit hole it ends up in my music memory box.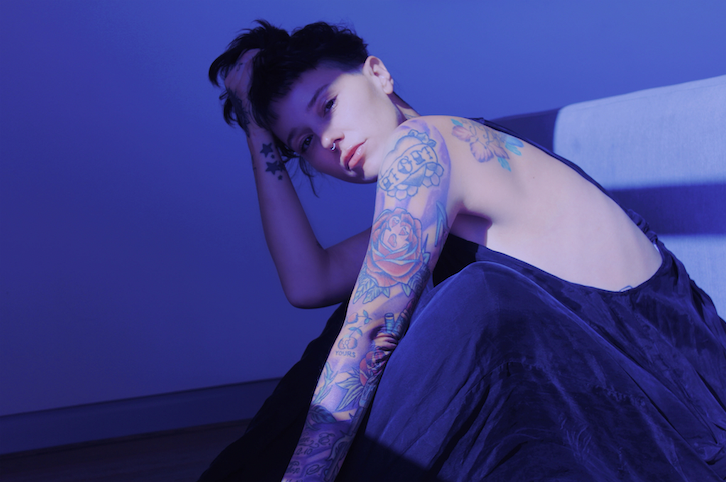 What has been the most memorable moment in your career so far?
Hands down working with Willow on our upcoming single. Even if no one ever heard that song and it just stayed on my Dropbox for the rest of my life, it's a moment I will never forget.
Who would you say are some of your biggest influences and/or acts you would love to collaborate with? What inspires you to create?
Lyrically, Ani Di Franco has inspired me since I was a kid. Her music is so raw and you can feel her pain when she sings. That hits me hard. Then on the complete opposite side of the spectrum, I have extreme respect for Machine Gun Kelly as an artist. I remember the first time I heard "Merry Go Round" I legit broke down and cried because I am a recovering alcoholic/addict. That song reminded me of my own personal struggles so it hit close to home. I think I would actually pass out if ever the day came that I got to work with him. As to what inspires me? Life. Every interaction, failure, disappointment, achievement… it's all this whirlwind that just feels so big, and my music is a chance to reflect and savor it.
What do you hope to achieve / music goals in the new year?
Honestly, I hope I just get to keep writing, recording and releasing new music. It's a gift to be able to do what I love.
How would you hope to influence your audience who listen to your music? Hope do you hope to inspire other artists and the music scene as a whole?
I want to encourage deep self-reflection and self-love to those who listen to my music. And I hope to inspire authenticity with other artists–write about who you are, not about who you want people to think you are.
Where can we find you on social media / keep tabs on you?
IG: swiperightbby
Twitter: swiperightbby
Tiktok: danibby
Photo Credit by Willow Smith