At a time when the words "artist" and "talent" have driven collaborations from people in lanes they have minimal experience, April 94 is out to show that those "skills" still matter. From painting Rodeo Drive murals to producing beats for themselves and others. From performing jazz music to designing apparel, these two friends from New York have done work in almost every aspect of art. You've never seen the phrase "You learn something new everyday" be as fitting as it is on their path.
thatdudebarry got to chop it up with Flow Namath and Nick Scary about their upbringing, managing so many different talents, and their upcoming project "Waiting On the Rain."
TDB: What's going on, men? Your band was previously called BEC, but recently you've done some rebranding and now go by April 94. Explain where that comes from.
Flow Namath: We were both born in April of 94, me on the 7th and Scary the 26th. A few years ago when we were rebranding and reminiscing on names, we wanted something that fit the darker vibe we've been going with and it made sense. There's a cool story behind it and it ties into the rainy vibe and growth and rebirth.
TDB: So with your birthdays in April and a project coming soon, this is looking like a big month for you guys, huh? Almost like YOUR month.
Scary: Definitely! We have this project that we're gonna do a "staggered release" so we'll be putting something out every week.
Flow: Kind of in the way that Drake always mentions "October's Very Own" and you can start to expect something from him around that time. Not that it was modeled after him, but with our name being April 94 how could we not bring something special out at that time of the year.
TDB: Flow Namath- I know you're credited with producing a bunch of April 94's recent music. It's very versatile, and a lot of different sounds. What influenced that- where does that sound  come from?
Flow: I've produced everything we've done since changing the name and rebranding. I think it's to have more control over our sound. My influence comes from all over the place and I think that's why our style is all over the place haha. I Grew up listening to 70s soul like The Isley Brothers and Al Green. My Dad schooled me on classic rock and my brother made me a "Hip-Hop Head." My first exposure to playing music was playing Jazz music, when I played the saxophone. From loving all those genres, we would never want to make just one type of music. That translates to my production, as well.
TDB: So you grew up playing the Sax- I see on your Instagram you play the guitar and piano too. When did you pick that up? 
Flow: The only instrument i've been taught by someone was the sax, but over the years I taught myself how to play the guitar and the piano. My sister bought a really shitty casio keyboard from a garage sale when I was 7, and she never touched it. I banged on it for years until she bought a guitar with three strings she never touched, either. After some years I ended up at least being serviceable to them both, I'd say haha.
TDB: That's pretty crazy. Scary, I see on your Instagram that you do a lot of artwork on top of the music. Was producing beats and making artwork something you always knew you guys wanted to pursue, did your talents come into demand, or were you guys sorta determined to show you could handle every aspect of your brand at a high level?
Scary: A little bit of each. My dad is an artist so he had us drawing at age 3. It never seemed like I had to pick one or the other. At the same time it also helps us add more tools to the toolbox. Like you said, it allows us to do everything ourselves and since we know exactly how we want things to be and can also execute them, we can cut out the middle man. On top of the fact that I started getting asked to create art for other people. I recently did a Kobe mural on Rodeo Drive across the street from Hermes!
Flow: And it works well that we have each other to bounce ideas, so in a way we're a team that we didn't have to hire. We're the production, the lyrics, the recording studio, the graphic design, the clothing design, and we love that.
TDB: We're in a time where many artists and creatives are putting their hand in different lanes. Art, Music, Sports, and Style have always been synonymous, but there's few who have been able to actually be a part of more than one. Collaborating or having a team is one thing, but having a professional level skill set for multiple is rare. There's cases like Master P, rapped and played in the NBA, or Tyler, the Creator who started with drawing the donut logo then became elite in music and fashion. You're on that path. What do you think about that?
Scary: I think it's dope because that's how you make waves. By doing shit no one has done, or even if it has been, you can continue to push it forward. I don't look at music and art separately. When you get to a certain point with one thing, you need other lanes. Some people don't know what's next, but having hands in all lanes gives you longevity.  I've met so many people on an art vibe and next thing you know they introduce me to someone in the music lane, next thing you know someone they know is asking me to design a logo for some apparel. It all goes hand in hand.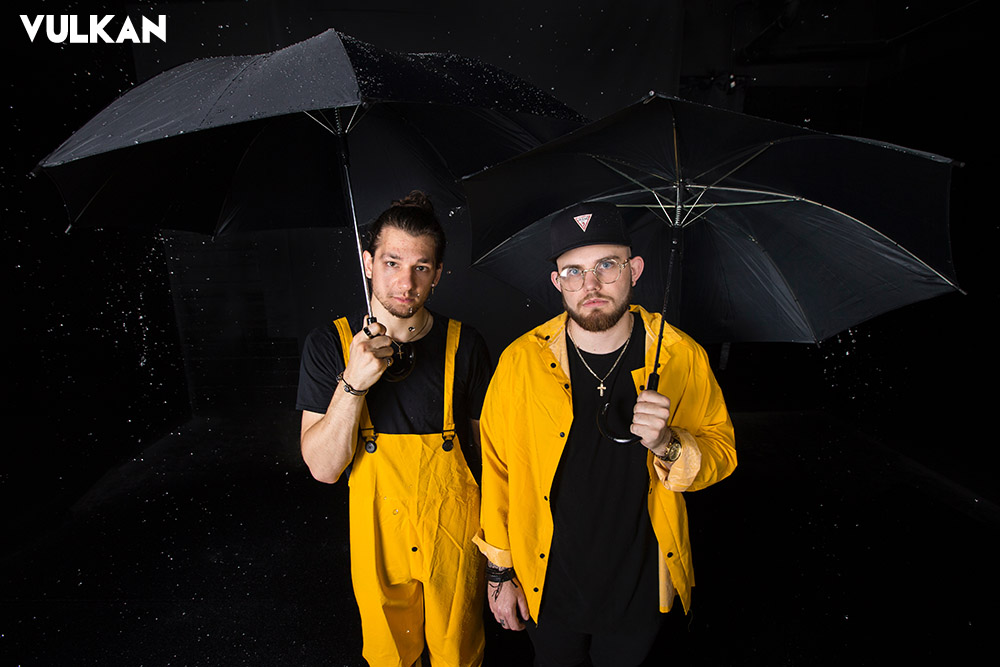 TDB: I once heard someone say if you have a backup plan, you're not 100% in on plan A. But these aren't backup plans for you guys. How do you manage so many side gigs and talents on top of April 94 without feeling like "damn, I haven't laid a verse in a while, or haven't drawn in a while" or "I don't have enough time or energy?"
Flow:That's an ongoing thing. It's always adjusting. We try not to be too strict, because in a way- not that we're godlike or savants- but it's just so natural to us. We'd be doing these things no matter what, so whenever they fall into place is when they fall into place, ya know?  At the same time, everyone wants to be the best and be more consistent, so we're always trying to get better and grow in our process.
TDB: People are putting out so much music. More than ever right now, and maybe that has to do with limited range in sound and things like that. Some people say artists like DaBaby are making the same song. Opposed to artists like JCole with KOD who wanted to prove he could join a different wave, but stay true to himself. And that might take more time. How do you guys find a balance in your creative process and not compromise your unique and authentic sound, but still keep up with the times?
Flow: We don't try too hard. We really just let it all come naturally. We're not trying to make one type of music. We love DaBaby, but we have a different process because we're trying to do more than just Rap. At the same time, we love that genres are blending lately because it allows us to truly hone into our style- which has been very eclectic and diverse, lately.
TDB: Tell me about your upcoming EP "Waiting on The Rain" and what type of vibes we can expect from that.
Scary: The whole concept is relevant to the time we're in. With this virus going around and everyone being quarantined in their houses- everything is unexpected and no one knows what's going on. So we played with waiting on the rain as a way to say that no one knows what is happening or when it's happening, but we're all just waiting.
Flow:The rain really represents what's next to come. Is the rain going to get worse? Is it almost over? Right now we don't know if it's getting better or getting worse. Kind of like when you first hear it's gonna rain today you're thinking "can I go out today? Is it actually gonna rain? When does it start raining? When will it end?" The music itself will be something you can listen to while you do anything you're doing during quarantine. Vibes that touch all of the different feelings and thoughts, some positive and some not, that we're all experiencing right now.
TDB: Describe Flow Namath, Nick Scary, and April 94
Scary: As a group I'd say we're versatile. our sound and our vibe is just what we're all feeling.  25 year olds who are going through a lot of different things at this time trying to figure it out. You've felt on top of the world at times and you've felt super low sometimes, but so many people expect everything to be figured out for us by now. We're just capturing all the deepness and variety of things we go through.
Personally, I'd just say I'm an all around dope artist. I just do it strictly for the love and I wanna talk to people through all sorts of art.
Flow: I just wanna comfort people. We're pretty fucking normal people. We're goofballs 95%  of the time, but we have a firm grasp on reality and that includes the tough things that most people tend to ignore or suppress. Even as Rappers we're not afraid to try new things, or be emotional, or accept the things that go on in life. When it comes to music I feel okay saying who I am or what I think about something. Everything is so authentic to me. Lyrically,  "real" rap is making somewhat of a comeback. The early 2000s got a little flashy, which was big for the culture. But it's coming back to a time where people can have fun like the new age and speak truth like the old days to get people through their life and whatever they may be going through.
Go listen to April 94's first track, Masterpiece, from their new EP Waiting on The Rain (Streaming on all platforms). And follow them on instagram for new music and merch/ art giveaways!
Credits:
Talent: April '94 @_april94_
Flow Namath @flow_namath
Nick Scary @nickscary Nickscary.com
Creative Director/Stylist/Writer- Parrish McKnight @thatdudebarry
Photos- Zach Frank @z_frank
Album Cover @thatdudebarrymedia x @nickscary