Playing Callie Shaw in the newest Hulu original series "The Hardy Boys" international actress Keana Lyn talks to Vulkan about her new show, character, background and what is to come from the emerging actress that will one day be a household recognized name.
Q: Do you recall the moment you knew you wanted to be part of the entertainment industry?
I began performing when I was really young, and so for me, acting has always felt like an escape. Going to set always felt like I was part of some distant fantasy world, where there were no limits. No rules. Just a safe space to play and explore. Being introduced to acting so early on I think enabled me to have a very impartial view on what the business was. And so I was able to pursue it as my passion and purpose rather than as a "job". I'm so grateful for that.
Q: Tell us about "The Hardy Boys", your character Callie Shaw, and what people can expect to see from you in the show.
The Hardy Boys is really one of those shows that 'everyone' can fall in love with. There's mystery, there's adventure, there's grit, and there's a whole lotta heart. My character Callie Shaw is taken from the original book series but is totally her own person when we meet her. In this adaptation, the gals of the Hardy Boys gang have much greater influence and are really brought to the forefront of uncovering their town's secrets. I learned so much from playing Callie, I tapped into a lot of what my own vulnerabilities were as a teenager, as a young woman trying to find my voice, and that allowed me to elevate where I drew inspiration from. I truly believe a lot of people will recognize themselves in Callie…or"Cal" as her friends call her.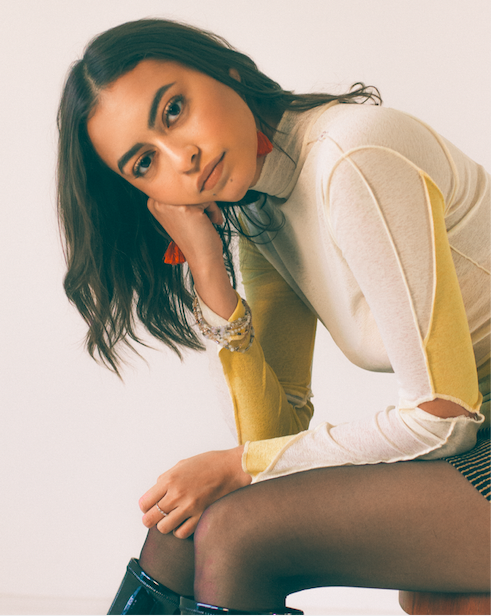 Q: How did you prepare to get into character? Did you face any sort of challenge in portraying your character?
I'd listen to a lot of new wave and English rock in my trailer before filming! There is so much about '80s music and film that embodies the youth culture of that era, and I became such a fan of early John Hughes, Nora Ephron, and Cameron Crowe flicks. I wanted Callie to feel as authentic as possible while still playing contemporary. So for me, it was always about playing true to the character and her story, but then I found so much power and catharsis in seeing that reflected back at me. And I think giving her as much of "me" as possible is what was the most challenging and rewarding aspect of her portrayal. Like Callie, I went through a demanding period of growth and stuck with my guns and made it through on the other side, and I'm hoping this message of resilience and determination resonates with others.
Q: What was it like filming something set back in the 80s?
So fun. I've wanted to work on something set in a certain era for so long and the '80s was just so damn edgy… the hairstyles, the shoulder pads, the dance moves, the kitschiness of it all. I think what I loved most about this whole process was the wardrobe. We had an amazing stylist @jac_costumes who really developed our characters from our sneakers up! The costumes I wore just added such a personality and attitude to Callie and made the experience of curating who she was that much more collaborative.
The '80s were such a time of liberation for young people on screen and some of the best young female characters were conceived in this decade. I took a lot of responsibility in creating a female character that felt reminiscent of this era; someone who was both strong and flawed, confident yet insecure, mature while still trying to figure it all out. And I was lucky because I had a lot of great inspiration to draw from.
Q: As an actress, what do you hope to accomplish the most?
I want to use my voice to empower others, to bring people together, and to build community. I have dreams of producing and screenwriting in the near future and want to create safe spaces where people feel they belong, where they can celebrate representation across all fronts and be challenged by the experience. I want to work with people who look at this industry as a vehicle for social change and, on a larger scale, use their passion to shape the media landscape for future generations.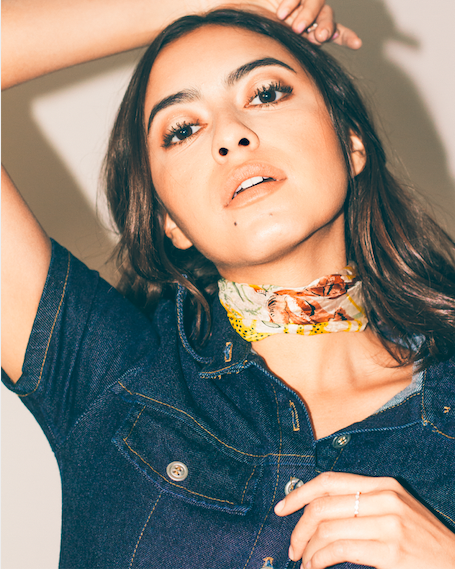 Q: How is this show different / similar from other projects you've worked on?
I'd had other series regular roles before, but the Hardy Boys felt like a really important next step in my career. As an artist, I am actively seeking to be pushed forward, to be challenged, to step out of my comfort zone. I am a strong believer that real life is what gives fiction its truth, and in turn, I felt playing Callie helped me to get a better understanding of myself and the role I play in society.
Q: Were you a fan of the original "Hardy Boys" franchise, did you happen to read any of the books prior to the project?
I had always known about the Hardy Boys books, whether that be from the school library or from the related Nancy Drew books we'd have to lay around the house. I knew how nostalgic the franchise was, and when I got booked for the role I dived into a number of them. They are such sweet and smart classic novels. I think the series really pulls from the autonomy and ambition of the boys in the original stories and incorporates a lot of new, modern elements to really make it a cross-generational viewing experience.
Q: What has been the most memorable moment in your career so far?
I think the most memorable moment for me was being the first person to show up to our cast read-through. I'm laughing thinking about it now, but I got there before anyone else and I literally just sat in this random office space by myself and absorbed everything that was about to happen. I knew it was going to change my life.
Q: As you are aware, Vulkan is a lifestyle and fashion magazine. Share with us what beauty means to you.
I think beauty can be found in anything that inspires you. Beauty has no rule book. No timeline. No expiry date. Beauty is anything that sparks your imagination…anything that sets your spirit free.
Q: What is a hidden talent of yours or something viewers may not know about you?
I have an identical twin sister (@maiiiiaa)! That's my favorite party trick. She's also an amazing actress and my rock. We've been through everything together and we'll make movies together some day soon about it. Not many people are lucky enough to have a twin… What's life like without one?
Q: Where can we find you on social media/keep tabs on you?
My instagram is @keanalyn_ <3 VULKAN, thank you!
By Alex Marie
Photographer: Domenic Mattaeo, @taeoultra
Stylist: Char Dunphy, @nevadaroseofficial_
H/M: Raquel Dailey, @raqueldaileymua