In the entertainment industry, things can get a little crazy at times. Just like any human being, crossing over to a more stressful side can happen but for Brittany Batchelder, every moment is an opportunity for growth and beauty. Having started as a kid model walking down runways, Batchelder has come a long way and has now been seen on multiple projects. On and off screen, she brings beauty and light. With much to offer, it is safe to say that Brittany Batchelder is on her true path of light. She stars in the current season of TNT's THE ALIENIST: ANGEL OF DARKNESS, so keep an eye out!
Do you recall the moment you knew you wanted to be part of the entertainment industry? 
As far back as I can remember I've known I wanted to be an entertainer. But if I had to choose an exact moment I would say it was when I walked in my first fashion show as kid model. I used to get so nervous before hitting the stage but once I got out there it was like I came alive. I felt my most comfortable on stage and that adrenaline rush was so fulfilling.
Tell us about The Alienist, your character Joanna Crawford, and what people can expect to see from you in the show.
The Alienist is a crime murder mystery set in New York City in 1896. In the late 1800's Doctors who studied the minds of serial killers were called Alienists. The alienist, Dr. Kreizler and John Moore a writer at the NY Times set out to find the serial killer of the recent murder that occurs. My character Joanna Crawford is the niece of Cyrus Montrose who is Dr. Kreizler's bodyguard and driver. Joanna is an aspiring writer and has just graduated from college and returned to New York City. This season you can expect her to still be persistent in pursuing her dreams of being a writer. Her strong views get her in a little trouble this season but she's not afraid of a little danger and getting her hands dirty.
As an actress, what do you hope to accomplish the most?
As an actress I hope to one day have my own production company. I attended film school for a few years and have always dreamed of producing, starring and directing my own projects.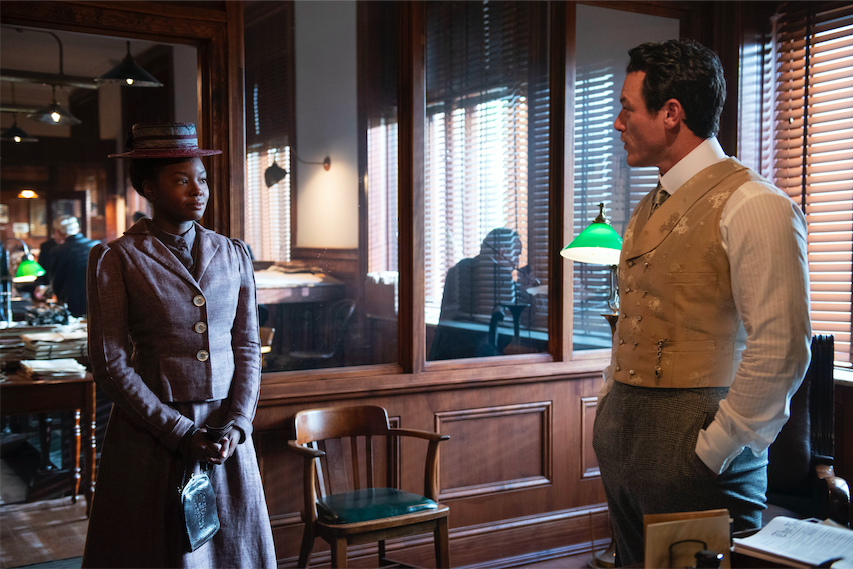 Tell us about M.P.A.C.T and your new goals coming up!
M.P.A.C.T Ent and Events is a creative collective that I created in 2016. I wanted to create a positive space to help advance and support my fellow artists in the community. M.P.A.C.T is an acronym for More Positive Artists Coming Together. With the help of my business partner we have curated an array of events with our women's short film showcase being the most celebrated event. From the success of our short film series our goal is create a women's film festival. We get so many film submissions and want to include more films and highlight more genres on a larger platform.
Who do you look up to the most?
Regina King, she has been a huge inspiration and blessing in my life. She has been in the business so long and maintained her integrity and grace. I hope to have a similar career path as her. Following in her footsteps as an actress and a director.
Have you taken up a new hobby since quarantine?
I've become a gardener and have a new love for plants and growing my own herbs and spices.
Favorite movie of all time?
Crooklyn a Spike Lee Joint.
What's next?
I'm currently auditioning and working on developing some of my passion projects.
What do you like to do when you are not acting?
I love traveling, binging new content and spending time with family.
What is the one thing you can't live without?
Chocolate!
Share with us what beauty means to you.
Beauty means to me, love that shines from within. Beauty starts on the inside first and when you have a good heart, mind and spirit there is a light that shines.
What is a hidden talent of yours?
I'm a baton twirler. I was a majorette in High School and I've still got it.
By Alex Marie
Photos by Warner Media