UPSAHL RELEASES "DRUGS" FEAT. BLACKBEAR TODAY
"DRUGS" GARNERS 2 MILLION TIKTOK VIDEOS 
REACHES #1 SOUND ON TIKTOK TRENDS CHART
LISTEN TO "DRUGS" FEAT. BLACKBEAR HERE
LISTEN TO YOUNG LIFE CRISIS EP HERE
Soaring to well over 100 million streams and nearly 2 million TikTok videos featuring her single "Drugs", Arista Recording artist UPSAHL has teamed up with multi-platinum selling singer-songwriter-producer blackbear for an intoxicating remix of the fan-favorite viral hit.
Rebuffing the surface-level dialogue often overheard at a party, UPSAHL's presence throughout "Drugs" offers a counterpoint to the niceties of hallway conversation. Exhibited by wry admissions such as blackbear's "I just came to show up late and leave like I forgot 'em", "Drugs" feat. blackbear is a feel-good repudiation of clout-chasing culture and an embracement of genuine connections.
On TikTok, UPSAHL's impact has catapulted through the use of "Drugs", with nearly 2,000,000 videos made using the track in the last month. Reaching #6 on the TikTok Viral Chart and #1 Sound on the TikTok Trends chart, "Drugs" was featured in clips posted by the likes of James Charles, Charly Jordan, Alex French, Jason Derulo, and more. "Drugs" was also added to Spotify's Teen Party (3.8m followers) and Pop Rising (2m followers) playlists, as well as Viral Hits playlists across Spotify, Apple, and Amazon Music. As "Drugs" continues to make waves, "People I Don't Like" is now featured in Apple TV+'s promotional ad for the new season of "Dickinson".
Multi-platinum selling artist blackbear is globally renowned for explosive viral hits such as "hot girl bummer" and "do re mi". An established hitmaker that has recently worked with the likes of industry heavy-hitters such as Machine Gun Kelly and YUNGBLUD, blackbear's distinct production and clever lyricism serve as a transformative influence on UPSAHL's "Drugs" as he wryly joins her declaration: "I just came here for the drugs".
2020 was a whirlwind year for UPSAHL, releasing her second EP Young Life Crisis, which Billboard crowned as one of the top 25 pop albums of 2020. Following the release, SPIN proclaimed that "UPSAHL is joining the ranks of kickass women in music", and Billboard heralded the young star as "One to Watch". UPSAHL also recently lent her pen to Madison Beer on her fiery new single "BOYSHIT". Receiving much critical acclaim, 1883 praised "BOYSHIT" as "a bop we can't get out of our heads". Earlier in 2020, UPSAHL undertook her first co-write on "Good in Bed" for Dua Lipa's Grammy-nominated chart-topping blockbuster, Future Nostalgia, and has continued to write for heavy-hitting artists, such as Anne-Marie.
In tandem with Young Life Crisis, UPSAHL released a reimagined track entitled "Wanna See Me Run", an acoustic transformation of Lizzo's viral interview with David Letterman on his NETFLIX series, My Next Guest Needs No Introduction. The song caught the attention of Lizzo herself, generating over 2 million views on Instagram. Listen to the track HERE.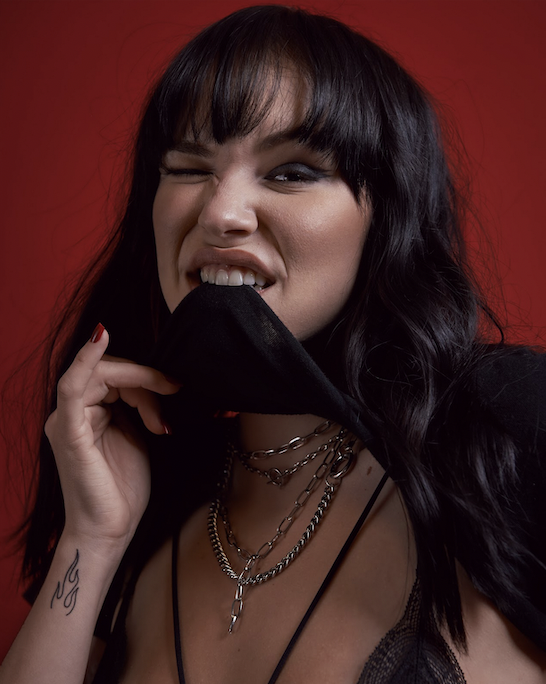 About UPSAHL:
Early in her career, UPSAHL released songs which gained much-deserved recognition throughout the Phoenix music scene. As a graduate of the Arizona School for the Arts, a performing arts middle/high school, UPSAHL continued to hone her craft, while being trained on piano, guitar and choir every day. UPSAHL went on to ignite a groundswell of fan adoration and tastemaker praise by way of numerous indie alternative gems.
"Can You Hear Me Now" achieved a palpable viral buzz followed by the widely praised single "Drugs", which was featured on her debut Hindsight 20/20 EP and has been used in nearly 2,000,000 TikTok videos, reaching #6 on the TikTok Viral Chart and #1 Sound on the TikTok Trends Chart. "Drugs" led to a momentous year for the "up-and-coming indie-pop queen"—according to Alternative Press. 2019 saw UPSAHL take the stage at Lollapalooza and support acts including PVRIS, Joywave, BROODS, Max Frost, and Young the Giant. Additionally, "Smile For The Camera" hit Top 40 on Alternative Radio as it attracted glowing critical acclaim and YouTube claimed UPSAHL as their 'Artist on the Rise'. Nylon proclaimed, "She's on her rock star ish," and American Songwriter labeled the track, "intelligently written."
Her enigmatic, endearing, and entrancing style garnered widespread critical acclaim from Nylon, V Magazine, PAPER, Billboard, SPIN, Refinery29, Ones To Watch, Consequence of Sound, Alternative Press and more. Signing to Arista, her rise to pop ubiquity (on her own terms) has only just begun.
About blackbear:
Since first crashing onto the scene in the mid-2010s, multi-platinum-selling singer/songwriter/producer blackbear has continually turned heads and defied all expectation, effortlessly mixing his hedonistic hell-raising and maniac humor with deeply heartfelt emotion. Delivering an outrageously catchy hybrid of pop and hip-hop and alt-R&B, the L.A.-based artist has put out four studio albums in the last five years alone, including 2017's gold-certified digital druglord and 2019's magnum opus ANONYMOUS (a #36 hit on the Billboard 200). Hyper-creative and massively prolific, he's also collaborated with the likes of Pharrell Williams and Linkin Park, and brought his top-notch songwriting skills to Justin Bieber's six-times-platinum single "Boyfriend." And in his unflinching honesty about his own demons and depression, blackbear creates a powerful sense of solidarity—ultimately moving forward with his longtime mission of "inspiring everyone to be more unapologetic about who they are."
Showing no signs of slowing down, blackbear recently joined in a series of exciting collaborations, including his recent smash hit "my ex's best friend" with Machine Gun Kelly, which debuted at #1 on the Billboard Hot Rock Streaming Chart. Additionally, he returned with a new body of work in 2020, that pushed his brilliantly warped artistry even further. The first glimpse at his latest metamorphosis, the fantastically zeitgeisty anthem "hot girl bummer" dropped in August 2019— the double-platinum-certified single peaked at #2 at Top 40 Pop radio, #11 on the Billboard Hot 100, and surpassed 1 billion global streams. The song emerged as blackbear's most successful smash since 2017's double-platinum "do re mi." He has performed on the MTV Video Music Awards, Jimmy Kimmel Live!, and The Late Late Show with James Corden. blackbear's fifth-studio album everything means nothing was released on August 21, 2020 via Beartrap/Alamo/Interscope Records.
Connect with UPSAHL
Website
Instagram
Twitter
Facebook
YouTube
Connect with blackbear
Website
Instagram
Twitter
Facebook
YouTube