ASTN is gearing up to drop his much anticipated music video – first official music video – for his newest single "LA Don't Look Good On U." With his single, "LA Don't Look Good On U" being released in November of 2020 to rave reviews from fans and incredible support from the DSPs (including editorial playlisting at Spotify and Apple Music), ASTN is excited to continue building momentum around the record with his new music video release.
What's the story behind your latest single "LA Don't Look Good On U" ?
I moved to LA in the summer of 2019 and wrote the song a few months later. However, I was writing from my perspective of the city from the outside looking in. Most people see LA as this magical place that turns everyone into a star; a place where you get to live your dream life. That's exactly what I thought before moving here. I knew I wanted to write something about this city… I had to. I've seen people lose themselves in this place, and that's pretty much what this song is about. I've been trying my best not to fall into that.
How are you feeling now that your first official music video is out?
It took me a while to finally commit to a video. I've always said that it has to be the perfect song, but shortly after I wrote 'LA Don't Look Good On U', I knew I wanted a video for it. There had to be something visually to really push my message across and I feel like this was the right way to do the song justice. I've never been super comfortable in front of a camera, but as soon as we started filming, I just fell into character and started putting on a show. Being able to portray my music in that way was something I hadn't experienced yet. I haven't ever been so anxious to release something, and I'm ready for people to see this side of me.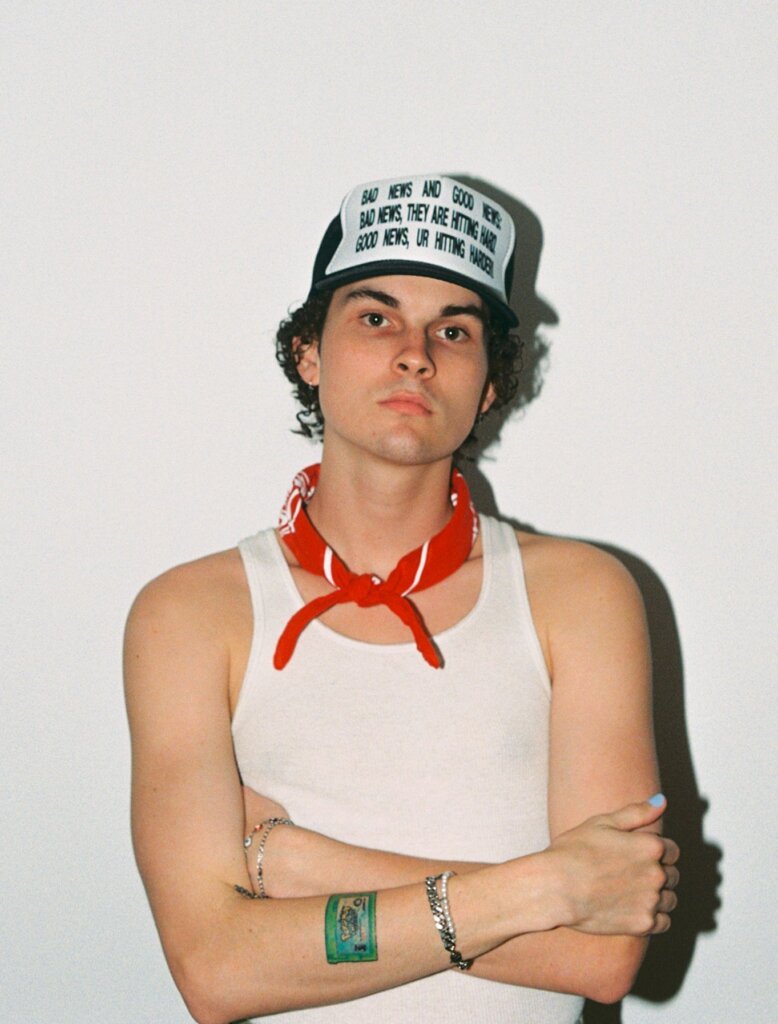 How did you and Olivia Shapiro come up with the concept for the "LA Don't Look Good On U" music video?
Olivia and I had a zoom call one morning and she just explained the treatment she had written for the song. I was amazed at how perfect it was because we had never spoken before then. We took inspiration from movies like Mulholland Drive, Sunset Boulevard, and Under the Silver Lake which are all movies based in Los Angeles. We also got some ideas from Fear and Loathing in Las Vegas and came up with three different personas; the idealized self, the non-idealized self, and the commodified self. In the video, you can see how all the personas differ, especially in the shot style. This was our way of showing how a person can see themselves in many distinct ways because of LA's obsession with image, this is often magnified.
You are wearing a lot of vintage looks in your music video. What inspired these looks?
We drew inspiration from a lot of older films and wanted to match the era accordingly. I feel like that really took the video along way. The 70's, 80's, and 90's had some of the coolest and more unique fashion trends. It was important that we got those looks right. My taste is becoming more and more high fashion so we included a vintage Yves Saint Laurent suit for the 50's look and an old Prada jumpsuit for the 90's look. The Prada look was super different for me, but it's definitely something I'd consider rocking in the future.
What would you say influences your creative process?
One of my biggest influences is cinema. I wouldn't say I'm a huge movie guy, but I often find myself wanting to write music after watching a movie. Other artists such as Brent Faiyaz, Rascal Flatts, and Ty Dolla Sign also inspire me a lot. Some days, I'll just sit in my studio for hours and hours just listening to music. That always puts me in the mood to create something.
Besides listening to other artists and songs, what would you say in your everyday life inspires the music you write?
The people I surround myself with inspire me more than anything. I'm around extremely hard working people all the time. Seeing my friends pursuing their dreams pushes me that much harder to go after mine. Also my family is very supportive and have always been that way. Anytime I send a song to my mom or dad, they always tell me how much they love it and that really does mean a lot to me. They're my biggest fans and I know I gotta keep pushing because of them.
You have been teasing about new music coming. Any more you can share on that?
2020 was the year of stocking up the vault. 2021 is my year to unload and show my fans and everyone else what I've been doing for the past 365 days. I've honestly been writing music that's more genuine and true to me. I know that's what every artist says, but I'm maturing in my artistry and I'm very excited for people to hear that. As for the amount of songs I'll be dropping, I'm taking this year single by single. I'm putting a project on the back burner for now. I want to get into a headspace where I'm ready to drop the album I've always wanted to and I just don't think I'm there yet.
Where can fans watch your new music video and keep up with what's to come?
Fans can watch my music video premiering on Vulkan as well as on YouTube. As far as keeping up with what's to come, I'm @astnmusic on all social platforms. Anyone who is rocking with my music can find any and all updates on my instagram but I prefer twitter because I can communicate more clearly with my fans. It just feels more personal. I also love texting and using fan group chats to give people a little more insight into my life and my career.