With the blistering heat of the summer in full swing, the perfect summer cocktail is an essential to any pool party or barbecue.  Instead of sipping on your average, unexciting can of beer that reminds you of your college drinking faux pas, treat your tastebuds to something tropical, refreshing, and exciting.  Opt for something that will capture the true taste of summer with the recipes below.
This first recipe, perfect for a relaxing afternoon lounging by the pool, features the refreshingly crisp taste of watermelon paired with Gray Whale Gin:
Watermelon Slush
Cut the watermelon in half, carve out the fruit and place it in a bowl. Keep the rind to use as a delicious punch bowl. To keep your melon bowl upright, turn it upside down and carve a small, flat, slice out the very bottom – be careful not to cut too deep and pierce the bottom of the bowl.
In a blender, add your watermelon pulp, honey and a moderate amount of ice. For best results we recommend freezing your watermelon pulp before blending and using a moderate amount of ice to avoid a watery drink. Serve in a melon bowl and enjoy! 
When hosting a summer barbecue with your friends, consider this next recipe for a refreshing complement to classic summer dishes: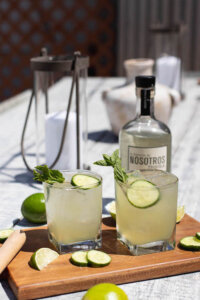 Nosotros Eastside
3 muddled cucumber slices
Build in a shaker with ice, shake and strain over the rocks. Garnish with cool cucumber slices and enjoy.
By Sam Spotswood
Photo courtesy of Gray Whale Gin
Photo courtesy of Nosotros Tequila