When you think of a block party, a few elements come to mind: food, drinks, music, lots of people and a good time. With their own annual block party, the Concern Foundation for Cancer Research has done just that and more by raising millions of dollars for cancer research that has supported the work of 800 cancer scientists. Continuing in the success of previous years, on Saturday, July 13th 2019, they held their 45th Annual Block Party in the Paramount Studios Backlot, themed California Dreaming to Conquer Cancer. The vibrant backdrop of the Paramount Studios Backlot was thoughtfully filled with Instagram-friendly California Dreaming décor, some of LA's finest food and drink vendors that set the mood for the night to come.

With an impressive roster of over 70 food and drink vendors like Vibrato Grill Jazz, Fogo De Chao, Urban Oven, Stonefire Grill, DeLuscious Cookies & Milk, Pink's Famous Hot Dogs and many more, the food options felt almost limitless and versatile. The drink diversity was equally as respectable, featuring classic vendors like Tito's Handmade Vodka, Asahi Beer, Coke Products, and other craft drinks like Reed's Ginger Brews, Weaver's Coffee & Tea and Humbolt Distillery. However, even those who didn't come to the block party looking for food or drinks were still in luck with a wide variety of activities. There were print giveaways, travel auctions, a photobooth from Foto Spark, a make up booth, Island Ink airbrushed tattoos and even a Ferris Wheel to overlook it all. One of the travel options was a four night cruise on Australis which would take you to many different places such as Punta Arenas in Chile, Ushuaia in Argentina, and more. Austrais and ProTravel were kind enough to donate this amazing dream of a trip! For those who wanted to just kick back and relax, or dance, a live music and DJ stage were also playing through out the night.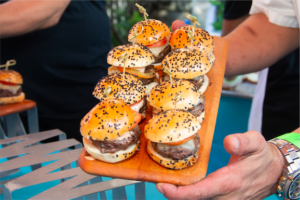 Unique to this year was the formal acknowledgement of the Caroll Family and the Los Angeles Magazine's donations to fight cancer alongside the organization of the years. A special ceremony was held for the Carroll Family as they were awarded the Lifetime of Giving Award, marking their contributions to towards the foundation of the years. The additional partnership with the Los Angeles Magazine, a media partner and fundraiser, has seen $375,000 in donations towards the foundation's efforts and their own "street" on the backlot featuring sponsors like INFINITY automobiles, Arclight Cinemas, Seedlip, and Don Francisco's Coffee.
If it sounds like there was a lot going on through out the night, you would be correct. And despite all the fun, the intention and result of the event is clear. Last year, the Concern Foundation raised $1.8 million at their block party for cancer research. It's not too often that you have an event that so effortlessly blends a genuinely good time with an even more important mission to conquer cancer by effectively fundraising millions of dollars. So if you're interested in having a good time while also contributing to a good cause that fights cancer, be sure to attend the Concern Foundation's block party next year!
By Ty Morris
Photos by Chad Villaflores