Recently, Denicola Enterprises, along with ScholasTICS Tourette Supporters and Southern California Tourette Association had their annual Team Up for Tourette's Red Carpet Brunch & Fundraiser. The event was held at Preux & Proper in Downtown Los Angeles where delicious southern food was served as the guests enjoyed an amazing jazz band, good laughs and of course, an auction. Let's not forget about the delicious cocktails as well!
The founder of Denicola Enterprises and producer of the event, Devin Denicola expressed his own experience with Tourettes which explains why it is dear to his heart. Denicola expressed that as a kid: "I was diagnosed with Tourette's when I was seven years old. It was fairly new back then. Not many people knew what it was so everything was trial and error with medications, treatments, things like that. Since then, I've been focusing on trying to figure out a way that I can help other people with Tourette's."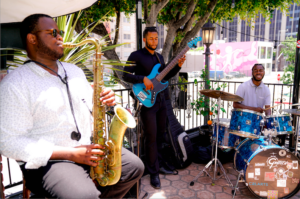 The sun was shinning over Downtown and the event seemed to flow seamlessly for everyone. Seeing such a great group come together to support the cause (recording artist El-Jay,Sean Toohey, Founder of Toohey Ties,influencer Amanda Paris and more) reminds us that there is strength in numbers.
In the end, we can all do our part to share informed knowledge with others, increasing awareness and that's exactly what Devin Denicola did.