Teams Up with NoMBe On New Single "Marco Polo"
PRESS HERE to Listen
Announces New EP Escapism, Part 1 Out This Fall
Following her debut festival performance at BottleRock Napa Valley last weekend, emerging popartistMollyMoorehas teamed up with artist, producer, and friend NoMBe to release new single "Marco Polo," a true story about meeting someone you can escape reality with while struggling with deciding whether to dive head-first into the relationship or continue testing the waters. The track is a swirling blend of harmonic bliss accompanied by bright layered beats and lush synths —with a splash of bossa nova—and is the second single from Molly's forthcoming EP, Escapism, Part 1, out this fall. PRESS HERE to listen Molly Moore x NoMBe's single, "Marco Polo."
"This song is a collaboration with my very good friend NoMBe. I've been a huge fan of his work for a while and it was such a pleasure to be able to have him co-produce this song," Molly shares. "We'd both been really inspired by Brazilian music and I think you can hear that influence on this track especially."
"When Molly sent me the original demo I knew it was something special. I could tell that her theme of escapism really shined through and me living in Hawai'i gave it the perfect backdrop to fit into our worlds," NoMBe adds."We've also both been heavily inspired by this Brazilian-bossa feel. I thought it might benefit from a few more production touches like the acoustic guitar and sound design and after some back and forth we decided to let me try a verse, too. It came out great and I can't wait to see everyone's response!"
"Marco Polo" joins Molly's previously released single "Do They?" (PRESS HERE to listen/watch the visualizer) on Escapism, Part 1 as she blurs the lines of genre, creating a multi-layered house party atmosphere and addresses the highs and lows of being in love with someone you can't be with in a traditional sense. On "Marco Polo,"Molly touches on the concept of escapism which inspired her new collection of music as she unknowingly escaped her own process of self-growth by focusing on external relationships and avoiding the uncomfortable realities about herself.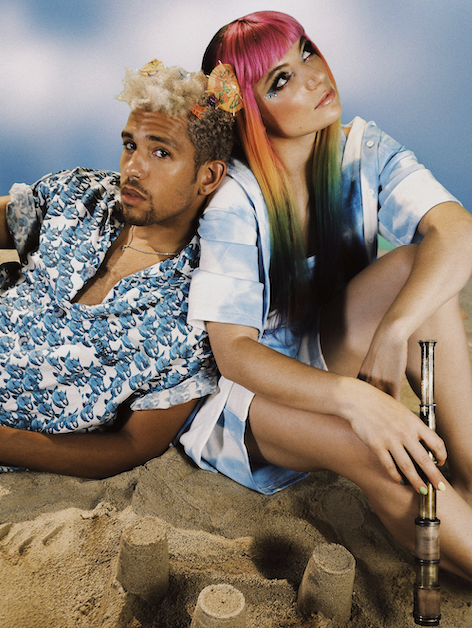 Credit Nas Bogado
With each of her previous releases, Molly has continued to embrace the changes in her life from experiencing loss with the passing of her father and ending a five-year relationship to searching for her voice and finding the light within. That is no exception for Escapism, Part 1.The multifaceted EP encompasses the moments of hope and acceptance in an untraditional love where feelings are dynamic –temporary, lingering, abiding. As someone who had been heartbroken so immensely, Molly didn't know if she could love anyone again and was grieving the vision of what she thought her life was going to look like until she met someone that changed the idea of what she wants in a relationship. Accepting the shortcomings and traits she's run from for so long, she has now built a level of communication and trust in herself that she didn't have before.
These tracks are Molly'sfirst singles since the release of her 2020 debut album Voice on the Internet which found her tapping into encapsulating thoughts and emotions as an ode to her journey of self-discovery. The album spawned intoxicating post break-up banger"Handsomer" ft. Maty Noyeswhich Hollywood Life called "the empowerment anthem of 2020" and is currently featured in Amazon's new film Jolt starring Kate Beckinsale, KROQ LocalsOnly favorite "Careful," and "I love you but I don't like you" which have been quickly adding to her over 17million global streams. As she continues to share her story honestly and openly through soulful beats and candy-coated vocals, Molly finds herself in a transformative state with Escapism, Part 1as she dives off the deep end and embraces love in any way that it presents itself, loving herself and others in a much freer and kinder way.
ABOUT NoMBe:
Known for having a modern take on alternative music that is entirely his own, Noah McBeth—under the monikerNoMBe—initially garnered buzz in 2015 with his viral single, "California Girls," paving the way for his 2018 critically acclaimed debut album they Might've Even Loved Me. The album featured single "Can't Catch Me"(ft. New Mystics)which was personally chosen by Pharrell Williams as the official theme song to his HBO documentary seriesOUTPOST, while the track "Drama"(ft. Big Data)was featured inEA Sports'FIFA World Cup 2019soundtrack. Referred to as "one of pop's most intriguing new faces" by Paper Magazine, NoMBe's2021sophomore album CHROMATOPIAhighlights the complexities of relationships on tracks like dreamy pop banger "This Is Not A Love Song,"indie-pop bop "Heels," and breezy dance track "Paint California."NoMBehas garneredover380million global streams with placements in a variety of television shows including Shameless, Ozark, The Resident, and more. He has also performed at Lollapalooza, Firefly Music Festival, SXSW, Outside Lands Music and Arts Festival, and Electric Forest, and received media praise from the likes of Elton John, Pharrell, NPR, Time Magazine, Billboard, Rolling Stone Australia, ET Canada, Entertainment Weekly, Grammy.com, Interview Magazine, Complex, Earmilk, and Flood Magazine among others.
ABOUT MOLLY MOORE:
Throughout her career, Molly has impacted pop from behind-the-scenes as a songwriter for artists including Jesse McCartney, Lea Michele, and K-pop phenomenon EXO as well as a composer of children's music for Hasbro, but has also found success in the spotlight. Molly was previously one-half of pop duo Cosmos & Creature — who were signed to Steve Aoki's label and shared the stage with Dua Lipa, John Mayer, and Bebe Rexha — before venturing off on her solo career. Her music has been featured in commercials for brands like Zales, Peleton, Toyota, and Jack In The Box and shows including Netflix's The Last Summer, MTV's Siesta Key, and ABC's Conviction.