Happy Monday lovelies! We are very excited to share with you our exclusive interview with the beautiful and talented, Anna Grace Barlow. Starring in "The Big Leap," the show airs on September 20th but they will be releasing the first 2 episodes tomorrow on Hulu/on-demand/fox now. Having also played in the recently released film, "Dramarama," Anna Grace is on a non-stop train to success! Keep discovering more and make sure to tune in tomorrow!
Share with us your experience filming  "Dramarama." What did you discover about yourself?
It was literally summer camp. Our entire cast was in basically every scene together, so we just hung out for twelve hours a day. We REALLY bonded. And I think you can really feel the chemistry onscreen because of that. We still talk regularly and it's been two years since we filmed it! Yeah. And as far as what I discovered about myself, that experience really just got me out of my head. We got to really play. And that was so fun. It was a very freeing and collaborative environment – so I've really tried to take that playfulness & enjoyment with me into other projects.
In what ways did your role challenge you? How did you overcome those challenges?
Rose was a challenge – but in really fun ways. Getting the opportunity to tell a story that happens over the course of a single night is REALLY cool and gave all of us a chance to really geek out about the details and LIVE in the characters. 
The film follows a group of friends about to leave for college who must come to terms with the complexities of their sexuality (etc). How did you prepare for the role?
The film is based on real experiences from our writer & director Jonathan Wysocki's life and his group of friends from high school — So we were all really lucky we got to sit with him and get a real understanding of these characters and this story. We all really wanted to do right by him and make him proud. 
Did your own personal experiences allow you to connect to this storyline more? If not, in what ways did it help you grow?
Definitely! I was a big theatre kid growing up so I connected in that way — but when I read the script I really felt for Rose. I related to her intensity and that need to prove herself constantly at that age — and also to the family dynamic of the friend group. I'm so grateful Jonathan entrusted me with her and I hope people really enjoy the film!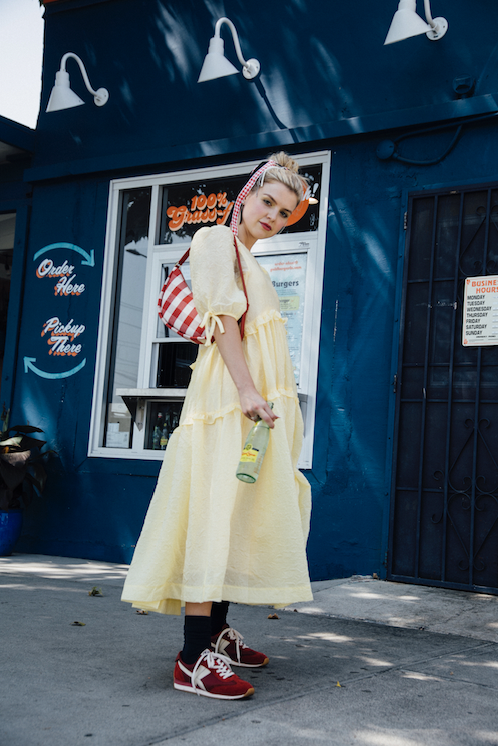 Tell us more about the upcoming dramedy, " The Big Leap." What are you most excited about it?
Oh my God I'm excited for SO much about it. The Big Leap is a new show coming to Fox on September 20th but the first two episodes will be available to stream on Hulu on September 14th! I'm so excited for people to see it. It's uplifting and inspiring and entertaining and heartwarming and just all the things! The CAST. Chef's kisses. I play Brittney Lovewell she's a TRIP. I can't wait for people to meet her. 
Share with us an experience on set that left a strong impact on you.
Like I said, our cast is incredible. I'm just trying so hard to be a sponge and watch everyone. We've also had incredible directors who have just blown my mind. Every day is hugely impactful. 
Why did you decide to get into acting?
I love it. I started just singing and then got into dance later and then theatre after that and I didn't even really discover acting alone until I was an adult. It's definitely my favorite. And getting to play characters where I get to incorporate singing or dancing like The Big Leap are just the most fun. 
Something most people do not know about you? 
I feel like I tell everyone, so maybe most people DO know this, but I love to paint. My favorite hobby is wine & paint class and I have a little collection of my creations at my house in LA. We're filming The Big Leap in Chicago so I made sure to go to a class when I had time off at the beginning of our shoot and do one. I hung it where I can see it every morning. Maybe one day I'll be able to paint without a teacher leading me through, but they're so therapeutic and I love making them my own.
Growing up, what are some obstacles you had to overcome and what did you learn from them?
Like everyone who does what we do, I've had plenty of disappointments and losses. I try my hardest to remember that what's meant for me won't pass me by and I try to celebrate the little victories. I really believe that everything happens as it should. When I look back now, I wouldn't change a thing. 
What comes next?
I hope I get to keep exploring Brittney for a while. She's so fun and has such great depth. I also really love working in film and am excited to squeeze some projects in between seasons!
@VULKANmag
Photographer: Emily Malan
Hair: Bekah Lesser
Makeup: Jo Strettell
Styling: Jensen Edmonson
Interview: Alexandra Bonnet