Mothers everywhere are juggling new full-time jobs – virtual learning teacher, lunch lady, on-call chef, housekeeper, laundromat owner, pet groomer, and after school events coordinator… all while balancing the luxury of working from home. While we can't help unload mom's new duties, we can suggest the perfect gift for Mother's Day! Bring the spa home to Mom this year with MasqueBAR and give her at least one full day of "me time".
Mom deserves a moment to exhale and sparkle through these tough times with MasqueBAR's Holographic Foil Peel Off Mask. High in Vitamin C (one of today's most searched ingredients) and collagen, it revitalizes, moisturizes and illuminates the appearance of skin.
MasqueBAR's extensive skincare collection has something for literally every Mom on the planet. Here are additional top recommendations to pamper mom without busting your budget. It's a win/win.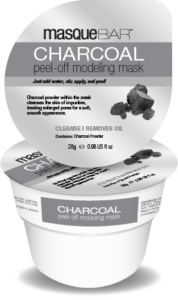 For the Mom that needs a refresher – and a good Tik Tok video to embarrass you
Luminizing Charcoal Peel Off Mask ($9.99, 3 pack) – Let Mom get in on the game. Everyone loves our charcoal mask and so will Mom. So let her roam around the house, drinking a glass of wine, with a full face mask on. It's her day… This peel-off mask's key ingredient is charcoal powder, which will help detoxify to leave pores looking clearer and smaller, purify and deep cleanse.
For the Mom who needs to brighten her day
Brightening Bio Cellulose Mask ($4.99) – Natural and organic extracts from the mountains in Switzerland and France, along with Giga-White, Niacinamide and Hyaluronic Acid help to brighten skin complexion by minimizing the look of uneven skin. Available at Rite Aid and masque.bar
For the Mom who wants to look young and rested
Anti-Wrinkle Sheet Mask ($9.99, 3 pack) – This collagen-infused facial sheet contours to your face to help reduce wrinkles and hydrate your skin, leaving it feeling soft and looking refreshed.
For the Mom that needs a little sparkle in her step
Masque Bar Exfoliating Foot Mask ($9.99, 1 pair) – Give the mom that never gets a chance to sit down, and is longing for a pedicure, insanely soft, smooth feet this Mother's Day.
Mother's Day is about appreciating the woman who has given her all, sacrificed everything, and wouldn't have it any other way. Extravagant gifts aren't necessary. Giving her the gift of looking as beautiful on the outside as you know she is on the inside is perfect. Free shipping on domestic orders of $35+.
All masks available at www.masque.bar.