Ohza Mimosa $36
www.ohzamimosas.com
Less caloric, less sugary, and ready-to-go with two fresh new flavors

Riunite – White Canned Sangria $9.99
www.riunite.com
Effervescently refreshing with orange juice and natural flavors, featuring notes of white peach, citrus and spice

KÖE Kombucha – Strawberry Lemonade
www.drinkkoe.com
Combine KÖE Kombucha and your favorite liquor + ice for a quick, tasty, probiotic rich, healthy cocktail

Yes Cocktail Co. – Lavender Honey Cocktail Mixer $16
www.yescocktailco.com
Perfect in a G + T, splashed in champagne for the ultimate mimosa, or even added to sparkling water, lemonade, or tea for an effortless mocktail

Archer Roose – Rosé $16
www.archerroose.com
Cheers to looking at the world through glasses of Rosé

Gray Whale Gin $43
www.graywhalegin.com
Spirits inspired by the Golden State and crafted from locally sourced organic or wild foraged ingredients
Gray Whale Gin Watermelon Slush
+ 3 oz Gray Whale Gin
+ 1 medium seedless watermelon
+ 4 oz honey
Cut the watermelon in half, carve out the fruit and place it in a bowl. Keep the rind to use as a delicious punch bowl. To keep your melon bowl upright, turn it upside down and carve a small, flat, slice out the very bottom – be careful not to cut too deep and pierce the bottom of the bowl. In a blender, add your watermelon pulp, honey and a moderate amount of ice. For best results we recommend freezing your watermelon pulp before blending and using a moderate amount of ice to avoid a watery drink. Serve in a melon bowl and enjoy! 


Humboldt Distillery™ – Humboldt's Finest $20
www.humboldtdistillery.com
Elevate your cocktails and mix into a martini; pineapple juice & lime; ginger beer & lime; grapefruit juice; bloody mary
North Coast Margarita
+ 2 oz Humboldt's Finest
+ 1.25 oz Lime Juice
+ .75 oz Agave Syrup
+ 2 Slices Serrano Chili
+ 2 Slices Cucumber
+ Pinch of Salt
Combine all ingredients in a shaker, add ice and shake thoroughly. Double strain into an old fashioned glass half rimmed with salt. Add ice to top. Garnish with cucumber slice
Toast Vodka $72
www.toastvodka.com
The world's first vodka made with unflavored coconut water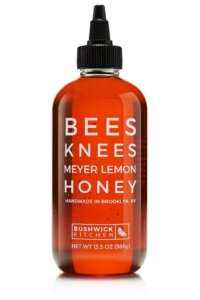 Bushwick Kitchen – Bees Knees Meyer Lemon Honey $13.99
www.bushwickkitchen.com
This honey is great on anything from a fresh baked scones to a bowl of berries or a tasty cocktail
Spicy Honey Margarita
1 ounce lime juice
1⁄2 ounce Bees Knees Spicy Honey syrup
2 ounces blanco tequila
Salt and lime wedge for garnish
Rub a lime wedge around rim of a rocks glass and dip in salt. Add lime juice, honey syrup, tequila and ice to a cocktail shaker. Shake vigorously until frosty and strain into the prepared rocks glass filled with fresh ice. Garnish with a lime wedge

Flying Embers – Pineapple Chili Hard Kombucha $29.99
www.flyingembers.com
Juicy pineapple with a hint of ginger and a subtle refreshing, chili finish
Flying Mai Tai
1½ oz Silver Rum
1 oz Orange Juice
½oz Grenadine
2oz Flying Embers Pineapple Chili Kombucha
½oz Amaretto
½oz Dark Rum
Pour grenadine into bottom of the glass. Combine silver rum, orange juice and grenadine, add ice and shake. Float the Pineapple Chili Kombucha, amaretto and dark rum. Garnish with Pineapple Slice & Luxardo Cherry with stem

Izo Mezcal – Joven Cenizo $64.99
www.izomezcal.com
Izo's clean, smooth agave flavor blends seamlessly into mixed cocktails, goes down smooth in a shot glass, or savored by the sip
Margarizo
2 oz IZO Mezcal Joven
1 lime
½ oz Triple Sec
Simply cut the lime in half, reserving a slice for garnish. Salt the rim of a small glass filled with ice. Place additional ice into a shaker, then fill it with the fresh-squeezed lime juice, Mezcal, and Triple Sec. Shake and strain the liquid into the glass. Add the lime slice garnish and enjoy!