GOING OUT WITH A BANG
ROOFTOP CINEMA CLUB'S HIT DRIVE-IN AT 
SANTA MONICA AIRPORT TO CLOSE ITS DOORS FEBRUARY 6th
In true Breakfast Club fashion, Rooftop Cinema Club (RCC) are saying "Don't you forget about me" as they end their run at The Drive-In at Santa Monica Airport. RCC's contactless drive-in experience at this location will end after February 6th, but they plan to be back in LA later this year.
Please find the final program here, which kicks off with "The Breakfast Club" and "10 Things I Hate About You" on February 1st. In the meantime, RCC still has a number of great titles lined up for the rest of January.
Over the course of its 2-month operation, The Drive-In at Santa Monica Airport has welcomed 24,000+ guests, donated $8,000+ to the Los Angeles Regional Food Bank and generated rave guest reviews and a 4.9-star Google rating:
"My husband and I's first date out in 9 months was to see Home Alone at The Drive-In at Santa Monica Airport and it was so wonderful!!! Super safe and smooth running!! Would highly recommend!!"
"Very professional and well-organized. They even covered the lights of the cars that still had their headlights on. Great Experience."
"Such a classic American experience! This is my first time at the drive-in. The process is contact-free and very pleasant. A great view of the screen from any spot."
Since fall of 2020, the Rooftop Cinema Club team has rolled with the punches and transported their rooftop experience to the runway, delivering a much-needed entertainment experience amidst the evolving public health crisis in Los Angeles. Throughout the ever-changing landscape, Rooftop Cinema Club remained committed to providing Angelenos with a safe and socially distanced night out.
As part of efforts to support local Santa Monica businesses navigating this difficult year, the team was proud to partner with The Cloverfield, a local eatery that provided moviegoers with contactless snack and dinner options.
Looking ahead, Rooftop Cinema Club's Los Angeles rooftop locations (including LEVEL in Downtown Los Angeles & NeueHouse Hollywood) are set to open this spring. Please stay tuned for updates.
Angelenos can find out about future venue openings by subscribing to RCC's newsletter at rooftopcinemaclub.com/santamonica or by following them on Instagram/Facebook @rooftopcinemaclub and Twitter @rooftopcinema.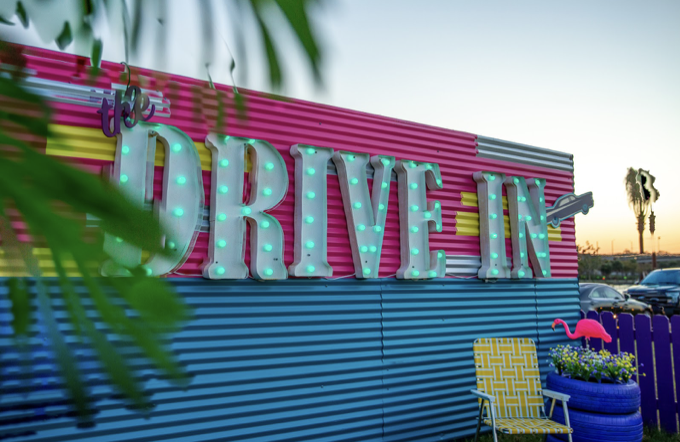 # # #
Scheduling & Logistics – In February, The Drive-In at Santa Monica Airport will air two screenings each night beginning Monday, February 1st through Saturday, February 6th. Screening times are as follows:
Matinee screening – start time 6:00 p.m. (family-friendly film)

Prime screening – start time 8:15-8:45 p.m.
Tickets range from $32–48 per vehicle and are priced based on occupancy and the day of the week. Children 8 years old and under do not count as vehicle occupants. Parking spots are first-come-first-serve and will be assigned by ushers upon arrival. Total capacity for each screening is 200 cars.
Food & Drink – RCC offers food and beverage on site, with contactless order and pickup. Classic cinema concessions will be available, as well as menu items from local restaurant The Cloverfield. Please note that due to current LA health guidelines, RCC is unable to serve hot popcorn, but a gourmet pre-popped option is available. See the full concessions menu here.
Safety – RCC's number one priority is their guests' and team's safety and wellbeing, which is why The Drive-In is entirely contactless. All ticket and concession purchases are made online. Vehicles will be parked 10 feet apart. Sanitation solutions will be available on site, and team members will wear masks and routinely change gloves.
Guests must watch the movie from within their vehicle, and masks are required when exiting their vehicle for any reason, including going to the restroom or picking up concessions. Guests must bring their own masks and practice social distancing at all times when in the proximity of people outside their party. Please contact us for RCC's full COVID-19 rules & regulations.
Age Limits – All ages are welcome to The Drive-In, however, RCC encourages guests to check the rating of the film prior to purchasing tickets.
Tickets on sale at http://rooftopcinemaclub.com/santamonica – parking is limited, and screenings are likely to sell out fast.
Schedule – Please find the complete list of movie titles & The Drive-In at Santa Monica Airport's full February schedule here.
Stay socially connected with Rooftop Cinema Club:
Twitter: @RooftopCinema
Facebook: @RooftopCinemaClub
Instagram: @RooftopCinemaClub
#RooftopCinemaClub
About Rooftop Cinema Club
The ultimate open-air cinema experience, Rooftop Cinema Club started as a single rooftop in London's Shoreditch in 2011 and has now expanded globally with three venues in the UK and five venues in LA, NYC, San Diego, and Houston. Sold out crowds enjoy sunset movie screenings under the stars using state-of-the-art projectors, high-quality personal headphones, comfy deck chairs and cozy blankets, all coupled with the best food and drink around. In addition to rooftop venues, Rooftop Cinema Club now presents three family-friendly drive-ins across California and Texas, ideal in the age of social distancing, with more locations opening up soon nationwide.