Hello Vinita, thank you for being here with us today. Let's start off with a question regarding your work. You've worked in many productions. Which was your favorite one and why?
Thank you so much for having me. My top favorite three projects are definitely when I got to work on season one of the Netflix series "Riverdale" in 2017; then in 2020 with "I'm Thinking of Ending Things," which was directed by Charlie Kaufman and premiered on Netflix; and the same year working on the first season of thrilling series, "The Wilds" on Amazon Prime. The Wilds: Season 1 has since been renewed for a second season and continues to be promoted as "One of the 50 best TV shows on Amazon to watch right now."
How did you get to work on The Wilds: Season 1?
I was contacted by the very talented Emmy Award-Winning production designer, Amy Williams. I went to work for her on a few other productions, including the horror film, "We Need to Do Something," which recently premiered at the Tribeca Film Festival in 2021; and also the upcoming Apple Studios series "We Crashed," which will be released in 2022 and stars Oscar Winners Jared Leto and Anne Hathaway. Amy brought me in as a remote 3D graphic artist hire because she was searching for a 3D graphic artist who understood architecture, including in the specific Brutalist style. The Brutalist style of architecture Amy was interested in, is actually something I had focussed on during my postgraduate studies in Interior Architecture and Design. During pre-production, when Amy presented some of her design research, sketches, and vision for the sets, I was immediately interested. The vision included marriage in the Brutalist style of architecture between the decades: 60s, 70s, and 80s. As a production designer, Amy has very high standards for design, and I was extremely honored that she chose me to capture her vision as a 3D graphic artist.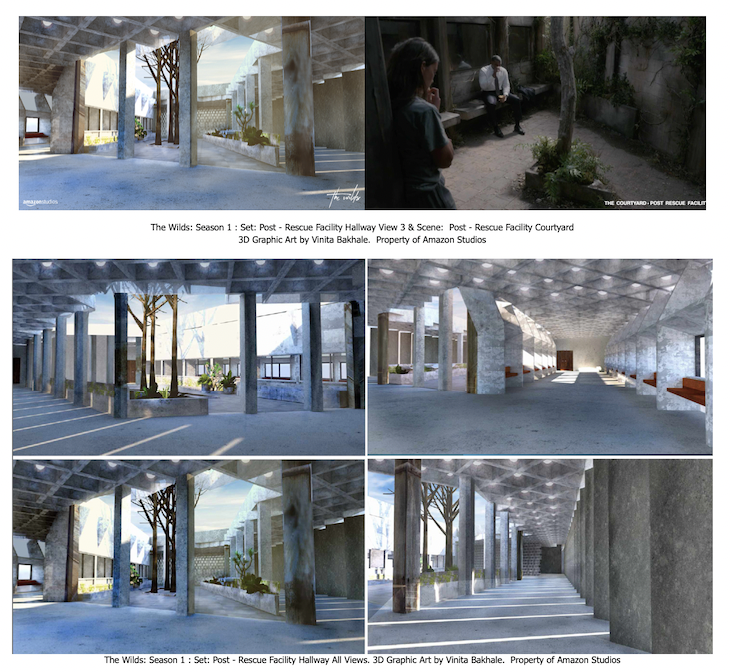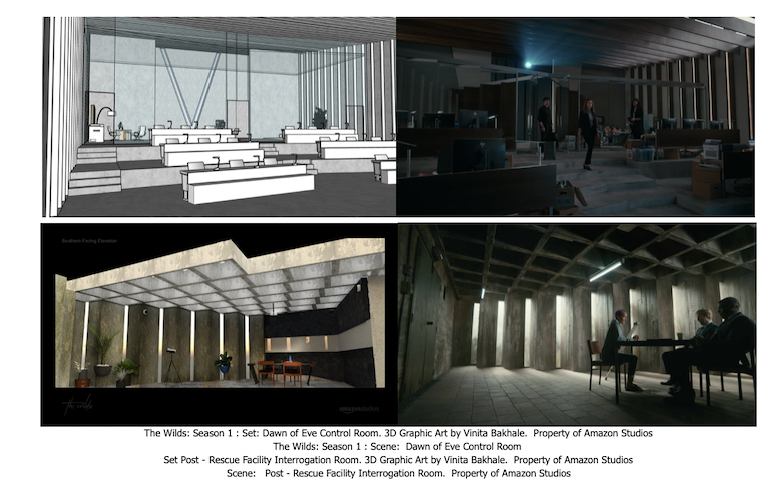 Can you describe your work experience on the Charlie Kaufman- adapted screenplay and directed "I'm Thinking of Ending Things"?
With my background in graphic design, I was honored to be hired by art director, Gonzalo Cordoba, to work as the 2D graphic artist on the Charlie Kaufman envision for the novel by Ian Reed of the same title.
The film is psychological.  It focuses on the importance of time, centering on a couple who seem to be going through the rethinking of their relationship. There are some plot twists as well, which keep audiences curious about what happens next. I personally loved the film, because there aren't many films today that realistically examine the going ons of a relationship and more open-ended questions about life. Charlie Kaufman is a literal icon. I thoroughly enjoyed his movies — "Eternal Sunshine of the Spotless Mind" and "Being John Malkovich" as some of my favorite movies. It was a really big honor to contribute as a 2D Graphic Artist to his directed production. This Netflix film was designed by production designer Molly Hughes, who is a huge production designer in the film industry, having worked on six Harry Potter movies and spending over a decade as the art director for them. I grew up reading the Harry Potter novels, so it was very humbling to have the opportunity to design on her team. It was also a big honor to be nominated as part of Molly Hughes' design team for an Art Directors Guild Award 2021. Although the film did not win, it also received Best Production Design nominations from Chicago Film Critics, North Dakota Film Society, San Diego Film Critics, British Film Designers Guild, and Georgia Film Critics.

What kind of movies inspire you?
I love all kinds of movies, but comedies are my favorite kind. Design-wise: in order to design for films and TV shows, like most designers in our industry, I take my inspiration from real life, people, places, and things. Films and television shows need to be as accurate to real-life places and things as possible. So, I can say that I often look to real life and real experiences to be inspired. A lot of real* design research!
How did you get your start in film and television?
Like most young people, I was quite taken by film and TV shows as a youngster. Around the age of 9, I was told by my grandmother that her first cousin was a film poster artist in the Indian film industry. Soon after, I began to take even more interest in film and television. One always thought film and movies and tv shows meant actors, directors, and producers. I never actually thought about anything more than that. But after seeing film poster artwork, I took even more interest in the background aspect of working in Film and TV. After completing a bachelor's of art degree in graphic design, I worked as a graphic designer for a little less than a year before deciding to go back to school for my postgraduate studies in interior design. After graduating from Parsons with a postgraduate degree in interior design, I moved to Los Angeles and interned for the wonderful Lori Dennis Interior Design. I was so lucky to get an internship with her because she is a Sustainable Luxury Interior Designer, and back then, there were very few Interior Designers whose niche was in that area of expertise. Since sustainable materials and practices were the topics of my thesis, interning with Lori was truly an honor as I learned a lot about her process as an Interior Designer: Which honestly, is the most important part of the industry. I also managed to work for her after the three-month internship for a few small projects. During my time in Los Angeles, I was introduced by a production designer to a talented set decorator at Warner Brothers. She brought me into the Warner Brothers lot, and that's where I got my first job working as a design assistant for her.
As a design assistant to a busy set decorator who was responsible for three high-profile television shows, the bulk of my responsibilities were in the more tame and day-to-day. These included pick-ups and drop-offs for her design business. I rarely got the chance to work on big-picture items for the television shows she worked on, as they were unions, and I was not a member. Instead, she had me work on other projects related to the industry, and on occasion, I got to help her with set design research for the television shows. After my one-month contract job with her, she suggested that I look for an opportunity to work my way up into the art department since I wanted to work as a 2D and 3D graphic artist, and not in set decoration Since then, I have worked for her on smaller contract jobs, mostly for her personal Interior Design Business.
What's your favorite movie?
I really love Pride & Prejudice, Jane Eyre, and many more…
How would you describe your personality?
Sort of dorky. I'm a pretty introverted person. As a youngster, I think I was a lot more of an extrovert. My grandmother and mother introduced me to art when I was young. At some point, both were practicing artists, so I learned how to express my emotions through this medium. Other than teaching me the technicalities, I would definitely say this different learning mindset led me on the path towards becoming a 2D and 3D graphic artist. As this type of artist, I feel like the way you think is definitely a balancing act. You need to be pragmatic, but also be aware of the constant undercurrent of emotions involved in any kind of design decision.On a set, how would you describe the role of a 2D or 3D Graphic Artist?
My role as a 2D or 3D graphic artist is to help bring to life the production designer's vision for the sets. Whether it's doing 2D graphics or 3D graphics, and depending on the project, there is a process of collaborative and separate design research, script review, discussion, and also a period of actually doing the design and revisions.I would say that making my boss, the production designer, happy — along with her colleagues, the producers — is probably the most important and rewarding part of the job. Then after that, the most satisfying part is seeing the finished product: Sending the 2D graphics off to get printed, or the 3D concept graphics to the set designer to get drafted in order for construction to build the sets.
What's your favorite style of Costume Design?
I have many style icons. But in terms of my favorite costume designer, I would have to say Antoinette Messam. She is an extremely talented costume designer. I love how she layers elements. She has a really niche style, which I feel would be very difficult to replicate. As a costume designer, I think it's cool how her style is so versatile. Most recently, my favorite costumes by her have been in the productions "All Day and a Night," "Superfly," iconic "Creed," and "Hold the Dark" (the stunning coats and layering she created for Jeffrey Wright and the rest of the crew!).  I think you should check out her work!
By Alexandra Marie
Special Thanks to SpLAshPR Agency