Giolì & Assia are a young Italian duo of producers, multi-instrumentalists, singers, songwriters, record label owners, and DJs, creating music that blends the styles of techno, house, indie, and pop that is uniquely their own. Giolì plays the piano, cello, drums, guitar, and handpan, and Assia handles lead vocal duties as well as the guitar. Although their relationship started as manager and artist, the creative partnership developed into a production and songwriting duo in 2016. Later that year, they founded their own record label imprint to distribute their music, Diesis Records. Since August of 2019, the duo have sold out every show they've played. In 2020, they've released their first single, "Habibi," and launched their brand new web series, #DiesisLounge, following the success of their unique live stream performance, #DiesisLive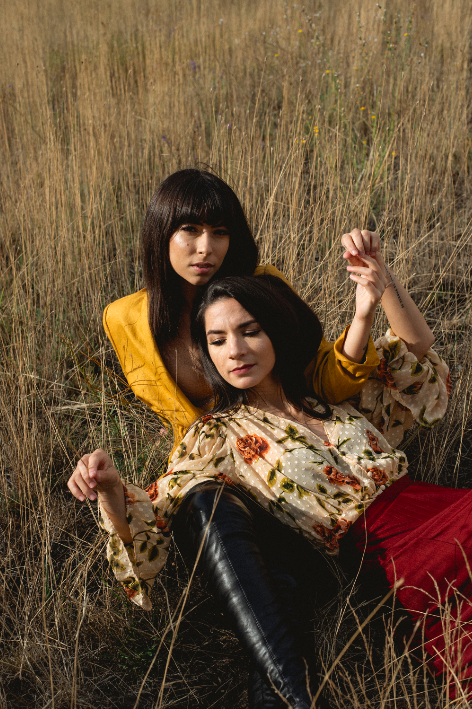 Both of you have extremely diverse musical backgrounds, with each of you trying to do your own thing before joining forces. From your personal experiences, how do you think each of your styles shines through in your music?
We met five years ago and since that moment we started to talk about the music we like and listen to. Now our personal influences are combined in one big background. When we produce we usually like the same sounds and have the same inspirations. We both love percussions and afro-house, we both love Coldplay and Stromae. Even if we play underground tracks during our DJ sets, our own melodies and lyrics come from pop influences.
Can you talk a little bit about the creative process behind your releases? Walk us through your writing process and how collaborative you are during the process.

Usually we start producing the music, choosing the style, chords, bpm and instruments we want to be inside the track. Then we start thinking about a melody, we both sing loud some ideas, even without proper words, just vocalizing. At the end we write down the lyrics. But it depends, sometimes we do some acoustic sessions, we sit at the piano and write down lyrics. Two new unreleased tracks are started this way. 
You've put out some great material in the last few months. Is all of this leading up to an album? 
Sure, but we want to put all the effort needed, and take time for it. At the moment we'll keep on releasing singles, but the album is our goal. The process behind an album is really exciting, because you have about ten tracks to tell the same story, divided in different episodes. We want our album story to be fresh and unique also for the concept of a new live show.
You both are actually on lockdown in Italy right now. How has that been and how have you been staying busy during this time?

We are on lockdown since January now. We asked our team for one month off, so we could produce some new music, but definitely didn't expect this situation to happen. However we keep working all the time. We keep working on other aspects beside the live shows. Of course we want to have some fun too, so we play with our small puppy, or with our pool table, cards and checker, and watch Netflix for sure.

How has the pandemic affected your business? Your life?

We guess this situation has affected the life and business of every kind of person, not just artists. We had to reschedule tons of our shows, and we are very sad about it. Our whole American tour getting rescheduled, but we keep in mind that there are people that die everyday because of this virus, so we just think about what really matters: to be safe.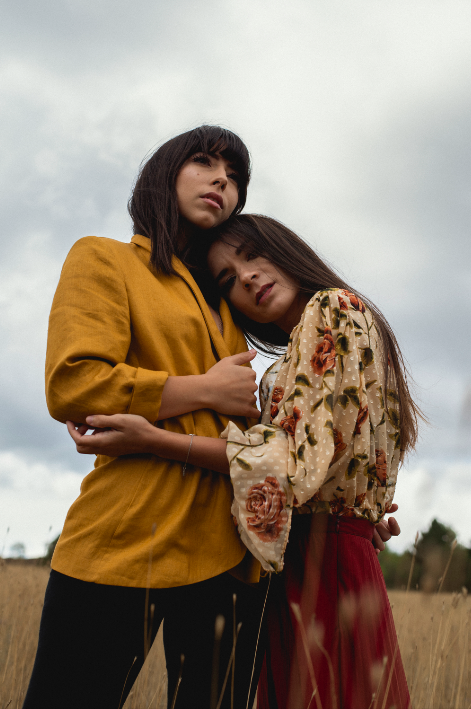 What's the positive side of having to stay home all day?
Last year we spent almost every week between airports and hotels, so we were missing home a lot. The positive side is that we can create new tracks and concentrate on some ideas for the new live show we want to build once we'll be back on the road.
We love the #DiesisLive sessions and beautiful locations. How did you come up with the concept

s

? How do you pick the locations?

The duo project was born in 2017, but at the beginning people didn't understand our music style and performance. The "Giolì" project as a solo was mainly techno, while as a duo, Giolì & Assia, we started to release tracks that were more indie, pop, and techno. So we knew it was important to create those videos and let the audience see, experiment, and understand how our live show is built, the music we perform and the instruments we bring to the stage. 
What inspired the #DiesisLounge Sessions?

Well, as long as we can't travel to make new episodes of #DiesisLive, we had the idea of doing almost the same format, but at home. Everyone is going through a bad period, so we try to let our fans know we are here for them, making new music, giving them some time to escape.
DiesisLive: https://youtu.be/nkb_zdbHMBw

What are you most looking forward to most once this is over?

We are missing everything about the tour life we were used to do, but mostly the emotion and the adrenaline that just your own show can give you. We miss our fans and can't wait to be back, to finally meet them again on the road. 
Looking to the future, what are some things you have coming down the pipeline in 2020 that you want people to know about?

There a lot of positive news ready to come, both in the tour and musical aspects. We are very excited for our upcoming releases to be out, some interesting collaborations are on the way and many big international festival in which we are very happy and proud to perform.