Style & Substance : ADIBA
ADIBA is an exclusive woman's designer line, promoting a diverse, elegant andconfident woman. Inspired by intel- lectual freedom; we present ready-to- wear, functional pieces that provide sophisticated freedom to others. ADIBA is a proud supporter of non-profit or- ganizations, ADIBA Donates 10% Of All Sales To Widows In Need. All ADIBA pieces are manufactured in New York City with premium fabrics. 
Your company is exclusively female led, what inspired you to start making clothes for confident women? In your history as a designer, was there ever any experience in designing for men's? How did you get started working in fashion?
I admire the power of garments and how it transforms a person into being able to represent themselves and their person- ality. Since I was young, I took pride in having the most unique outfits by mixing rare color combinations, and styles; this helped me feel more confident regard- less of what was trending at the time. I believe fashion is a form of language that can be used to express confidence, in- dependence, and intelligence all based on the way one chooses to dress.
I have yet to design for men however this may be in the future plans for ADIBA.
In 2010, I began my fashion-lead work journey as a sales associate in a well-known Euro- pean fashion company and I worked there for 8 years. Throughout the years I worked my way up through many positions such as visual merchandiser, assistant manager, de- partment manager and HR manager. The visual merchandising position stayed close to my heart as I loved many aspects of this position, which later led me to begin my own clothing brand.
There are plenty of luxury ready-to-wear companies, what makes your company different? What do you like most about being a designer?
ADIBA has many key features that stand out from the rest:
Our apparel is fully produced within the United States
• We try our best to source materials from small businesses to help economic growth and to help support families
• We hand select high-quality and exclusive fabrics
• Our collection of accessories/clothings is handmade and designed by me
• A portion of all sales goes to a non-profit organization that lifts women's widows educationally, and economically who struggle to support themselves due to the death of their husbands.
Taking an idea from concept to reality is truly what I love most about being a designer. The process of taking a hand- drawn sketch to a physical product, being able to freely create and brainstorm ar- tistically are some of the best aspects.
It mentioned on your website that you guys are supporters of several non-profit orgs, which offer a successful future to those living in critical conditions, why is this important for you as a business to support?
ADIBA is a proud supporter of widows since my grandmother (whose name is Adiba) was a widow since her 20s. Grand- ma Adiba struggled to raise four girls in traditional middle-eastern culture. Our mission is to support all widows around the world and supply them with the edu- cation and know-how to become financial– ly stable by donating to Global Funds for Widows.
ADIBA Donates 10% Of All Sales To Widows In Need, what drew you to this particular cause?

My grandmother was and still is a role model for me not only in my personal life but in my business. Grandma Adiba was a widow early on in her marriage, in an effort to support her kids as cash flow was tight she began sewing and making their own clothes. Not only did grandma Adiba design and sew her own children's garments but also for the children of other struggling families. Widows In Need.org helps many widows by giving them the knowledge and materials to begin their own businesses, have jobs, and provide for their families. Every woman they help is as though they helped grandma Adiba.
In addition to that, is there anything you would want to improve in the fashion industry? A change you and your brand can provide?
We would wish the industry would be more welcoming and supportive of emerging designers and independent brands. We believe the exclusivity, functionality, and overall quality are what you should focus on rather than the name in which you wear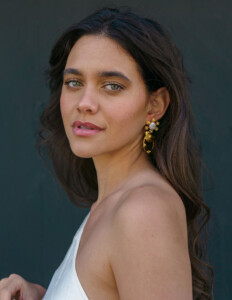 In the rise of fast fashion, your company has remained true to providing consumers with clothes manufactured in NYC, how important is it for you guys to remain a clean and sustainable brand?
It's hard to make everything you do 100% sustainable when you want to translate your creativity to its full potential. I try to reuse my toiles, extra materials, and/or fabrics in my next design. We also are very passion- ate about keeping our products produced within the US and supporting other small businesses.
What inspires your designs? Is there a person or a certain vibe?

My biggest inspiration is my grandmother and my mother. They have always had an elegant style inspired by the 80's. In addition, my culture is an inspiration as well, which is a mix of elegance and middle eastern detail that I always improvise through the handmade jewelry and accessories offered at ADIBA.
Who have been the most interesting people you've met so far? Is there a specific muse or known personality you would like to design for?
There's alot to name but Beyonce, Taylor Swift and Negin Mirsalehi are ones that we would love to design for one day, since they are very feminine, theirstyle/personality reflects confident and powerful women mixed with elegance but edgy as well.
What has been the most valuable lesson you've learned while in the fashion industry? This can be about the industry or about yourself.
The most valuable lesson I have learned through working in this field and in my life, in general, is to never let people control your work, vision nor style. Al- ways stay true to yourself no matter the situation. Never doubt your instincts however always take people's opinions and advice into consideration. In the end, always follow your heart and your beliefs. Another valuable lesson learned is that you don't have to fit in, being different is what makes you unique, and never be a follower of others, instead strive to always be the leader.
What is the best advice you've been given?
This can be about being a designer, entrepreneur or female designer. Love what you do, believe in it, and pursue it endlessly.
What are your future plans? For the brand and yourself?

We are very excited to begin collaborating and starting new projects that push the envelope and start our own trend-setting products; we will begin exploring new ad- ditions in the accessories category as well. We are also having large plans to hire talented and professional individuals who are in need of financial stability and support. We shall see what the future brings and make the best of every opportunity.