For techno lovers…
RESISTANCE Ibiza is back on the party isle this summer!
With events in every continent, RESISTANCE brings some of the hottest names in underground electronic music to clubs and festivals around the world.
RESISTANCE Ibiza was awarded for having some of the best DJs. The festival has announced another forward thinking and spectacular series of shows from July 21st  to September 15th 2020 which will take place in the amazing nightclub 'Privilege.' Returning for its fourth season, techno lovers can enjoy different performances every Tuesday for nine weeks. 
Privilege Ibiza is called the "world's largest nightclub" with a capacity of 10,000 people and is located close to the village of San Rafael, Ibiza, Spain. From the huge staircase at the entrance to the massive iconic dome overhead, to the many dance floors and the cult favorite Terrace, the vast Privilege is one of the few places in the world where you can lose yourself in a labyrinth of rooms. Every room has its unique character yet they all bring out the same electric excitement that ignites the entire club.
 The nightclub will host RESISTANCE Global Ambassador Carl Cox for four special shows on July 28 (Carl's Birthday), August 11th, 25th and September 15th (Closing Party). As well as Main Room Resident Adam Beyer for five shows on 21 July (Opening Party), 4 and 18 August, 1 and 15 September (Closing Party). Many more international superstars and residents to be announced!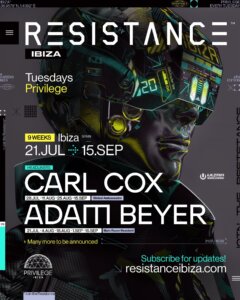 Summer 2020 will take RESISTANCE Ibiza to new heights where big names will find themselves once again on the big stage, new faces will make their grand debut, and more. There are also some special surprises still in store, so make sure you stay tuned if you plan on attending those weeks!
Don't have summer plans yet? We highly recommend attending this party. The first RESISTANCE Ibiza 2020 announcement trailer is here.  
"Ibiza Night, and one of the most unforgettable experiences on the White Isle"
To stay in the loop, make sure to head to their website at resistanceibiza.com and subscribe for updates.
By Justine Duclaux
Photo : website