The French brand Jennyfer along with with Kylie Jenner and Kendall Jenner has just collaborate for a capsule collection. It's an exclusive partnership for the brand!
The "Kendall + Kylie" brand was announced in an Instagram publication. The publication with the two sisters on Jennifer's account collected 90,000 likes. This is incredible for the brand!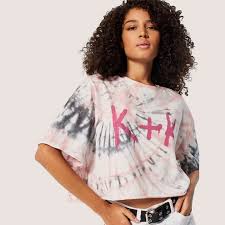 You can now visit the e-shop where the beautiful pieces were unveiled. Kylie and Kendall fans, this is for you! The collection is composed of 10 pieces with shorts, sweats but also oversized tee-shirts with a "tie and die" design with the photo of the two sisters. Despite Kendall and Kylie's fame, the prices are between $9.99 and $25.99! This is your chance to have the same clothes as the Jenner's without it costing you an arm and leg.
The limited edition is exclusive on their website and thus exclusive to select European countries.
By Justine Duclaux
Photo: Website