Photos by Tamar Levine
Interview By Alexandra Bonnet
"All my teachers told me I would become an engineer," shares MylesHaas, founder of Magic Men. They were wrong. The handsome entrepreneur found himself on a wild journey to becoming the successful businessman he is today, launching the nationwide known show that has sparked a loyal fanbase, plenty of crazy nights throughout America and possibly inspiring the name of a film we don't have to point out.
Growing up, everyone around Myles was convinced he would become an engineer but he figured out fast enough that it wasn't meant for him. At the age of 18, he started working for his uncle who owned an adult party agency back in 1989. People would hire male and female entertainers for private parties (Bachelor and Bachelorette). Young and eager, Myleslearned everything about how to properly run a business by starting off as an office employee: helping with bookings, sales, payroll, and more. What he didn't realize was that the universe had bigger plans in store for him. As he shares, "I remember the moment the seed was planted in my head."
Myles' uncle sent him out on a job for a "Ladies Night" in which the client wanted to hire five guys to perform. Having never experienced such an event before, the young eighteen year old had no idea what he was about to take part of. "We were backstage and we were walking, and there was a curtain (five inch gap) where women could see you. One of the guys walked past the women started screaming really loud. It shocked me. I had been to female entertainer shows and that never happens, the guys don't start screaming AHHHH."
In that moment, he had to take a second to process what just happened. It wasn't even a show yet–just a group of guys performing their solos as the women were having the time of their lives. Myles couldn't contain his excitement as he realized this could be something so much bigger. One of the reasons why he was so hypnotized by the event was because all of a sudden women could let their hair down and not hold up to any expectations. "Women are expected to act and behave a certain way but there they could be free and themselves without fear of being judged for it," shares Myles. A few years later, that's when the magic started to happen.
He started out really small, running his own company when he was 21. He booked private parties and started approaching nightclubs in hope of starting "Ladies Night." His first interaction with a club owner needed a little bit of persuading which wasn't a problem at all: Myles was taking all the risks and the club owner could only benefit from it. Ideal, right? Well, not only was that first night a success, it broke every single record they ever had: liquor sales, attendance, everything. From that point on, "Ladies Night" became a regular thing and it slowly expanded to other clubs over the course of four to five years. After being inspired by different concerts, festivals and more, it was time for the next level–and five years later the production was created.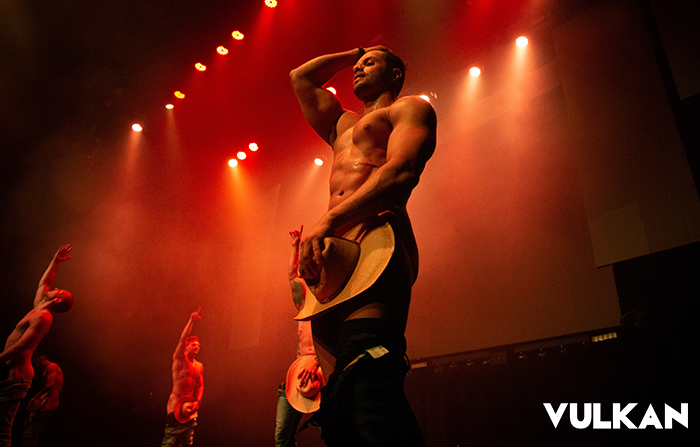 The group started off with five male entertainers who had become regulars but that all changed when someone from Grand Rapids saw what they were doing in Detroit and reached out asking for help with their own bookings. Light bulb idea! Myles thought bigger and soon enough many guys from Grand Rapids were sending their "applications." He was shocked: "Man, everyone of these guys is a fitness model. All good looking and really ripped. What the hell is going on over there?!"
He knew he had to convince them to join his show. It wasn't much longer after he invited them to the company'sChristmas party that each of them was sold and signed immediately.
Over time–another 5 year process–different shows were being developed and it was during the sixth  year that the actual touring show was created. Through hard work and dedication, Myles took a show that started from nothing and turned it into something huge. No one believed in this but that didn't stop him from chasing after his dream. There were two instances in his life where he knew Magic Men was having a much bigger impact and presence than he thought. The first one being his favorite show. It was the biggest show they ever did which broke the record for largest ladies night ever (Guinness World Records) in Denver , Colorado. The sold out an arena which had over 5,000 seats–twice. The venue even put their poster up among the many other ones of Nicki Minaj, Kevin Hart and other renowned performers who had been there before. They went from a group of guys trying to make an extra buck on the weekend to filling up an entire arena. However, it was this second instance which truly touched Myles' heart.
Magic Men's fan base grew dramatically as they had women coming to their shows multiple times in a row and following them from city to city.There waseven one particular moment where a woman shared shared just how much Myles saved her friend's life as the woman in question was too shy to say it herself. It just so happened to be that when he first met the woman, she was in a deep depression and his kindness towards her helped save her life. She has been contemplating suicide but decided to turn to life rather than turn to death. He brought her back to life . He was left speechless. She even got a tattoo with a heart beat, his name and his signature. With shock still heard in his voice, Myles shares: "I struck me so hard. We are doing something that is a lot more impactful than I thought and that always stuck with me. What we are doing is more than meets the eye."
When MAGIC MIKE came out, Myles hadn't thought much of it as he didn't know much about Hollywood in general. It was when man people started contacting him about it that he realized this could only be a good thing. After all, it brought awareness to what this type of show actually is– not just "greasy oiled men shaking their way around stage," shares Myles laughingly. It also allowed women to feel more comfortable with the idea of experiencing these types of shows.
With a fan base growing every day and all around the world, Myles hopes to bring Magic Men to the next level: all around the world. From Australia to China to Europe, women are going crazy over their shows which showcase everyday heroes to personal fantasies. The show is meant to serve a bigger purpose than pure entertainment: it was created to allow women to let go for one night and truly experience non-judgmental happiness and fun. Why do women have to feel ashamed for enjoying things that are seen as "normal" for men? Why do men groan at the idea of a show of this nature being performed in their venue? But don't worry, ladies and gentlemen, none of that is stopping MylesHaas.
"All the judgment that society puts on women and preconceived notions that you should look a certain way, feel a certain way, behave a certain way: we are saying Fuck that."