If you need something to watch in anticipation of Superbowl weekend, make sure to check out Netflix's HOME TEAM with emerging actor Tait Blum. Staring alongside Kevin James and Taylor Lautner, Tait is no stranger to the entertainment industry. Last year Tait starred in WISH UPON A UNICORN (Universal) is recognized as 'Shane Baldwin' in the Apple original series "For All Mankind" and as 'Young Bob Lee Swagger' (Ryan Phillippe) in the hit series "Shooter" (USA).
HOME TEAM, now available on streaming has been a #1 hit on Netflix and has been in the top 10 since its release. Loosely inspired by a true story, Tait plays Connor Payton, son of NFL coach Sean Payton (played by Kevin James) who famously coached his son's amateur youth football team during his Roger Goodell-mandated suspension from the Saints. As the story goes, Payton enlisted the help of some former NFL coaches like Bill Parcels and Jon Gruden to help devise a plan for his son's team.
Check out our Q&A with Tait!
Tell us where you got your love and passion for performing and entertaining. Do you recall if there was a moment you wanted to be part of the entertainment industry?
I started acting when I was about 10 years old. I think, like any sport or hobby when you see something cool, you naturally want to try it out. Despite having zero singing, dancing, or performance background of any kind, my parents were still supportive of my sudden desire and found acting classes for me in Los Angeles! After my very first lesson, I was hooked. My love for film, cinema, and performing have been growing ever since.
What is your most memorable moment in this industry to date?
That's tough! One extremely memorable moment was when I had a chemistry read with ShiaLaBeouf for Honey Boy. I was only 12 and extremely green. He was an acting GIANT! We read together twice, for a total of about three eye-opening hours between both of those auditions. I had done little to no improv work before that time and even though Shia put me completely at ease, I was nervous and painfully aware that I was being fully submerged in the deep end of improvisation. The quality, realism, and intensity of Shia's work was shocking and intimidating, but he was the kindest, genuine, encouraging, and patient mentor. Definitely, an impactful experience that I will never forget!
Tell us about your filming experience on HOME TEAM and the premise of the movie. How did you enjoy working on the film, filming with Kevin James & Taylor Lautner?
Home Team is the true story of Sean Payton, the coach of the New Orleans Saints, who, in his suspension during the 2012 NFL season, coached his sons amateur football team. In that time, he made efforts to reconnect with his son, Conner. Going into Home Team, I was a fan of both Kevin and Taylor's work, so I was quite nervous about meeting them for the first time, as I'm sure anyone would be! In spite of their talent and obvious acting skills, Kevin and Taylor are some of the most humble, down to earth people I've met. I feel like it might be easy for some actors to get caught up in themselves and to come across as arrogant regarding their celebrity, but that was definitely not the case with Kevin and Taylor.
How was it working with such a strong cast? Any behind the scenes stories you can share?
Taylor, Kevin, Jackie, Rob, and Gary are all incredible at what they do, and all so kind! Overall, I was pretty nervous to work on this set, but each actor put me immediately at ease. In oneinstance, while we were shooting a football drill montage, there was a circuit that we were all supposed to run; ladder drills, cones, and at the end, Taylor was holding a blocking pad we had to hit. All of the other players before me cleared through their drills no problem. Eventually, it was my turn to go. When I got up to the pad Taylor was holding, I went for the fake hit, thinking this was supposed to be a simulated situation, and he absolutely decked me! I landed flat of my back in a daze! He apologetically checked on me afterwards to make sure that I was okay, and said something like, "all the kids before you were hitting so HARD that I thought I had to push back even harder!".
Who would be your dream costar? Or who would you like to work with?
Honestly, I esteem so many actors, but if I could somehow work with one, it would probably be Leonardo DiCaprio or Daniel Day Lewis (if he were still working…). I look up to both of them equally and I thoroughly enjoy watching their movies and studying their work. As for directors; Paul Thomas Anderson, the Cohen brothers, Wes Anderson, and Robert Eggers are all directors that I would absolutely love to work with.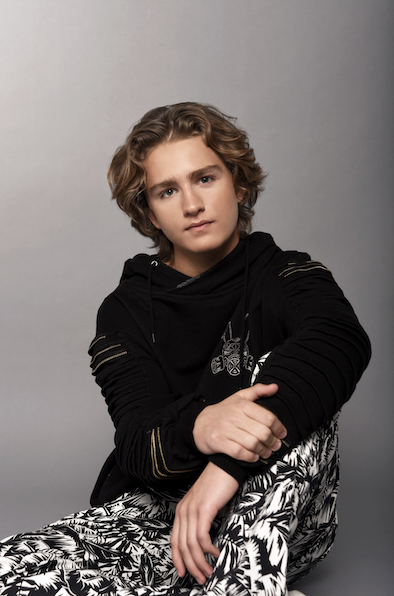 As an actor, what do you hope to accomplish the most?
I want to move and inspire people who watch my movies. I want to be involved in good stories with characters that make the audience feel something. If I can't evoke some type of real emotion or connection with my character, then I've failed. My hope would be for my work to illicit relatable responses from the viewers and speak to them in a personal way.
Currently, what were some of your favorite shows/movies, and why?
I've watched a ton of movies since the first lockdown, but if I had to choose a few of my favorites, they would be; 1917, Blade Runner 2049, There Will Be Blood, The Grand Budapest Hotel, and No Country For Old Men. As for shows, I'm binging Peaky Blinders at the moment, which I think is very well done, and when new seasons of Stranger Things and Outer Banks come out I will probably binge those as well.
What is a hidden talent of yours or something viewers may not know about you?
In the past, I was extremely passionate about Go-Karting and traveled to compete in different races with my Dad. I've taken a long hiatus, but that's something I've always enjoyed and something not everyone knows about me.
When you're not busy working, what do you like to do in your free time?
I love watching films (surprise) and writing scripts, which has been something I've tried to hone in on throughout quarantine. I also love playing paintball, I'm an avid Fantasy Footballer and sportscard collector…and am trying to pick up on some new things right now, too, like learning to play the guitar.
If you could trade places with someone for the week (dead or alive), who would you pick and why?
Definitely Tom Brady! Imagine playing in an NFL game in front of millions of people. That would be absolutely insane!
What kind of show/movie do you hope to tackle next?
I've had a desire to tackle either a sci-fi or a drama. I would love to do either one, or even a combination of both. But any kind of role that would push and challenge my acting ability.
@VULKANmag
@taitblum
@tommy_flanagan