Art Hearts Fashion has once again hosted an event where styles and expressions were brought to the center stage for a night of celebration. With the opening night to the much-anticipated Los Angeles Fashion Week, three designers, Charles and Ron, Oren Kash, and William Lei.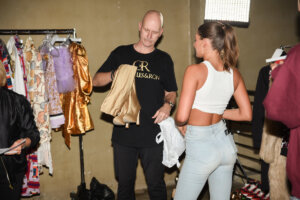 The runway event showcased their impressive fashion styles to the clamoring audience members in attendance, and amazing front row Colton Underwood, Lilimar, Tracy Shapoff , BabyAriel, Camila Banus, Andrew Matarazzo, Levi Meaden, Haley Pullos, Carmela Zumbado, and many more… at the Majestic in Downtown LA.
Still, a young brand in the fashion world, William Lei's work has been recognized among the Hollywood elite, being named as the best ready-to-wear designer by Fashion Community Week in September, with his designs set to be released in the upcoming Spring GQ issue. His luxury jacket pieces from blazers to sports coats and his unique collection of evening wear continues to set him apart time and time again.
Charles and Ron's designs have taken them all across the fashion world including the Royal Buckingham Palace. These Maltese designers pride themselves on offering the best contemporary high-end products that showcase their clothing and bag lines. Among the styles they featured at the runway event, their designs are regularly featured on many of the best international publications. Their unique Mediterranean style brings out a true sense of style and empowerment for the world to see.
The ready-to-wear collection for Men and Women by Oren Kash was highlighted among the many other styles of the night. His collection features a wide range of clothing products from T-shirts, to bombers and jackets, offering distinct color patterns and design styles that make his work recognizable and making him one of the highly sought after designers in the world.