Actress Kelly Greyson x "The Fortress"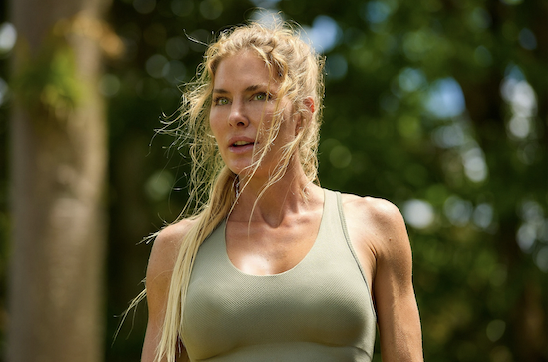 Starring in the military thriller trilogy, The Fortress, Kelly Greyson embodies what it means to be a kickass woman both on and off screen. Appearing alongside a star-studded cast of renowned actors such as Jesse Metcalfe, Bruce Willis & Chad Michael Murray, and more the first installment is set to be released on December 17th. Kelly Greyson is not your typical Hollywood startlet. In fact, she is a true athlete in every sense of the word and soars when presented with the opportunity to do all of her own stunts, just another small feat for this action star on the rise. One of the closest things we have to a real life superhero, Kelly Greyson is not just a multi-faceted and versatile performer, she is passionately devoted to enriching the lives of those in need around the world through her charity work for various organizations. With 2021 ending on a high note, 2022 is shaping up to be an even bigger year for the actress and humanitarian.
Share with us why you decided to become an actress. What were you first drawn to as a kid and how did your attraction evolve? 
What made me want to become an actress? I think that's a multidimensional answer. The easy answer is I love it and it's so much fun to feel like I'm living multiple lives in one lifetime. But, also, ever since I was little, I've always made myself do things I was afraid of. I was unbelievably and painfully shy, so making myself get so far out of my comfort zone was something I needed to do personally. Then realizing that from my real life experience of being super shy and empathetic came the perspective of feeling and seeing other people on a whole other level makes  immersing in a particular role pretty easy because I authentically feel so many things. Lastly, I'm a very purposeful person and I see media as such a profound medium for impact and a wonderful way to reach people change lives for the better and to be a voice for the voiceless!
The first time I ever did an "official" professional shoot was when I was 7 years old. I remember feeling so alive and happy. I loved being in front of the camera which is surprising since I was so shy (I was, in fact, so shy that I didn't even want anyone to know that I liked it.) It was something I had never experienced before and I remember feeling like this is what I want to do. Obviously, there's been lots of twists and turns and real life in the meantime but I always had that "want to be in front of the camera" I kept fighting for despite what felt like insurmountable odds at times.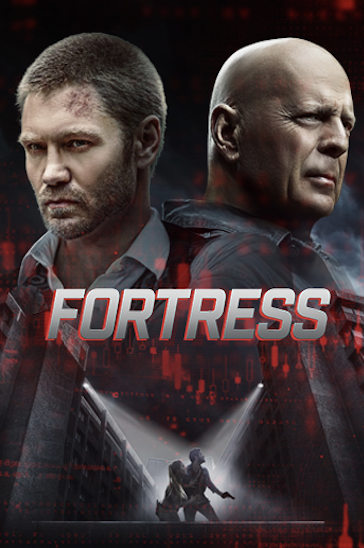 You will be starring in THE FORTRESS, a military thriller! What was the audition like for it?
This was the kind of audition I like. I had previously worked with some of the cast, crew and producers in other films and they had recommended/asked me what I thought about the role! We then had some mutual collaboration on the  project and ideas of the characters etc. So, it was the best kind… Honestly, at this point, I've done enough that I think my work speaks for itself and I generally want to work with people who come to me with a role because they know I'll do a good job and it's a good fit!
What has your experience been like working alongside Jesse Metcalfe, Bruce Willis, and Chad Michael Murray?
Was so much fun and such a gift to be able to work with so many talented people! Just great people in real life, on and off the screen. They all brought their A-game which is so great to work with because I do too every time. It was an honor to work with such talented professionals. I take my job very seriously and they were all fantastic and very thoughtful. It made working with them very easy!
Were you nervous at first to be working with such renowned actors?
I mean there's always an element of nervous because it's a new environment and new people …but not too bad really. As a general rule, I respect people for who they are as humans and how they love and respect others. I've never been starstruck at all and I'm not so much impressed because somebody says they're popular. Or because they are famous. I generally make my own assessments of people based on their heart towards others and character and integrity.
Share with us a story from filming that left a strong impact on you.
It was a super tight shoot and everyone had to be ready. There was no room for error. One particular day we were running out of light and it started to rain and we still had an entire fight scene to shoot and we only had 15 minutes left. The director decided to go for it and bring everyone into the shot all at once. It was craziness and totally awesome and I definitely ended up with some bumps and bruises, but what should have taken several hours, we rocked in 15 minutes in the rain.
How did you first meet the cast? How has your relationship to them grown? 
Met them all at different times… At dinner, walking on set, or in a van. Such a great group! We all had different levels of compatibility. I end up hanging out with those I was most compatible with, I guess. But everybody was super great to hang out with. And honestly, there was so much work that there wasn't a lot of hang out time.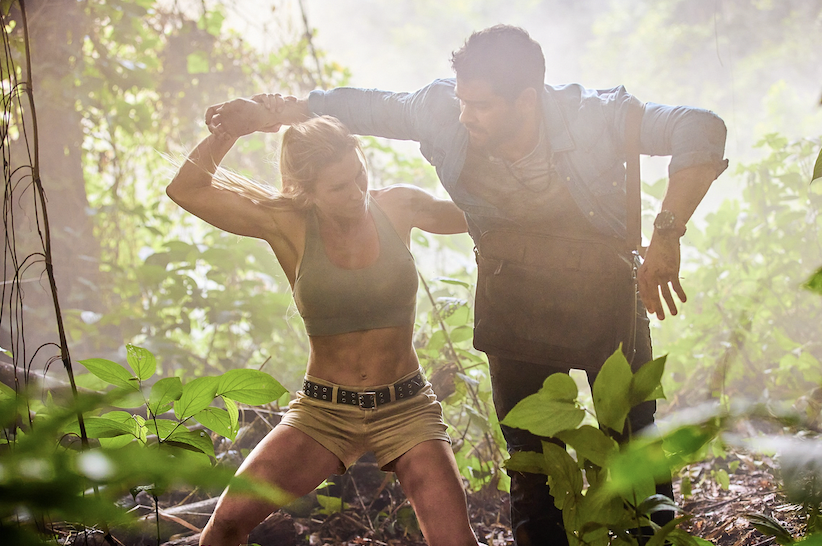 What can fans expect? 
Fans can expect some really amazing performances from super great talent and non-stop action intrigue and a whole lot of mystery!
You perform your own stunts!! Tell us more about that and what it takes to be able to do so. 
So, I've always been an athlete and love all kinds of athletic challenges. I honestly keep myself fit and ready for whatever the role or shoot or opportunity is. I kind of live competition ready because I want to be ready to perform… Also, I just want to live life to the fullest and I think life is more amazing when you are in shape and able to do all the things.
Personally, fitness is a major discipline and focus, and It's a lot of work but the payoff is real and worth it to me!! So, really, doing stunts is just another athletic endeavor. I had some great training with the totally awesome stunt team. They were so amazing and helped me learn all of it and finesse the smaller movements to be more authentic. Every chance I had, I got with the stunt coordinator so I could have it all down perfectly.
Share with us a little more about your non-profit my1Mpact. What inspired you to find it? 
I've always had a heart for people. I grew up doing a lot of volunteering and humanitarian work but I also just watched people and I cared and I'm super empathetic so I feel things deeply… I have had a lot of heartbreak of my own and have always tried to grow and get better and not bitter. Knowing personally the result of choosing love when hate would be the normal response, I want to share with people the life-giving effect of that. Looking at society now and everybody's inwardness and pain… I wanted to inspire significance and help people realize their personal significance. And how each one of us can be a world changer in a way that's unique and matters…
No one can leave the mark that you can on the planet. No one has your touch. It's as unique as your fingerprint. No one can leave the impact that you can…
If people can embrace that and start thinking about how they can change somebody's life for the better, it's actually healing for the giver as well as the receiver. Whether your thing is the environment, animals, homelessness, education, foster care, no one can take your place. You are irreplaceable in the role that you can play.
In my personal experience (like I mentioned earlier and to recap) when you change somebody else's life, its giving life to you as well. When you reach into somebody else's world and help them, it changes your life at the same time. I'm hoping to inspire everyone to look beyond themselves and change somebody's life. What does love really look like? And what is the ripple effect that was created by that? How can you change the world one life at a time?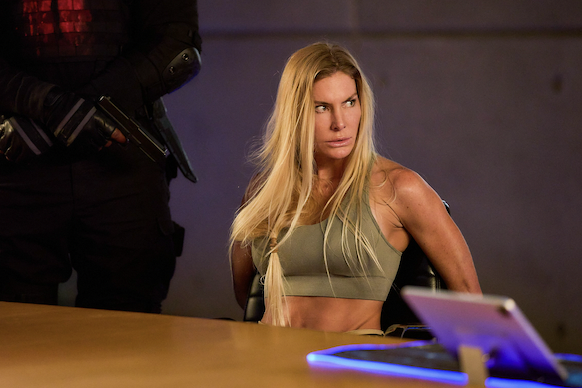 What does love and beauty mean to you? 
What makes a person beautiful to me is their heart, soul and their compassion for others. What love looks like is doing what's best for somebody else. Obviously, you want to have boundaries and make sure you protect yourself but also making intentional choices to look beyond yourself and see what it is that somebody else needs. That's what love looks like! And love is what makes people beautiful! I think when you choose love, it's a powerful position because choosing hate and anger is the easy road but it's also self-destructive… the exhilaration of being able to choose love, is a gift. The last of the human freedoms is the ability to choose your response to any given situation. And when you embrace the power of choosing love, its life changing.
Where do you see yourself going next?
Going to all the places and doing all the things! 💕
@BELLOmag
@kellygreysonlive
@alexbonnetwrites