Photos courtesy of @muziqfiend
Vulkan Mag was treated with attendance to the Special 20 Year Anniversary of 10 THINGS I HATE ABOUT YOU. And while that was in a treat in itself, we were lucky enough to be given access to Samskara: an immersive art exhibit featuring various artworks including that of artist Android Jones. As we were escorted through the art installations, we experienced and viewed great colorful and innovative pieces both equally original as they were intricate in design. A colorful mix of art pieces, sounds, and installations the dome that housed the artwork appealed to all senses, providing a unique experience to all guests.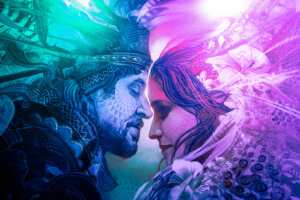 In another dome, the event housed the special 20th-anniversary screening of the film. Presented by 10TIHAU ultra fan Kory Davis, aka @moviedude18, the screening was followed by a celebrity-filled panel and 90s-themed after party as well as a performance by "Letters by Cleo" members Kay Hanley & Michael Eisenstein. While cast members of the film made the event extra special, the event highlighted and brought awareness to Autism and local charity Bringing Light to Autism.
The Q & A included Larisa Oleynik "Bianca", Andrew Keegan "Joey Donner", Joseph-Gordon Levitt "Cameron James," and while we were expecting to have David Krumholtz attend, he left a video recording for audiences to enjoy. Other panelists included writers Kirsten "Kiwi" Smith, Karen McCullah as well as producers Andrew Lazar and Mark Irwin. It was intriguing listening to the cast reminisce and discuss the fun times at Stadium high and an iconic film that brought together such a great cast that included Julia Stiles, Gabrielle Union, Allison Janney, and the late Heath Ledger.
While we thoroughly enjoyed the screening and tour of the hidden gem in the arts dirstrct, Wisdome is the perfect place for a first date, an inspirational point for the artist at heart or the perfect photo opp for the everday millennial looking for the next Instagram Post.
The venue and all of its domes have become the perfect venue for music performances, film premieres, immersive art experiences are more!
Catch up with all their activities online at https://wisdome.la/ They are open Thursdays – Sunday from 11am.