Over the course of history, there have been many dynamic duos: Tom and Jerry, Batman and Robin, Peanut Butter and Jelly…This week, Nissin Foods, the creator of instant ramen announces the most iconic noodle pairing yet: Top Ramen and Gudetama. 
In response to fans' delectable desire to combine ramen with egg, Nissin announces its long-awaited collaboration with Sanrio; bringing together Top Ramen with Gudetama, everyone's favorite lazy egg.
Sanrio is a global lifestyle company known for its beloved characters, including household names like Hello Kitty and Gudetama. The partnership with Nissin will showcase unique packaging that spotlighting Gudetama. Fans will have the opportunity to slurp up limited-edition Gudetama-themed packaging of select Top Ramen flavors, including Chicken and Vegetarian Soy Sauce.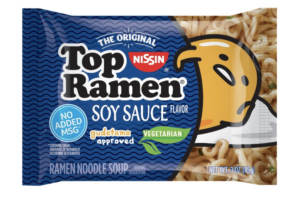 "We're always looking for new and exciting ways for fans to experience their beloved Top Ramen brand," said Gary Lai, Director of Marketing for Nissin Foods. "By bringing together two iconic brands that our fans love, Gudetama and Top Ramen, we are combining pop culture with noodle goodness!" 
To celebrate the partnership, Top Ramen has released five short videos featuring Gudetama across Top Ramen's YouTube, Facebook, and Instagram channels. The brand will continue to release new videos each week, giving fans access to the never-before-seen content. This is a landmark moment in the brand's history as Top Ramen is among the first companies to create cross-branding animation with Sanrio.
"Through our collaboration with Top Ramen, we are adding to the rich history of Gudetama – one of our most popular characters – by giving fans a new way to engage and interact with the lazy egg," said Susan Tran, Director of Brand Marketing at Sanrio. "We know that Gudetama's fans have a strong interest in Japanese food, particularly ramen, which created a seamless crossover with the Top Ramen brand."
Top Ramen products with limited-edition Gudetama packaging are available now through April and can be found at food retailers across the country. Visit www.nissinfoods.com/where-to-buy to find the closest location where Top Ramen is available.
Happy slurping!
By Rachel Hallett
Photo Credit Top Ramen