You know the saying, it takes a village? Well, there is much truth to that. And just like everywhere in society, you have those who applaud and those who criticize. Without the feedback, both negative and positive, how would we expect to continue growing? For Armin Van Buuren, the feedback he gets from his fans is crucial to helping him achieve higher levels on a daily basis. As he puts it: "Your fans are there to keep you awake. Any criticism, harsh or not, there's always some truth to it."
Our weekend in Vegas, with the maestro himself started with a short flight to Sin City where we were taken to the beautiful Aria Resort and Casino in Las Vegas. Walking through the hotel casino, a mixed of emotions filled our group as a common thought couldn't get off our minds. In a few more hours, we would meet the amazing trance DJ Armin Van Buuren.
All dressed up and ready to go, we made our way down to the infamous restaurant CATCH and waited patiently to be seated. Lights were bright, stomachs rumbling, and flashes going off as we captured the beautiful decor. Cozy and comfortable, upon meeting Armin, we were greeted with his presence and charisma making the experience all the more enjoyable as he immediately met us with a warm smile. Not only that, but he dove right into his stories about how he started and where he has been. Just as if old friends were catching up over a lovely dinner.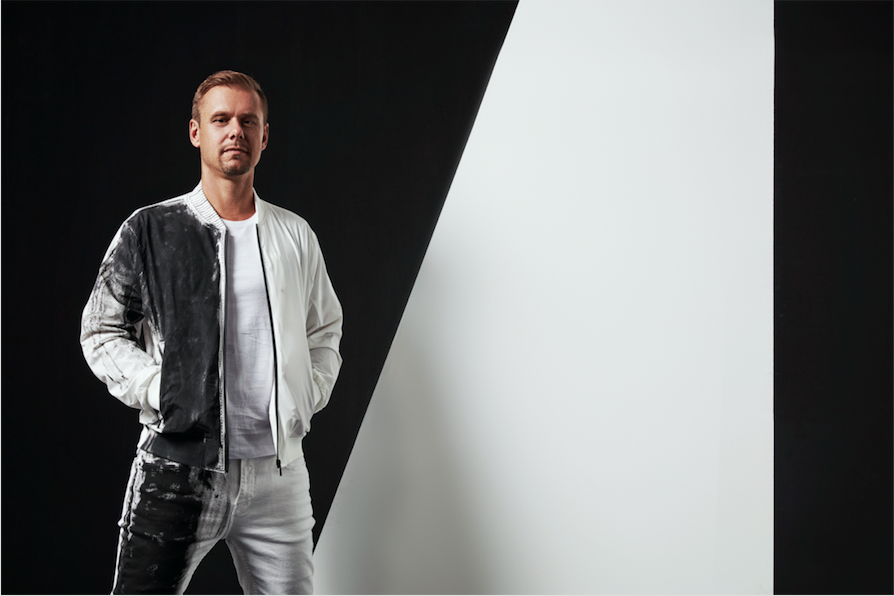 He was just a bartender making drinks and mixing songs on vinyls in a small club. That's how it all started. One of his tactics as a simple bar DJ, was to observe the room and make sure to get the guys in the back start nodding their heads to the dance floor. Once that was achieved, he knew he had done something right and further connected to his audience members.
As Van Buuren shared his stories with a bright smile and honest personality, the food kept coming from popcorn shrimp to the most delicious filet mignon ever served. Paired with the food was a delicious white wine and of course the traditional chocolate cake "hit me" to top it all off. After a few of us hit the cake, we were off to the JEWEL Nightclub to see a live performance!!
The crowd was cheering so loud, hands raised high in the air as the lights turned blue, green, orange. We were directed to the green room where we sipped on vintage champagne and got ready to step into a new haze: that of the Van Buuren music world. You could see him observing the crowd, assessing what kind of night it was going to be. And oh boy, what a performance that was! From beginning to end our feet did not rest and our hearts raced as the music travelled through our bodies. It was a night to remember. After the show, we headed back to our rooms to get some beauty rest before an early interview with the artist.
****
The interview the next morning took place in Van Buuren's suite where we got to sit down and chat a little bit more about his upcoming projects and journey as a DJ, a father, and producer. As he explained, he could easily retire right now on an Island and end his career but that's not the plan for what comes next. The connection he has with his fans is far too important and as he states, it is what makes him more productive in the studio. He takes knowledge from the dancefloor to the studio and vice versa, enhancing the quality of his music, providing a balance in being a performer and DJ.
This connection between DJ and fans is strong and can be felt through his words.. Fans from around the world go wild whenever his name is announced, raising their hands high. There are even many who follow him to every show he does. In Ibiza, for example, he does a fourteen-week period of back-to-back shows and always sees the same people, front row, dancing their hearts out. What makes this so special is that he can't produce new music for every show so these repeating club goers are enjoying the same sets sometimes, over and over again!
An unspoken dynamic has been created in the distance between the audience and the unreachable DJ booth. For this Dutch DJ though, none of that matters: real talks, real stories, real encounters, those are what matter to him. This softer side to Armin was as clear as day as he shared with us one particular story. With stars in his eyes, he began the storytelling of May 12th/13th 2017: his performance "Best of Armin Only." at Amsterdam Arena, the biggest stadium in Netherlands.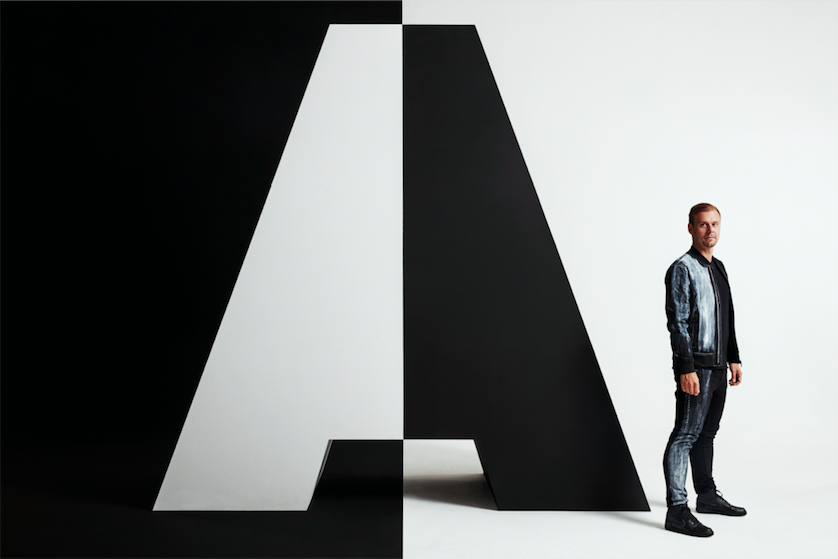 Four hours. Six albums. One hundred and ten countries. Forty thousand people. One love: music. The show was live and showcased everywhere across his mother country. Friends, family, artists with whom he had collaborated with on various albums all came together for the two night extravaganza that would go down in history. Pricey, yes. Worth it? Hell yeah. For Van Buuren it was one particular moment which summed up what he was feeling during those few hours. With stars in his eyes, he shares: "I had two turn tables and wanted to play my first track from original vinyl. Putting that needle in a stadium filled with 40 000 people cheering when they heard the first crackle; that was amazing. The circle was complete. I went back to where it all started."
There was a review in the paper which said: "For the first time Armin doesn't tour the world, the world comes to him," and that is exactly what happened. For Armin, he is still amazed at where he is today: "Twenty-five years later, here I am talking about this amazing career I have had but never would I have imagined I'd be here back then."
Armin Van Buuren is someone who brings people together, a true maestro of music, acceptance, and togetherness. He brings out the best in people and allows them to connect to who they are, what they are going through, and where they hope to be. It took years for him to find this sense of balance for himself and now he is sharing it with the world through his newly released appropriately titled album BALANCE.
Take a look at its name. It is the 7th studio album, the word has 7 letters and A is in the middle. The art work is black and white and it reflects a complete departure from other albums: "it's a double album, more like a compilation than a journey." In order to create this work of art, he took 14 brand new tracks with 14 released in last 2 years: it's like a photograph of everything he has done the last 3 years. We can't wait for you guys to listen to this new album and find your own connection to the world around you because remember, we are all one.
FOLLOW ARMIN VAN BUUREN:
Facebook
Twitter
Instagram
By Alexandra Bonnet & Alexandra Tuil

Photo Credit to Ruud Baan