While there are plenty of memes out there about stocking your liquor cabinet for quarantine, the reality is that many are choosing non-alcoholic beverages. Excessive drinking can exacerbate depression and reduce immunity and the newly launched Beckett's Tonics offer non-alcoholic options based on traditional cocktails.
Beckett's Tonics are the non-THC line of the company's Tinley's Tonics cannabis-infused beverages. The company uses their extensive distilling experience and expertise with terpenes to craft authentic tasting versions of popular cocktails, using the same natural extracts and flavorings, minus the alcohol.
The Los Angeles-based company's formulations were originally developed for use by medical cannabis collectives in California, so that patients could enjoy their favorite cocktails, but receive the benefits of cannabis rather than alcohol. Patients expressed widespread interest in the option of consuming these products without cannabis, so Beckett's launched these versions in mainstream retailers – starting, ironically enough, in one of California's largest liquor store chains. In a nod to the company's heritage, the cannabis-free products maintain the terpenes found in the popular Pineapple Jack Sativa strain, albeit derived from a broad base of botanicals rather than cannabis.
Beckett's Tonics:
Flying Mule, inspired by Moscow Mule
Stone Daisy, inspired by Tequila & Lime Margarita
Juniper Sky, inspired by Gin & Tonic
Mystic Dove, inspired by Paloma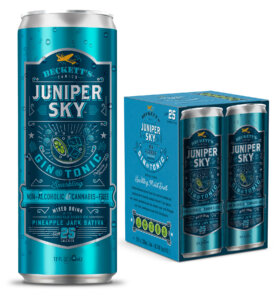 Beckett's '27:
Cinnamon Whiskey
Coconut Rum
Amaretto
Coffee Liqueur
Available for delivery, Becketts Tonics retail at $7.99 for a pack of four single-serving bottles and Becketts '27 retail at $9.99 per bottle. For more information visit DrinkBecketts.com.