When someone has everything they need or want, it can seem difficult to find the perfect gift. For those of you seeking to splurge on your man, look no further as this guide will bring to you a variety of presents from coffee to spirits, and more. The holidays are right around the corner and it's time to get shopping! Below you will find a few of Vulkan's favorites but make sure to check out more of their products on their website! Tick tock, time to close the lock!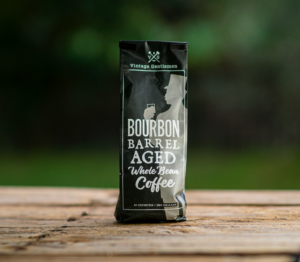 Bourbon Barrel Aged Coffee – 10oz bag
$28.99 USD
Designed for the whiskey lover that also appreciates a good cup of coffee. With notes of English Toffee, Vanilla, Deep Chocolate, and of course, Aged Bourbon. This is the perfect coffee to enjoy for the holidays, or to share as a thoughtful gift for that coffee or bourbon lover in your life!
Campfire Coffee Mug
$22.99 USD
Enjoy your morning coffee in style with this premium 12oz "campfire" mug featuring The Vintage Gentlemen's branded logo. This mug pairs well with the Vintage Gentlemen's specially-roasted coffee.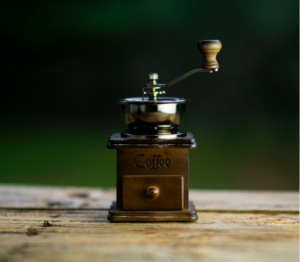 Vintage Hand Crank Coffee Grinder
$45.99 USD
There's something enjoyable about hearing the cracking of the beans and breathing in the deep and rich aroma as you grind your own coffee. This Vintage Hand Crank Coffee Grinder is designed to help you craft your perfect cup of coffee by bringing your whole beans to your desired consistency for brewing.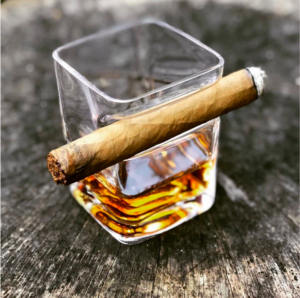 Whiskey Glass and Cigar Holder
$25.99 USD
Any good gentleman knows that whiskey and cigars are best enjoyed together. This "Old Fashioned" whiskey glass also functions as a cigar holder, keeping your cigar secured to your glass so you don't have to set it down to enjoy your whiskey. This is a true gentleman's accessory that makes for the perfect addition to any man's arsenal!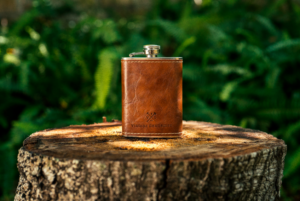 Leather Wrapped Stainless Steel Flask
$24.99 USD
This custom leather wrapped flask features The Vintage Gentlemen logo beautifully displayed. At 6oz, this flask is the perfect size to carry your favorite whiskey or spirit on your next adventure! If you're looking for a flask that's custom and is a reflection of your personality, then this is it.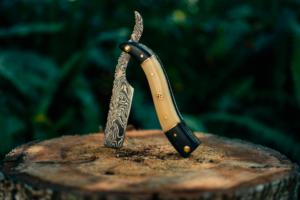 Damascus Steel Straight Razor
$125.99
The Vintage Gentlemen is bringing back the lost art of shaving with this premium Damascus steel straight razor. This handcrafted razor is designed to provide a luxurious shave that gentlemen enjoyed in the past. Everything about this straight razor exemplifies premium quality. Go ahead and indulge yourself and make shaving a relaxing experience, rather than a chore.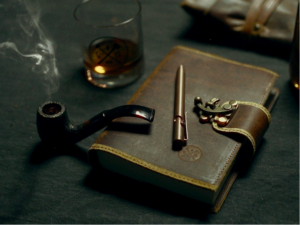 The "Tolkien" Leather Journal
$79.99
We believe there's something magical that happens when you can touch and feel the journal as you handwrite your thoughts down. Inspired by the work of J.R.R. Tolkien, this leather journal will ignite your creative genius each time you open it up. With one-of-a-kind craftsmanship, as the patina of the buffalo leather ages, it will create a texture that is unique to each journal.