Meet The CW's latest science fiction heroine, Priscilla Quintana, who plays as the courageous and strong-willed Jax on the CW's newest sci-fi thriller, Pandora. In light of the premiere of Season 2 (which just premiered this past October), Quintana took a break from her busy schedule to sit down with us here at VULKAN to discuss the show, her character Jax, and how she managed to launch her acting career.
The second season of your popular television show Pandora premiered on The CW not too long ago on October 4th, can you talk a little bit about your experience filming for the show and what it's like to star as such an iconic character like Jacqueline "Jax" Zhou, aka Pandora?
The experience from Season 1 to Season 2 was drastically different! I think that Season 1, like any show, we are just starting to figure it out – from the writing, to production, to hair/makeup, to scheduling, and especially getting to know and understand our characters better as actors. Season 1 felt like practice for Season 2 in many ways, but I think that we are a very tight knit group who understands how to do this massive thing as a team now. It was also so different because of Covid! I think we were one of the first, if not THE first show to go back into production during such a scary time so that brought us all even closer. With so many new rules and regulations in place, it was strange to walk on set and see everyone in hazmat suits! But we had to do what we had to do to keep everyone safe and luckily we had zero cases.
Playing Jax is a dream come true; as an actor, we all dream about the day that we can lead our own show. I can definitely say that I came out of this experience as a more well-rounded, confident actor. Jax's character is so fun to play – she's such a badass. My favorite part of playing her is definitely all the stunts and fights that we do. I've learned so much about hand to hand combat, whereas coming to the show, I had absolutely no knowledge at all! I'm so thankful to everyone on the team that gave me this opportunity – casting directors, our producers, show-runner Mark. A. Altman, and everyone at the CW for trusting me with such a huge project – I can't even say how much I appreciate them all for allowing me to bring this amazing character to life.
How long have you been acting and what first inspired you to step in front of the camera?
I've only been professionally acting for about four years now AKA doing paid work. But before that, I was focused on being heavily trained, so I took any class that I thought could help me as an actor; I was in scene study, on camera classes, audition technique, voice classes, and improv. I knew that I wanted to do everything that I could to prepare myself for when my time came so that I could put my best foot forward.  
What inspired me to step in front of the camera is a bit of a maze, but basically, no one in my family is in the arts – everyone was very business-minded, so I really never imagined that acting could be a career option – at least not for me. But I got a scholarship to film school and picked producing as my major (which was super interesting and so much fun), but it didn't really set my soul on fire. At the time, I was working as a waitress which eventually led to me getting approached by a modeling agent. I never really wanted to be a model but I figured I could use the income, so why not? The first audition they sent me out on happened to be a commercial audition and the casting director told me that I had to "cry on command". I was like "I'm sorry, what? Is that even a thing?" So obviously, I bombed that audition – mortified. On my way out, she suggested that I try to take some acting classes. That's when I got involved in my first scene study class at the Speiser/Sturges studio and I instantly knew that that's where I was supposed to be – it's the first time I ever felt truly at home. After a few months in class, I realized that that was exactly what I was supposed to be doing and so I just went for it. I started as an extra in commercials, then an extra in movies, then to one-line roles, then guest stars, and eventually bigger and bigger roles that led me to where I am now! It's all about paying your dues and I learned so much throughout every step of that journey, and even now; I feel like each time I step on set I'm learning something new and I love that so much!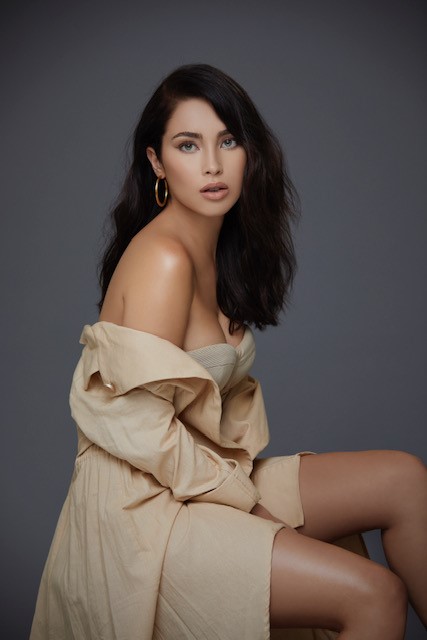 Jax is given the space to possess such immense strength and pride. As a person of color, how important is it for you to be in roles that are not stereotypical or culturally insensitive? Do you see yourself as a positive role model for young women around the globe?
I'm not sure it's fair to call myself a person of color.  Yes, I am Native American and Mexican, and I take great pride in that, however, my skin is white. My eyes are light. I will never truly know what people of color have to go through on a day to day basis, but to your second point, it is so important for me to be in roles that are not culturally insensitive. I have had some uncomfortable conversations in some other projects about pieces of the script that I've found culturally insensitive in the past and even though it was awkward at the time, looking back, I'm glad that I did. Also, a lot of the time since I have an "ethnically ambiguous look", I'm asked to go in for roles for races that I definitely am not, but could resemble, and I always gracefully pass on those as I'm sure there are MANY actresses from that race or ethnic group that they should be looking into – not just me because I kind of resemble it. So I try to do my part in small ways like that. Our industry over the past few years has really started to take a step in the right direction when it comes to that topic – we now have Latin, Black, and Asian leads of shows and it's increasingly becoming more and more popular so I'm really happy about that and to witness that change.
When thinking about season one and season two of Pandora, did you notice any differences as far as your comfort level toward playing Jax and how you understood her as a character? Have you noticed any similarities between the two of you?
Oh yes, absolutely. Like I said earlier, Season 1 felt like practice for Season 2 when it came to character development for me. I understand her so much more now and I'm way more confident playing her and speaking up for her if something feels off in the script – for example, if there's a line I think she wouldn't say or an action I think she would do differently, and thankfully the writers and producers are very open to my suggestions.
I definitely see some similarities between Jax and I! We are both extremely loyal to our loved ones, we both are very headstrong, and we both can be a bit of a pain in the ass sometimes too! 🙂
You can also be seen acting as Isabella in Freeform's Good Trouble, a spinoff from their critically acclaimed series The Fosters. How did you land this role and has acting as Isabella taught you anything about yourself?
Ohhh, Isabella! I wake up so thankful every day that I get to play this character. That show is one of the best things to happen to me so far in my career – it is truly such a blessing to be a part of such a progressive show. Isabella is such a complex young lady; she has abandonment issues that stem from her early childhood with her parents, so she's become a sort of a chameleon throughout her life in hopes that she can mold herself into what people like so that they stick around. Whenever you're not your authentic self, especially to please others, you're only creating deceptions and messes in your wake. She constantly reminds me to be my true, authentic, unapologetic self every day.
What are some of the differences between playing Jax from Pandora and Isabella from Good Trouble? Do you approach each role with the same mentality, or does each character require a different energy and emotion from you?
Oh these two could not be more opposite! Jax is extremely headstrong, fierce as hell, a fighter, resilient; she doesn't care what anyone thinks. Isabella is much softer; she's a chameleon who wants to avoid any confrontation and wants so badly to be liked. So my approach to them is completely opposite of one another. It would be so funny to see these two in a room together – I think Jax would be annoyed and Isabella would just want Jax to like her lol.
Can you remember your first role? What are some major things you have learned from then until now?
My first role was an extra in a car commercial, you see half of my face for a split second and that was the most exciting thing ever for me at the time!
Oh gosh, I have learned so much from then until now that I couldn't even put it into words. From the different departments, to what style of line memorization and character development works for me, to the different types of lenses and shots there are, etc – there's just so much. I would say that the biggest thing I've learned though, is to get to set on time, come prepared, be kind to every single person that you encounter (on or off set), do your best, and go home. When the day is done – let it go, don't think about, "I should've done this" or "I could've moved differently here", just trust yourself.
Do you have any other creative talents that most people wouldn't know about?
Nope, lol. Not a single one.
If you could act alongside any actor or actress, who would that be?
Angelina Jolie, the queen of everything!!!!!!  I think Charlize Theron is incredible too, that woman can literally do anything. Those are my two idols for sure.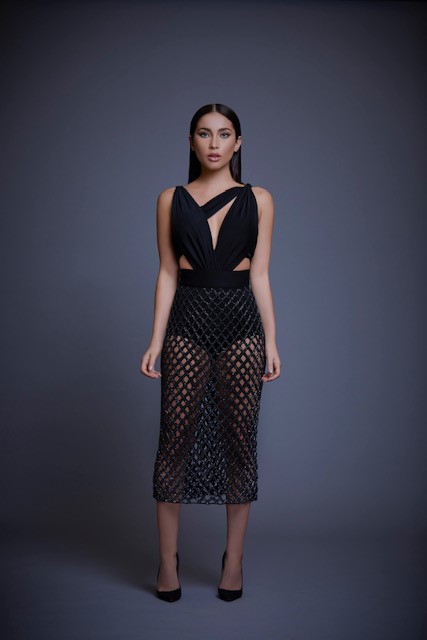 I can imagine that your schedule can get pretty hectic—how do you choose to relax a day or two before a shoot?
It's funny because I'm the most relaxed when I'm nonstop working. My work brings me such joy and peace – it's when I'm not working that's hardest for me to relax and channel that energy elsewhere. But when I need to recharge, I love to workout; Pilates and Yoga are my go-to's, but it's been a little difficult not being able to go to my normal studio due to Covid. I also just got a new puppy, Roo, and so I'm currently working on training her so that's been a nice distraction from not being on set. I also love to watch TV – I really enjoy watching dark comedies and romcoms but it is hard for me to sit through an entire movie at once (which is ironic considering I'm in them)! I also loveeeeee my reality TV – Real Housewives and Vanderpump Rules are some of my favorites and I'm a huge napper – I take like a 2 hour nap every day which has dramatically diminished since getting my puppy!
Is filming for TV any different from filming for a movie? What's an average day on set like for you?
Movies tend to have a bigger budget therefore much more time to do a scene, so that's always nice. With TV, it's so fast paced, that you have to be on your A game and come in totally prepared and ready to go, whereas on a film, you're able to collaborate with the director and creative team a little more. I like the fast paced feeling of TV though – really keeps us on our toes.
An average day on set:
5 a.m. – Wake up, make coffee, do a quick workout, and shower.
6 a.m. – Get in transit and run lines with the cast on the way to work.
7 a.m. – Arrive on set and go to crafty for breakfast.
7:15 a.m. – Get into hair and makeup and run more lines.
9 a.m. – Go back to the trailer, finish breakfast, grab another coffee, and change into my wardrobe.
9:15 a.m. – Chemistry read with potential actors coming on to the show.
9:30-11:30 a.m. – Shoot the first scene.
12 p.m. – Lunch/nap and catch up with family and friends on FaceTime.
1-2 p.m. – Interviews/press kit/whatever needs to be done for the show.
2-5 p.m. – Shoot the second scene.
5-7 p.m. – Shoot the third scene.
8 p.m. – The day is finished; I go home and if I'm not too tired, I'll make dinner, but usually I'll just have enough energy to wash my face and knock out!
5 a.m. – Wake up and do it all again!
Every day is different but I'd say that's a pretty average schedule.
What's next for you!? Are you working on any new and exciting projects?
I'm going back to work in January, which I am counting down the days 'til!  Aaaaaand as far as new projects – fingers crossed! Something is looking very hopeful so hoping that all those pieces fall together for me!
@VULKANmag
Talent Priscilla Quintana @priscilla_quintana
Photos by Mario Barberios @mariobarberiophotos
Interview By Matt Koger @mattkoger