You may know her from one of her many on-screen roles, but Nikki Hahn is coming to you in a new medium. With a successful sophomore single, Obvious, it's fair to say Nikki is going places. and someone you definitely should check out. Get to know her a little better in this interview, before she takes over the scene!
You started acting at a very young age and continued to act throughout your life. But, at what point did you decide you wanted to take the step and pursue a career in music?
I've been singing and doing music for a very long time actually since I was little. Music runs in my family's blood. I think that I've waited to share it with the world because I really wanted to have experiences to write/sing about and develop my style, which I'm actually still doing
Musically, who were your biggest influences growing up?
Katy Perry is the person who really got me into pop music. I learned guitar because of Taylor Swift (I learned all of her albums on guitar when I was twelve!!) These days, Avril Lavigne and Lana Del Rey are my biggest influences.
How would you describe your sound? What genres of music do you draw from the most?
As I work on my new material and write more, my sound is definitely evolving. For Obvious, I was really inspired by 90's Britney Spears and Future Nostalgia by Dua Lipa. I also listen to a lot of 80's rock and pop-rock, so I think that fans can expect a little more edge in my upcoming music.
With two released singles under your belt, what is your creative process like when you write a song? Take us step by step.
I think my writing process has definitely evolved, as well. Now that I have more experience with songwriting, I just sit in my room with my guitar and experiment with whatever thoughts and feelings come to my mind. The writing process for my two released singles was more centered around journaling to get my feelings out.
Your sophomore single Obvious focuses on a missed love connection, could you expand on the inspiration for the song and what you felt while writing it?
I think that this experience is such a common thing, where people try so hard to get someone's attention. In the video, I'm trying so hard and glamming myself up for him to notice me, and in the end, all I had to do was be myself. I showed the song concept to my producer and really wanted to explore the idea. We worked on it and decided how to add a twist/story to the song. 
The video for Obvious was produced and conceptualized by you, how was that experience? Did you enjoy this undertaking?
I had a lot of fun coming up with the storyline and elaborating more on the plot from the song's lyrics. In the song, I'm trying to get someone's attention, and ultimately I end up playing hard to get. The video's concept is a little different, as I am trying to get his attention by glamming myself up and in the end, I realize that I never had to do any of that for him to notice me. I really loved getting to style myself and pick out my wardrobe. I actually am wearing some vintage pieces from the '70s and '80s, which I think was a really cool way of incorporating my interests. I also loved conceptualizing the vaporwave/'80s aesthetic.
With your debut EP on the horizon, what can fans expect?
I think that fans can expect to hear different sides of me, including my core influences that I haven't shared with the world yet. I think pre-existing fans will be excited to hear me play my guitar again, and new fans will get to see that side of me for the first time.
If you could collaborate with any artist, who would you most like to work with?
I would LOVE to collaborate with Lana Del Rey or BTS!!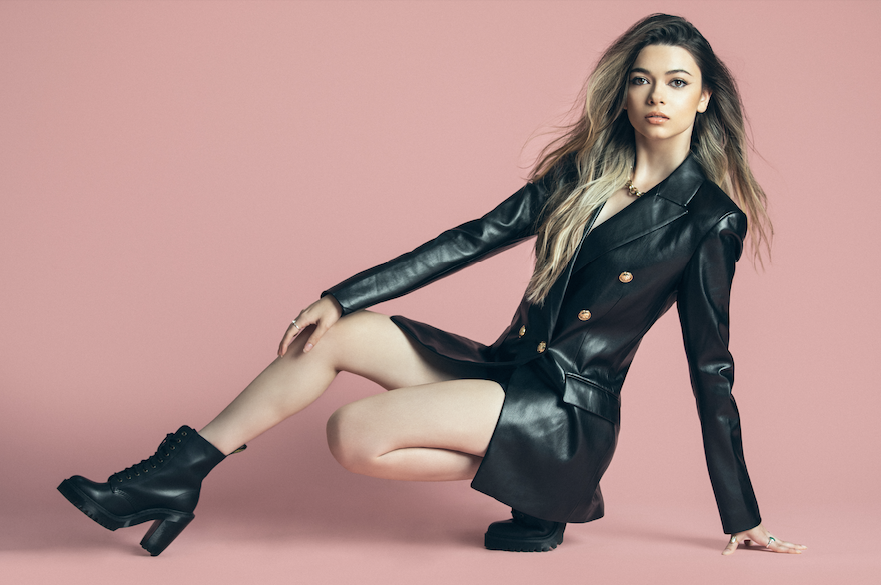 Outside of acting and music, I've read you're a second-degree black belt in karate, as well as passionate about learning languages. How do you balance your hobbies with your career?
Honestly, karate is very grounding and such a stress reliever for me. I've been doing karate for about 11 years and it has definitely helped me stay balanced. I think that everyone needs to have a hobby or activity outside of the industry or their job. 
As your musical journey has just started, what do you want to accomplish through music?
I hope that fans can connect to my lyrics and be able to relate. I think that is the most important thing about songwriting for me, because all of my favorite songs I connect with on a personal level, and I strive to achieve the same thing. 
@Vulkanmag
Talent Nikki Hahn @nikkihahn
Photo Vince Trupsin @vincetrupsin
Hair & Makeup Dee Daly @deedaly1
Interview Nathaniel Roberts @nathanieljroberts