Songwriter Justin Bryte and producer/songwriter Slavo are the two talented and handsome men that make up the incredible duo "Fly By Midnight." Having recently released their new single and music video "
Caffeine,"
here at VULKAN, they shared a little bit about its background alongside who they are in front and away from the microphone. As they meld their stylings and lyrics together, the duo is always excited to share their music which comes from true passion and soul. Make sure to check out their music and keep them on your radar!
Share with us the story behind your new single + video, "Caffeine." How did it come about?
Slavo: We wrote "Caffeine" earlier in the year with our good friend & co-writer Brett Truitt. Justin & I had been wanting to include a caffeine reference in a song of ours for a long time as coffee plays a big part in our creative process.
Justin: It was a really cool moment to sort of unlock what caffeine meant from an emotional standpoint. I remember saying "I've been up all night thinking about someone and I've also been up all night because I drank a cup of coffee". Bridging that connection really opened the door and the rest came together effortlessly. It feels like the perfect balance of cheeky, but quite sad.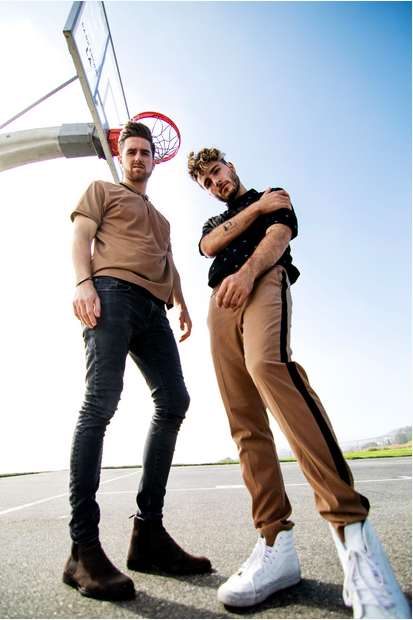 The video pays homage to female icons of the 90s. What was most important for you when deciding who to include and how to portray them?
Slavo: I remember Justin bringing the initial idea to me with there being just one female icon and I thought we could probably have a lot of fun telling separate stories with our respective females under the same roof.
Justin: Initially I just imagined Kelly Kapowski (Tiffani Thiessen) from Saved By The Bell because that really was my 90s crush (Topanga too of course).
Slavo: I liked the idea of bringing in two other women that aren't only actors, but also singers/performers/models. Jennifer Lopez and Tyra Banks are still killing it in so many ways too so it was really cool to pull photos/videos of them from the 90s.
What is it about the song/video that makes it unique to you?
Justin: I think it's awesome to capture the emotion of longing for someone with one word like "caffeine". It's probably lyrically one of my favorite directions we've taken a song of ours.
On set, do you have a fun moment that had a strong impact on you? 
Slavo: We rented an automated spinning platform for the end shots of the video and at around 1 am as we were about to wrap my scene I was spinning and my guitar got caught on the curtain. That was pretty funny/memorable and it's actually the end card of the video haha.
How did you feel when "Lost Without You," racked in over 1 million Youtube streams?
Justin: Whenever any song of ours hits a milestone like that it feels great. We've made it a point this past year to not shrug off accomplishments like that. It's a testament to our fans and their support.
What was the message behind this song?
Slavo: Growing apart, but still feeling tethered to one another. It's an emotion people we really resonated with at the time.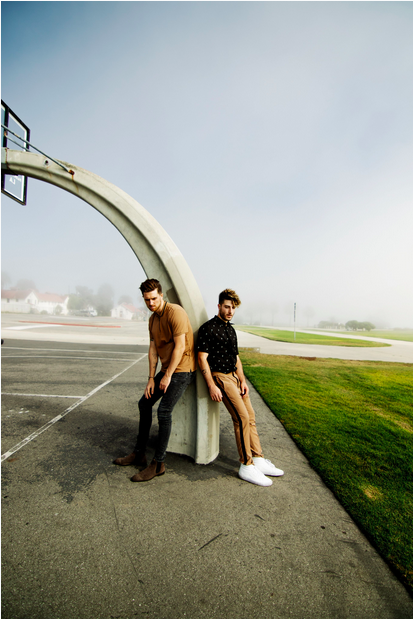 Share with us how you came about to becoming a duo?
Justin: We met in Staten Island, New York about 6 years ago through a studio and started writing together. Shortly after our first couple of sessions I proposed the idea of starting a duo.
Slavo: It's kind of been a rollercoaster since. Moving across the coast. Touring throughout America. Wild to reflect on honestly.
What role do each of you play in the band?
Slavo: We both sing in the band.
Justin: We also both write our material, but lately we've found ourselves bringing in co-writers as well. Slavo also produces the tracks.
Slavo: On other creative sides we're both heavily involved with the video treatments, directing, editing, artworks, marketing, etc..
Justin: Kind of obsessed with playing a part in all aspects of the project.
When faced with adversity, how do you take it on?
Slavo: Pertaining to the music industry it helps to have a teammate to go at it with.
Justin: I'd say learning how to turn that sort of challenge into motivation fuel.
If you were told you could pick any place in the world to live, where would you pick and why?
Justin: Where I am in my life right now I'd probably choose lower east side in Manhattan. Love the weather in LA, but nothing beats a 99 cent slice in the city.
Slavo: I'd probably say NY as well, but I'm a sucker for the West Village/Meatpacking District.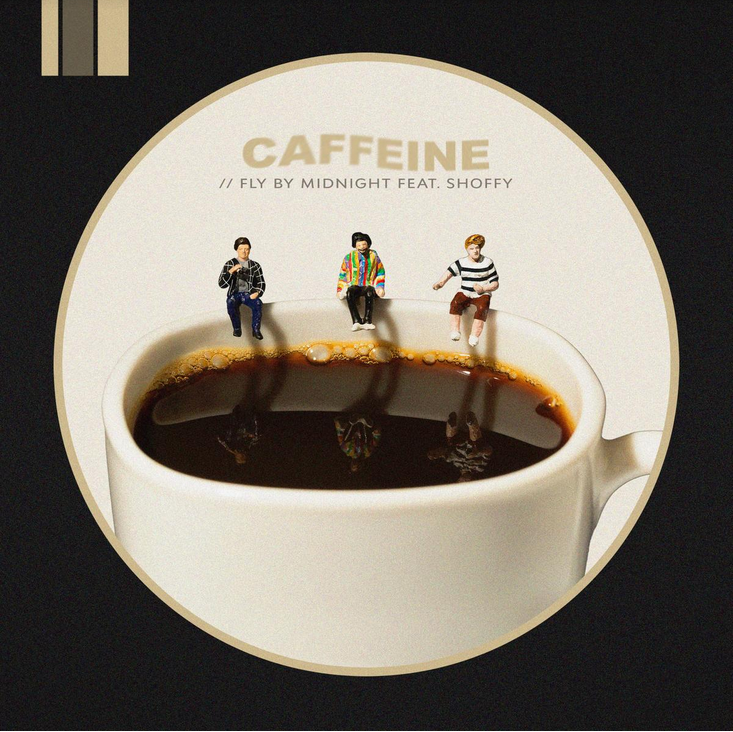 When you aren't creating, what does a typical day look for you?
Slavo: Catching up on TV shows (currently the Sopranos) or walking to downtown Larchmont with my pup and fiance.
Justin: Reading a book, playing video games, and then usually hanging with friends at a bar or restaurant.
Do you plan to release any more music before the end of the year? 
Justin: We have one more coming out that we're really stoked about.
Slavo: Our fans have been asking for us to collaborate with this other artist for a minute so it's awesome to see it finally happening.
Interview by Alexandra Bonnet @alexbonnetwrites
Photo credit Tarina Doolittle @tarinadoolittle