Emo rap's Lxst has just released his new EP, King of Vibes via PIVTL Projects. Inspired by the moods and emotions that his pensive songs have become known for, Lxst has recruited heavyweight producers such as Tay Keith, Cxdy, Jordan Knows, Ryan Bevolo, Zaire Beats, and even Jai Beats! The eight-track release isn't an introduction into who he is, but more so a declaration of being one of the industry's most talented mood-makers. Each song is another step forward into the world Lxst looks to create with his signature smooth vocals and complementary—often guitar-laced, beats.
Listen here: https://ffm.to/kovlxst
King of Vibes, is the young artist's follow up to his ten-track January release Lost, starts with the soft and stirring 'On My Way' as he explains his relationship with a woman. He continues to turn the lens inward on tracks like 'Worked Hard', 'Purgatory' and the previously released 'Myself', offering a further glimpse into the emotive space he creates from. Also shouting out the late Lakers legend Kobe Bryant, Lxst makes it a mission to follow each track with something bigger than the last. By the end, this avalanche of feels comes crashing down on you.
KOV is an immersive listen that positions him as a rising star in the hip-hop world. With his inventive approach to being personal, Lxst transfixes his listeners and prepares them to become indoctrinated into his society where he is the King of Vibes.
Tracklist:
1. On My Way (Prod. Jai Beats and Zaire Beats)
2. Worked Hard (Prod. Tay Keith)
3. Myself (Prod. Jordan Knows)
4. Kobe (Prod. Cxdy)
5. Purgatory (Prod. Ryan Bevolo and Zaire Beats)
6. UPSET (Prod. Jordan Knows)
Stream King of Vibes on Spotify now.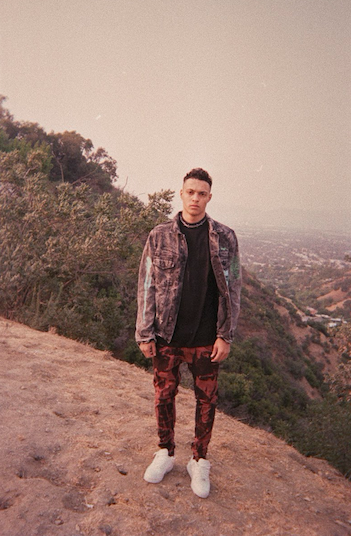 https://open.spotify.com/album/3zHgwCgiBWNcXhOX9UrQME?si=y3Pzh9CKTjuq2aTAfe3udg
Watch the video to 'Upset' below.
About Lxst:
Lxst, whose real name is Malcolm Mathews, is a 20-year-old rising rapper with ever-growing depth and complexity. After a family dispute at age 17, he found himself living on his own, expelled from school, and bussing tables to survive—a time that marked the beginning of his love for recording music. While gaining momentum, Mathews has been featured in SoundCloud's 'Fresh Pressed' episode, in addition to gracing the cover of Amazon's 'Emo Rap' playlist. He has quietly built a loyal following through Spotify with his regionally-loved loosie, 'WYA', popular tracks, 'Last Time', and 'Exhausted'—which can be heard on his EP titled Lost.
His sound is an undeniable amalgamation of his inspirations, including XXXtentacion, Juice Wrld, The Fray, Al Green, and Bob Marley. As he continues to work on more projects for 2021 and grow as an artist, Mathews' musical output promises a fresh new take on popular music.
Follow Lxst:
Twitter | Instagram | Soundcloud | TikTok