If you haven't caught it yet, HBO released THE FALLOUT full of heavy hitters including Shailene Woodley ("Big Little Lies"), Julie Bowen ("Modern Family"), Jenna Ortega ("You") and rising star Lumi Pollack. We were lucky enough to speak with Lumi who portrays Amelia, sister to Jenna Ortega's character as she deals with the emotional turmoil she experiences after a school tragedy the changes the lives of the whole ensemble
Written and directed by actress Megan Park ("What If"), the film also features John Ortiz (KONG: SKULL ISLAND) and Will Ropp (THE WAY BACK) Maddie Ziegler (WEST SIDE STORY) and Niles Fitch ("This is Us").
A child of Japanese, Columbian and Jewish Parents, Lumi is an emerging actress that has already appeared in television, theatre and various ads for nationwide knows brands including "Tide Laundry" and "Bounty Paper Towels". At such a young age, Lumi has demonstrated talents of various art forms and is an alum of the prestigious Long Lake Camp for the Arts. Lumi is a professional working actress and singer and musically plays the piano and guitar. She also expresses herself artistically as a dancer and skilled writer as she is looking to soon be an author of fictional novels.  
When Lumi is not acting in front of the camera, she can be seen exercising her love for philanthropy and causes that support the aid of the homeless, rescue animals, and non-profits that assist cancer patients. She has already donated 8 inches of hair to those affected by cancer and is always looking to do more. She has a natural love for animals and is always looking to donate her time and fundraise where she can for our household pets. She hopes to always use her platform as an actress to bring attention to her philanthropic endeavors. 
Do you recall the moment you knew you wanted to be part of the entertainment industry? 
When I was 8 years old, I started going to a performing arts sleep away camp. I recall this first summer being on center stage during a musical, feeling the energy and realizing that acting and singing is what I want to do the rest of my life.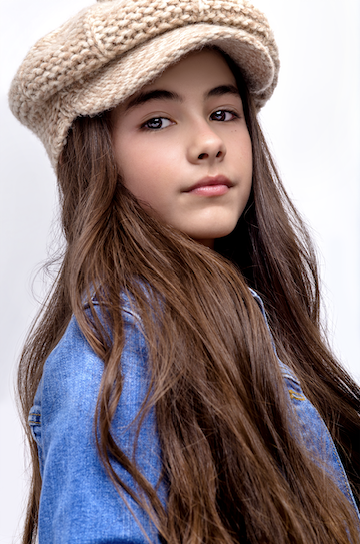 Tell us about THE FALLOUT, your character Amelia, and what people can expect to see from you in the movie.
The Fallout is an intense movie, and the subject of the movie is gloomy, but my character Amelia is a bright light that is always happy and energized. Even though Amelia portrays a very mature child for her age, she is kind of oblivious to how dark and depressing the tragedy was that Vada (her big sis played by Jenna Ortega) went through. Amelia tries to keep things light and make everyone feel better.  Amelia is Vada's biggest fan, she looks up to Vada, acts like her, dresses like her, and tries to relate to her. Amelia and Vada are not only sisters but best friends. While you often feel sad for what Vada is going through, you can expect to get a few laughs from Amelia.
With the movie having such a serious tone, how did you prepare to get into character? Did you face any sort of challenge in portraying your character?
Each time I approached a serious scene I focused on how I'd feel and what I'd do if I were in the same situation in real life. I have an easy time remembering my lines, so I just visualized the feeling needed to bring my lines to life. It wasn't that hard portraying Amelia because this character has a similar personality to my own.
As an actress, what do you hope to accomplish the most?
I want to be known for being able to play very different characters across different genres, from comedy to drama and everything in between.  As I continue to grow, I'd also love the opportunity to work with many other actors that I aspire to be.
What was the most memorable moment in shooting the movie?
I enjoyed every second of shooting but want stands out the most was sitting on a couch in a living room scene in between takes. I'd often be speaking with Jenna and recall a number of times getting some amazing career advice. What's funny is that I feel like she's my big sister on and off camera.
As you are aware, Vulkan is a lifestyle and beauty magazine that celebrates all styles of beauty. Share with us what beauty means to you.
Beauty is in everyone and every single person on this planet is beautiful in their own way. To me beauty means having a beautiful heart and soul and finding ways to appreciate our own individual differences and "Imperfections".
What is a hidden talent of yours or something viewers may not know about you? (Maybe it's something you will one day display on screen)
Thinking of my future I also hope to pursue a singing career, as I come from a musical family and have been singing as far back as I can remember. I also love to dance and write. I wrote my first story two years ago and have many others swirling around in my head.
Where can we find you on social media / online to keep tabs on your activities?
Instagram @lumipollack, Tiktok @lumipollack, Facebook @lumipollackofficial