You don't have to fake it anymore. Huda Kattan has harnessed her years of passionate lash love and expertise to bring you luscious HD lashes. LEGIT Lashes is Huda Kattan's debut mascara that's been more than four years in the making, and as you'd expect, it's unlike any other mascara. Its revolutionary formulas and unique two-sided brush is set to change the lash game altogether. LEGIT Lashes features not one, but two full-sized mascaras in one product with an innovative combo, perfect for the ultimate multitasker to achieve the three pillars of luscious lashes – volume, length, and curl – in seconds. 
Whether you want to turn up the volume or are looking for a boost in the length department, each wand works effortlessly to give you the lashes you're after. Both ends are loaded with Huda's signature extra black, Black-2 Liquid pigment. LEGIT Lashes will be your true one-and-only lash lover as you can choose a variety of lash looks with just one hero mascara.
Volume & Definition
One end of LEGIT Lashes is armed with a curved brush featuring intertwined petal bristles, which means this pigmented mascara loads evenly onto the lashes to build layer after layer of volume without losing any definition or flexibility. The soft formula and low gravity volumizing fibers also help to build beautiful volume without weight or stiffness.
Lengthen & Curl 
The flip side of the LEGIT Lashes wand features a second unique formula that grips onto each lash, giving you immediate length and added curl. It's also loaded with patented 5mm lengthening fibers that work to mimic natural lashes. Combine that with a curved brush designed with nine rows of bristles so that each lash gets coated in extra length and maximum curvature, and your lashes are good to go.
Before & After
Huda's lashes with no falsies, no Photoshop, and no retouching – just LEGIT Lashes.

Huda's How To
Start by curling your lashes with a lash curler for at least 10 seconds. This is Huda's cardinal rule for fluttery, sexy lashes as it helps to lift and visually add length to your lashes.
Choose the end of the wand that you would like to use for your desired look. Start at the root of the lashes and zig-zag the mascara wand back and forth, building up the mascara at the base before you move toward the tip of the lashes. This movement from root-to-tip will help to coat each and every lash and distribute more formula at the base, which helps avoid any clumps or lumps at the end of your lashes, where they should look more wispy.
Once you've coated your lashes, for a thickening effect and added volume, look down and coat your lashes once more. If you want to add a curl, roll the brush as you move it through your lashes.
When you try this technique for the first time, it could be a little messy so have some micellar water and a Q-tip on hand.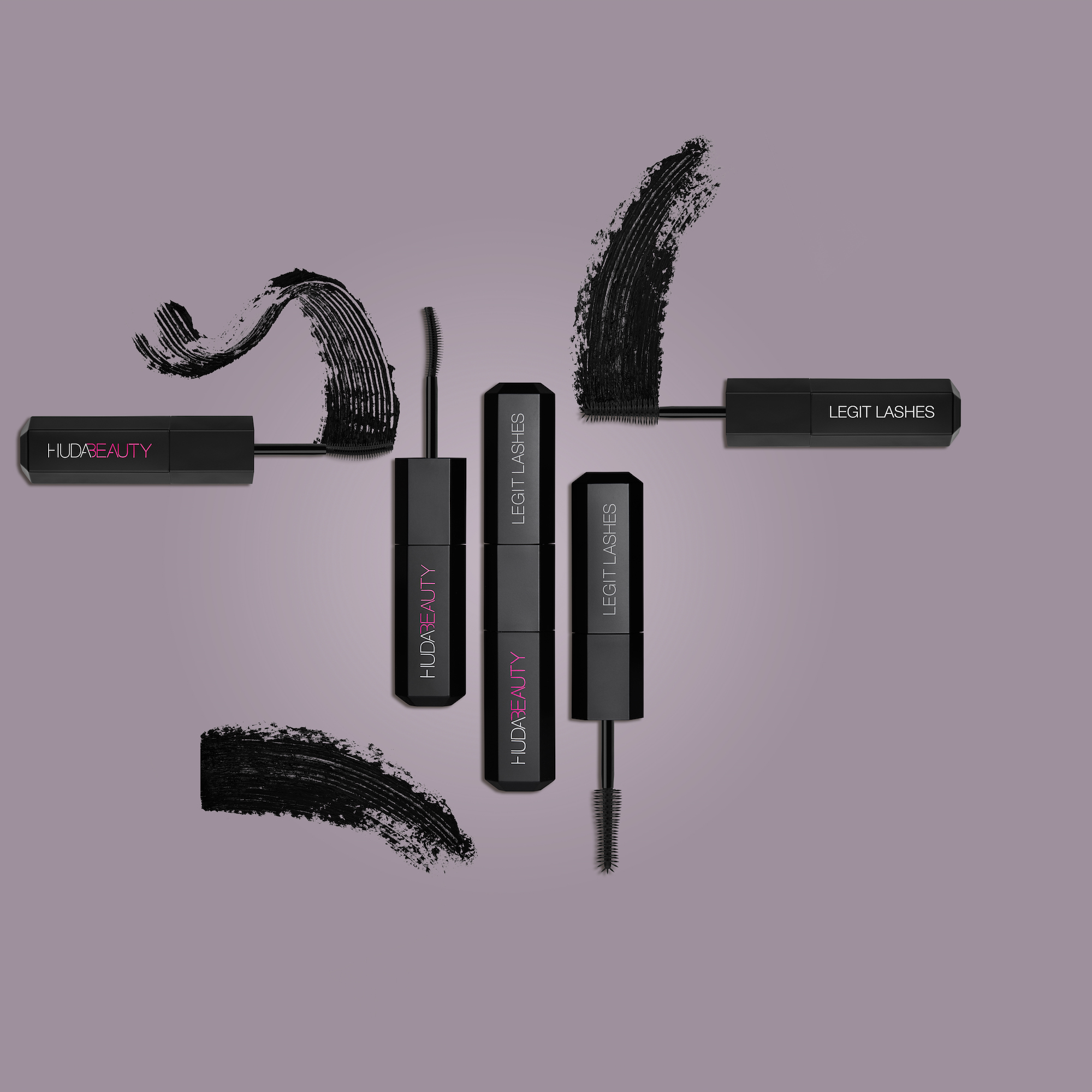 Huda Beauty LEGIT Lashes
$27 USD / $34 CAN
Available on HudaBeauty.com, Sephora and Sephora Inside JC Penney,
In-Store and Online on May 20th, 2020