Talented and handsome, Gunnar Gehl has just released debut EP "One Second Of One Day," today! Here at Vulkan we had the chance to speak with the artist about his new EP, lessons he has learned, where he is from, and more. Music has always proven to be an "escape and release," for Gehl which furthers just how important music is to him. His talent doesn't go unrecognized and you will definitely want to check out his release! So drop what you are doing and click on the link of the title!
By Alexandra Bonnet
Share with us the moment you came up with your upcoming EP. Do you remember where you were? What you were doing?
This EP is a collection of my favorite songs from over a year of writing hundreds of songs. A lot of the songs we wrote back in December of 2019 in Palm Springs. I remember sitting down with my team back in April and going through so many songs deciphering between our favorites and deciding which 9 we wanted the EP to be. Crazy story though, "Missing Someone" I wrote almost two years ago. It's held a special place in my heart for so long, and my excitement for it never diminished, so I knew it had to be a part of OSOD. This whole project has such a diverse sound, but is also so cohesive in my roots, I couldn't be happier with the debut EP.
As you sat there writing and creating, what inspired you?
A lot of my inspiration comes from love, and relationships I have had, but one of my favorite songs from the project, "Good Enough," is not about love at all. It's about the pressure I have had on me to be perfect and create the "perfect" songs.. so I wrote that song in an anxious place of asking "is this good enough". I think it's a feeling everyone experiences especially growing up.
What do you hope your audience will feel when listening to it?
I just hope they connect with it. The reason I got into music to begin with was because of how powerful a music/song can be. The fact that an emotion in my head can turn into a song that other people relate to in their own way is so incredible to me. So while listening through, I just hope people can hear the honesty in my songwriting and connect with them in any way they can.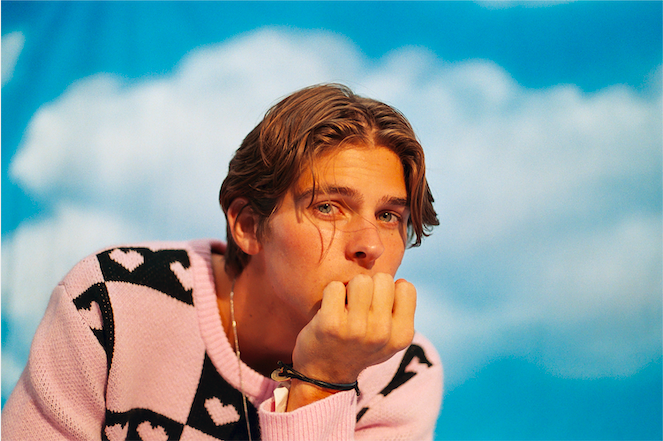 What does mental health mean to you?
I believe mental health is one of the most important parts of our lives. What's the point of having anything or looking happy to the outside if inside you feel the opposite. I think taking the time to really understand yourself and understand that feeling sad and upset at times is totally normal.  We are living in such crazy times right now, that we need to take care of ourselves.
Describe to us how you were feeling during your One Second of One Day Livestream Series? And what it was like having guests such as Nessa Barrett and an appearance by Demi Lovato.
Doing the OSOD series was the perfect thing for us to do during this time. It was a way for myself and other artists to perform in a somewhat live setting, and also talk about things that are really important. I really wanted people to have a source to get away for a bit, hear music, and also hear from people they look up to, that everybody struggles with the same stuff. No matter who you are or how perfect things can look from the outside, we are all just human beings, and we all struggle with ourselves at times.

What did you learn from it?
I learned a lot! I learned that the stress and pressure I feel at times is normal and that I'm not alone. I also learned that I can be completely honest and open with my fans. Talking about heavier things was a scary thought but after just the first episode, it was clear how much it was helping people and how much it helped me.
Growing up, what role did music play in your life?
Music has always been my escape and release. I just was addicted to the way certain songs could take me to different places emotionally; the way a song could take me from one place to another. There truly isn't a more powerful thing than music.
If you could be anyone in the world for a day, who would you be?
Myself in 5 years. I'd ask myself what I don't need to spend hours overthinking and stressing out about lol.
Tell us more about your fashion style.
Tough question… I'd say I style myself to look nice and fit while still being comfortable. Lots of hoodies and jackets and accent pieces / shoes. Some say I have a cool "street style" but I would say "classic casual" is a safe explanation.
How do you decompress?
Getting away for a little… going on a drive, going to the beach or somewhere to watch the sunset. I constantly have to have a TV show I'm binging, because when I turn it on I get so invested I forget what's going on outside it haha, I guess that's a subconscious decompress but…
Photo Credit The Young Astronauts