Since 2014, LUXIE has inspired makeup lovers around the world with their high-performing, cruelty-free cosmetic tools while maintaining a strong commitment to environmental and community values. One of the first to engineer an entirely vegan, hypoallergenic makeup brush, the company's ultra-soft, synthetic bristles rival the top-tier animal hair varieties. This summer, show a flawless face to the post-lockdown world with two brand new signature sets that combine beautiful design with powerful functionality to create this summer's fresh looks.
The LUXIE story began with a search for a high-performing makeup brush that could provide a variety of techniques without irritating skin or harming animals. "We were vegan and cruelty-free before it was cool," explains LUXIE CEO Conor Riley. "We believe in these values and we stick to them, without compromising quality, design and function." Using materials sourced from around the world, the forward-thinking beauty brand developed hypoallergenic, synthetic brushes that have outperformed other top-rated animal hair versions.
Today, LUXIE has grown from an indie brand to a global phenomenon, beloved by a fast-growing list of both celebrities and influencers. The company's fan-favorite collection of premium, allergen-free beauty tools are available in 160 countries and through top US retailers like Anthropologie, Urban Outfitters, Nordstrom, and Revolve. Its latest releases (launching July 1) include a 6-piece Bronze and Glow set ($75) – ideal for creating this season's "no makeup" makeup look – and a 6-piece Radiant set ($75) perfect for a day-to-night transition and that must-have dewy glow.
With a strong commitment to giving back, LUXIE is proud to partner with the World Wildlife Fund, helping to raise financial support for wildlife preservation. The company also believes that "when you look good, you feel good," and seeks to empower women by regularly donating products to the San Jose Women's Shelter, along with volunteering time at the area's Second Harvest Food Bank. Learn more about LUXIE and discover the all-new Bronze and Glow and Radiance beauty tool kits, along with their best-selling 8-piece and 12-piece Complete Face Sets or 15-piece Dreamcatcher set, at LuxieBeauty.com. Follow on Instagram @LuxieBeauty for the latest beauty tutorials and product releases, plus top lifestyle and beauty inspo.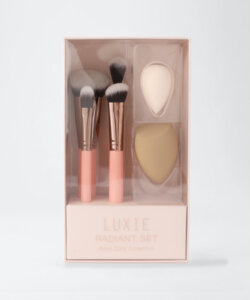 About LUXIE
Since 2014, LUXIE has grown from an indie brand to a global phenomenon beloved by top US influencers and beauty lovers alike. Sourcing the best components from around the world, the female-founded company developed one of the first high-performing, cruelty-free, and 100% vegan makeup brushes. Today, their complete collection features a wide array of multi-use beauty tools that combine sleek design with problem-solving functionality, including signature brushes made with premium soft, synthetic bristles. Headquartered in San Jose, California, LUXIE is available in retail stores across the Americas, Europe, and Asia. Led by CEO Conor Riley and CFO Claudia Poccia – known for her work with Shiseido, Bare Escentuals, Stila, and Laura Mercier – the LUXIE team is constantly innovating in a non-stop effort to deliver flawless perfection. They strive to partner with exceptional retailers, influencers, and industry leaders who share their core environmental and community values, along with an authentic passion for next-generation beauty products. Learn more at LuxieBeauty.com and follow on Instagram @LuxieBeauty.