Jadah Marie skillfully portrays Celia, daughter of Doctor Facilier, in the magical take on the world of Disney characters in Descendants 3. While she may be a Voodoo Princess on screen, we got to catch up with her on how she's been spending time in quarantine, reminisce on the filming of Descendants, and talk about things she's looking forward to.

What have you enjoyed doing lately/in your free time? 
Basically just hanging out with my family and taking this time to hang out with them, cook with them, and watch movies.
What is the first thing you are looking forward to doing? 
Probably go hang out with my grandma and my grandpa.
How did you come up with Voodoo Princess?

Voodoo Princess is like my super fun Alter Ego. The name really grew out of playing Celia, Daughter of Dr. Facilier, but an older, more teen Celia.  I think in my mind, because of her fun tribal punk look, Celia was always a Princess.  The Wicked Voodoo Vibe, the vibrant, but dark Looks… my team started calling me "Voodoo Princess" & it fit me & what I'm doing now perfectly and it just stuck.  I love the name.
What marked your start in acting?
My first love has always been acting.  From that first time my Dad, who is also an awesome actor, took me along to a meeting with his agent, when I was 3 and the agent pointed down at me and said what about her, that was it, I was in,  hooked and on my way.  I've been acting since then.

What was your favorite part about playing Celia on Descendants 3? 
I absolutely loved playing Celia.  It was so much fun.  Celia was a Daddy's little girl very much like myself.  She's also funny, street smart and a boss.  Celia was supposed to be all about the money and her "cut", but I really loved how in the end, she was really all about her family and friends.  Playing Celia also gave me the awesome opportunity to sing, fight and full out dance and to work with Legendary Director Kenny Ortega was a dream.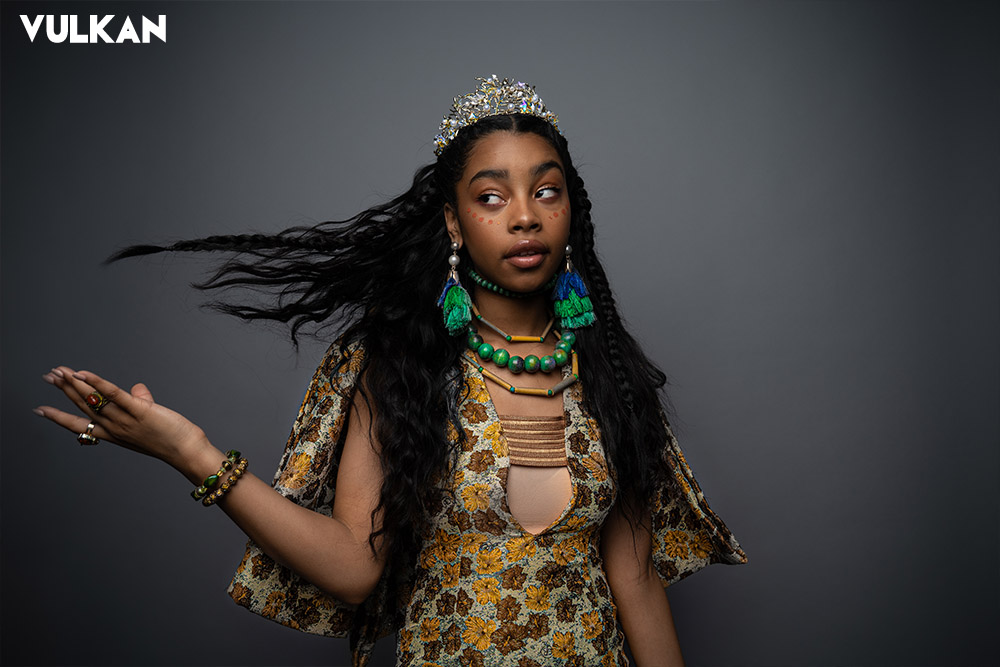 What is your favorite memory from working on that movie, on or off set?
I just loved how every time all of us were on set together it was always loud, and there was never a dull moment at all.
Funny things from on set?
The Descendants Set was so much fun.  The entire Cast was so tight knit.  We just laughed and played fun games the entire time.  We also hung out alot off- set too, especially me and Anna, who played Dizzy.   We'd go shopping or out to eat & The Director Kenny Ortega had this really great chant to get everybody pumped up to shoot.
Who is your inspiration?
I love Zendaya, she has always been an inspiration to me.
You are releasing new music soon – can you talk about that/was singing something you have always wanted to do? 
I'm like everybody else, I always sing in the shower. I feel like my music is going to be expressing myself more and showing who I am. Although I've always loved singing in the shower and I'm sort of an old soul, loving all the music my Dad listened to.. …we really didn't know I could sing-sing, until Descendants 3.  That's when I really wanted to take it to the next level & every since Descendants we've been in the studio working on my Debut EP "One Tribe".  It's a little R&B and alot of Pop and I'm so excited for everyone to hear it.   Also, It just so happens that my very next role for Netflix, I play a rapper & so I'm excited for everyone to get a chance to see my rap skills too.

If you could only watch one movie or TV series for the rest of your life, what would it be? 
Hashtag plug – my new Netflix series coming out called Julie and the Phantoms. I am in love with that TV show. It's so good. We actually have no clue when it's coming out but later this year!
What is your dream role? 
Probably a scary movie. It doesn't matter what role. I just love scary movies and watch them all the time with my mom.
What role would you like to play in the future?
There are sooo many roles I would love to jump into.  I am super athletic, I'm currently take Karate, play Basketball and Softball, so the whole superhuman or superhero world, something really physical would be amazing.  I love comedies too and so many of those movies have a comedic edge now.  I love musicals too,  there's just too many roles I see myself playing in five years.  It's hard to pick one.

Do you have any advice for your fans right now in quarantine? 
I just want to let them know that we're all in this together. It's a tough time but we're going to get through this. I hope they stay safe.
By Aris Pangan
TEAM CREDITS
Photographer ROB ECHANIQUE @robechanique
Creative Direction KARASAUN @kara_saun
Styling PARRISH MCKNIGHT @thatdudebarry
Hair KENDRA @kendragarvey
Makeup SAISHA BEECHAM @saishabeecham
Production @BELLOMediaGroup x @Maisonpriveepr_la x @bonnetalex18