Rachel Sennott, Miles Fowler, Ayo Edebiri, Havana Rose Liu, Kaia Gerber, Emma Seligman and Ruby Cruz (Photo by Robby Klein/Getty Images)
Even if everything is relatively okay and your parents actually care about you, being a teenager comes with this unexplainable spiral of frustration. Every emotion and disappointment seems to be multiplied by 10 million and you are lost with what to do with all the creative energy and rage in your body (this is slightly illustrated by your destroyed converse and questionable fashion decisions you most definitely will regret later in life). Sometimes, you deal with anger by cutting your bangs at 2AM (always a disaster; don't do it) and other times you kill all your bullies with your mental powers during prom (just to show them what a freak covered in blood can do). Okay, you caught me. That may be an immaculate scene from Carrie (De Palma, 1976). No, I am not a psychopath for laughing and feeling borderline too much satisfaction while watching that cinematic moment. I just experience girlhood and that, my friend, justifies any temper or mildly sociopathic behavior.
In another cult classic, Over the Edge (Kaplan, 1979), kids destroy a repressive school located in a fictional conservative suburb contaminated by gun culture. Being Kurt Cobain's favorite film, that final sequence inspired him for the Smells Like Teen Spirit music video. Again, destruction feeds and eats the desperation that surrounds the teen universe. The infamous mocking of death and absurd catchphrases transformed Heathers (Lehmann, 1989) into another eternal fan favorite. "What's your damage?!" (this quote has rung through my apartment with no context more times I can count). In pop culture, teenagers are angry, hurt, horny, and edgy 24/7. 
From James Dean to Euphoria, this has been the stereotype we are willing to consume and create caricatures around. Except that in Levinson's work, the romanticization of drug addiction and male gaze is damaging for younger audiences. Rebel Without A Cause (Ray, 1955) does a better job in the caricature of a stubborn young James Dean interested in dangerous car races. Still, the success of Euphoria is in its visual identity. The narratives created by Petra Collins were studied and eventually referenced for this show. In the end, everyone profited from an unique feminine universe: raw and melancholy. There is only one conclusion for the success of that aesthetic: if teenagers are angry, teenage girls are angrier. Some might say that girly rage is dormant. However, Olivia Rodrigo's pop punk adventures and a celebration of Riot Grrrl's legacy proves otherwise. Seligman understands that and the result is the teen semi-exploitation and campy film that we all needed so badly. 
In Bottoms, Seligman shows that more than understanding girls, she understands the patheticness of straight male high schoolers.  I swear they grow up laughing at fart jokes and eventually become the boyfriend who punches the wall during an argument (this needs to be studied; I am serious). In Bottoms, it is sad and funny to look at the queen bee's boyfriend. It is sad because we consistently find ourselves asking, "what the hell is she doing with him?" And it is funny because Seligman's exaggeration has some foundation in the real world (okay, this is actually sad too). I could tell that everyone in the theater audience knew a version of that boy, just a less campy one. He is more dramatic than any "crazy" woman could ever be and he is unfaithful to the most beautiful girl he could possibly get. Right from the beginning of the film, he pretends to be injured after our lesbian heroes supposedly drive over him. This event is the inciting incident for the campy high school journey about to start on screen. 
PJ and Josie are threatened for their "supposed" injury to the Football star, so they find the solution for their problems in an all girls fight club. Thank you, Emma Seligman, for provoking the insufferable male cinephile. I am afraid of going to the kitchen late at night and finding a male cinephile with a Pixies shirt explaining to me the plot twist in Fight Club (Fincher, 1999). The film might be good, but the fan base made me develop feelings of exhaustion about it. Unfortunately, the same happened with The Godfather, Pulp Fiction, Taxi Driver, Donnie Darko, and many other films that I was never able to enjoy in peace. It is interesting to notice that Gerwig also mocks the male cinephile in her box office success, Barbie. We always had the most brilliant female filmmakers, from Chick Strand and Maya Deren's experimental work to Chantal Akerman and Claire Denis' elegantly crafted narratives. However, they were always part of the underground scene or discussions in European festivals and film schools that never reached the masses. Now, female directors are occupying more and more theaters and making entertaining blockbusters, which are all about the female universe. And yes, mocking Fight Club is part of the female universe.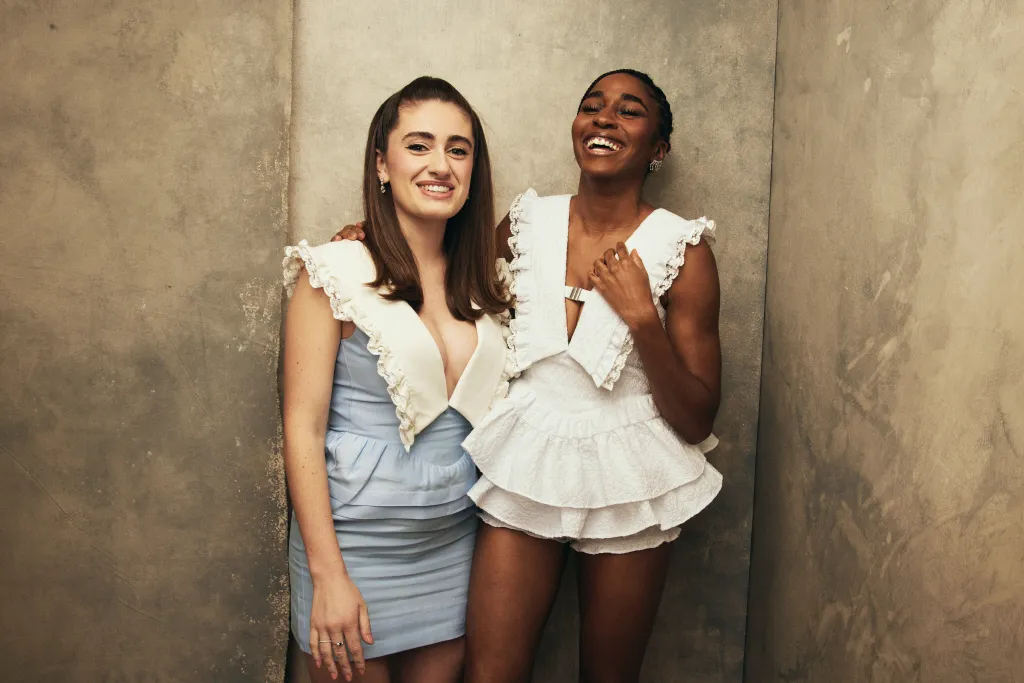 Rachel Sennott and Ayo Edebiri pose for a portrait at SXSW Film Festival (Photo by Robby Klein/Getty Images)
Anyways, PJ and Josie create a self defense club for girls in their school. The idea looks promising, however, the protagonists are actually interested in hooking up with the popular girls in school. Well, PJ is the mastermind behind this plan and she convinces Josie to participate. By having ignoble intentions coming from the main characters, Seligman mocks the people who take over marginalized spaces for their own benefit. We are also living in a time where everyone wants to be woke for the sake of their own ego and not the true passion for a cause. Still, it is impossible not to love PJ and Josie. Seligman is not interested in a flawless hero, typical of a Hollywood experience that divides good from evil without gray areas. In Girlfriends (Weill, 1978) – the film that opened doors to every New York mumblecore you could think of – the main character is an insufferable photographer in her early twenties. Susan transits between two moods: sometimes selfish and other times hiding the belief that she is better than anyone else. However, she is also frustrated and insecure about her future, like most young adults. She makes mistakes, but she cares about her best friend. At the end of the day, we recognize humanity in her mistakes. For that reason, films with flawed characters will always be more appealing and Bottoms is one of them.
The friendship between PJ and Josie has a power imbalance. PJ, the character played by Rachel Sennott, is always putting the cards on the table. She is persuasive and the more outgoing of the two. Of course, without leaving it explicitly in the narrative, race always plays an important part in those dynamics. Josie, interpreted by Ayo Edebiri, is more sensitive and reasonable than PJ. She is attentive to the world around her and, at times, expresses more social anxiety about the school hierarchy than her friend. Still, she always ends up convinced by PJ's puzzling plans. Interracial relationships subconsciously manifest an unevenness in decision making. Seligman illustrates this with grace, as Josie's character becomes more confident and finally confronts PJ. They both learned lessons as the narrative comes to an end. However, only Josie finds herself loved back by Isabel. The director recognizes the humbleness and sensibility of this character, bringing good karma and confidence for her. Also, the fact that PJ doesn't end up with her crush, played by Kaia Gerber, resonates with stories from many queer teenagers who develop feelings for straight classmates. Gerber transforms the model out of duty persona in a hyperbole for this almost blunt character. The result is a bitter response to a shallow idea that a patriarchal media makes of models.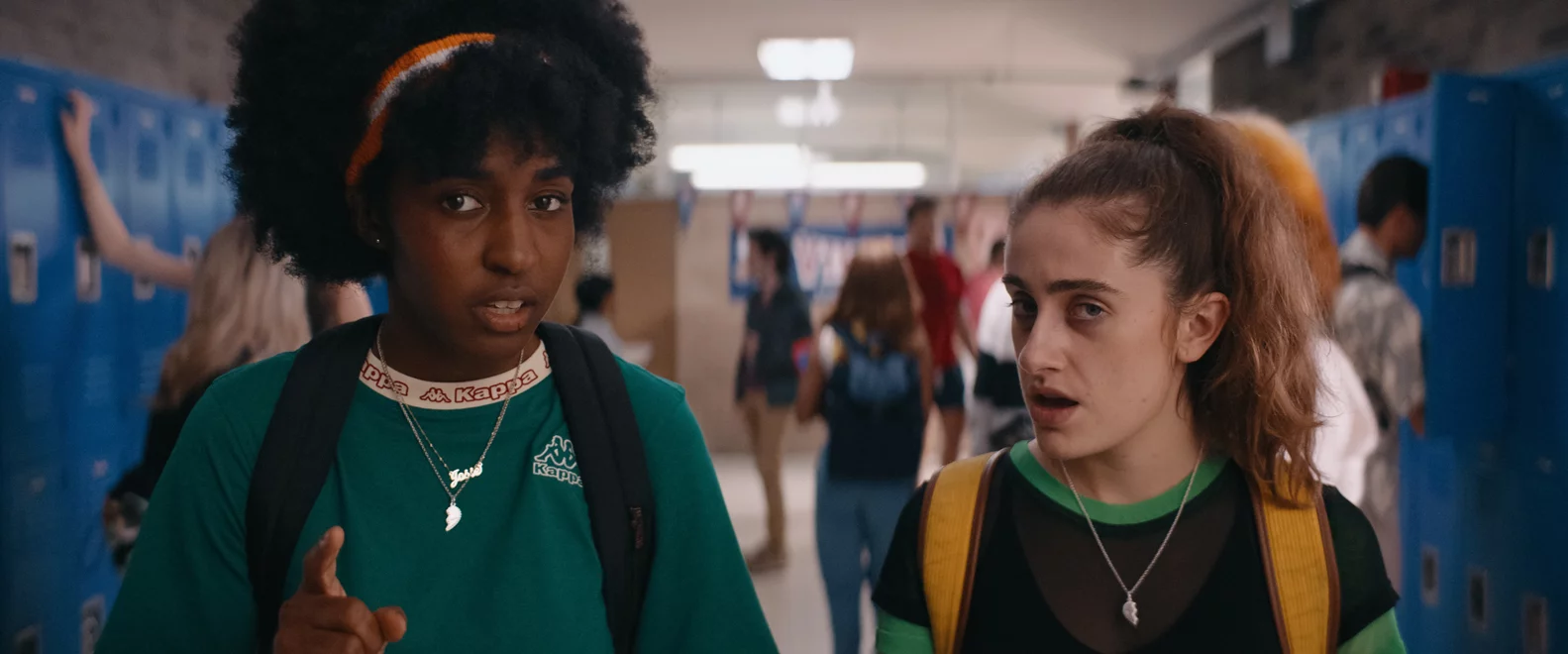 Bottoms is an experience of blood and colors. The universe is so solid that nobody questions the brutal and bloody confrontation leaving dead bodies during a high school football match. Only a twisted sense of humor would nominate a teacher that reads Playboy in the break as the inspector for a "supposedly" feminist club. The doors are open for the new generation of teenage films. We waited too long since Mean Girls (Waters and Mayron, 2004) and now we have perspectives that allow us to adapt previous narratives to the gen Z audiences. If it was bold to have the "too gay to function" Damian in 2004, it is absolutely common now to watch movies with queer protagonists, such as the Netflix teen black comedy Do Revenge (Robinson, 2022) and Bottoms. 
The queer presence is not discussable or questionable in contemporary pop culture. The queer character doesn't exist solely in a "christian gay cure concentration camp film" (sorry, it only works in But I'm a Cheerleader) or in French lesbian tragedies with a ten minute long male gaze sex scene that made the actors extremely uncomfortable. More than part of the cast, queerness now is part of a whole campy atmosphere in those films.  With that in mind, I want to mention John Waters, because he just got a star on the walk of fame. I am absolutely sure that the king of camp would enjoy watching Emma Seligman's film in the theater. So, that is my final argument. Go watch it, do it for all the cool lesbians out there.