Creative. Compassionate. Corinne Foxx.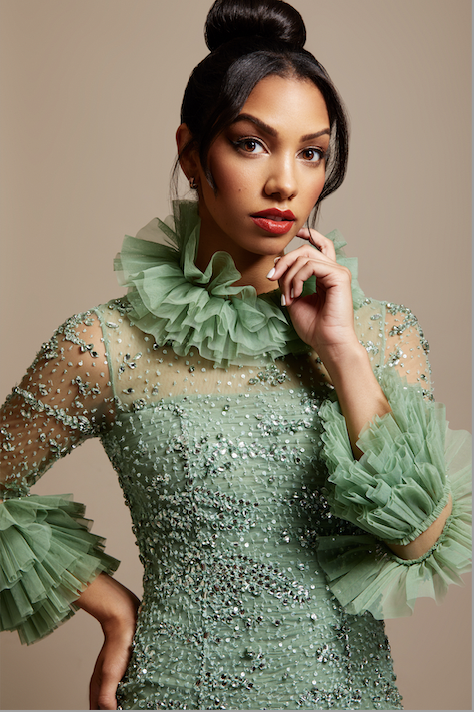 Corinne Foxx may be at the beginning of her career, but she is already wise beyond her years with the ability to inspire. Her optimism and introspective attitude are contagious as an actress, podcaster, and dreamer. She spoke with us about her versatile career and how they pair with her goals and aspirations.
What has your acting journey looked like up to this point?
I would say that I'm in the beginning phase of my acting career. I've had the opportunity to work on a few incredible projects, like 47 Meters Down, Live In Front of A Studio Audience, and now, Safety, but there's still so much more to come for me. Up to this point, I've been studying and growing as an artist and performer. Acting was something that I always wanted to do, but shied away from because I felt that it was expected of me. I wanted to make sure that I wanted to pursue acting as a profession for the right reasons, not just because it's the family business. I did a lot of introspection before deciding that acting was how I wanted to spend my livelihood.
Discuss your favorite memory from working on Safety.
It's difficult to choose just one memory from working on Safety. We were lucky enough to have the real Ray McElrathbey on set with us almost every day. One of the days, he brought his little brother and his mother to set as well. It was so surreal to have the real family that inspired this story, sitting on set with us and watching their lives be transformed for the screen. As an actor, I really understood the weight of the story we were telling and wanted to do their story justice.
What do you hope fans pull from Safety?
I hope that fans are reminded of the resilience we all have inside of us. Ray has to face incredibly difficult situations and hardships, but through resilience is able to overcome them. We are living in a difficult time. I think we all need to be reminded of our own resilience and ability to push through hard times.
You launched your podcast, Am I Doing This Right? in August. What has it been like making a podcast to help young adults during what is probably the most uncertain time in their lives?
My co-host (and best friend) and I are both twenty-somethings and realized there so much about "adulting" that we didn't know or understand. We figured other young adults must be asking the same questions that we were, like "How do I file my taxes" and "Should I live alone or with roommates?" As we were figuring out these questions for ourselves, we decided to share what we were learning with others. It feels great to share this knowledge with other young people. We get messages all the time about how we inspired someone to open up a credit card, go to therapy, or finally start saving for their future. Those messages from our listeners really propel us to want to continue podcasting.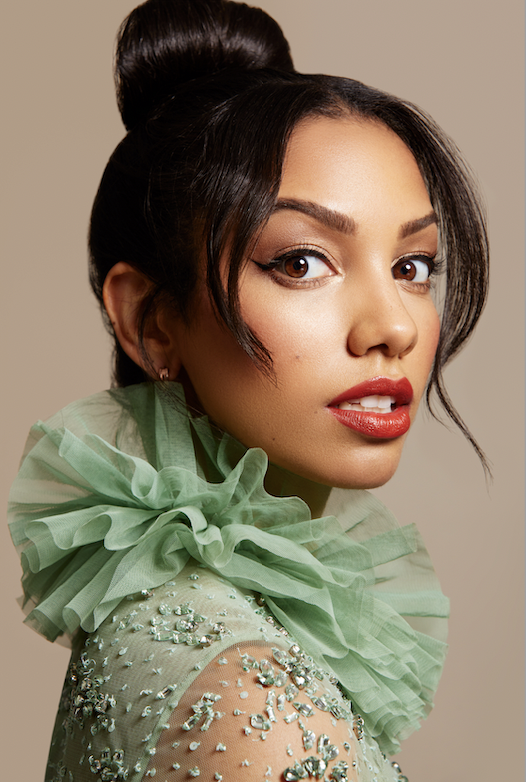 What's your go-to shower song?
I would say, Adorn by Miguel. He rifts at the end so it's the perfect song for those shower acoustics.
When you're not working, where would someone find you?
At a meditation class. Meditating is my favorite way to wind down at the end of a long work day. I'm pretty religious about meditating. Second to that, I'm probably at a dance class (pre-Covid of course). Dancing was my first love.
Who would you love to collaborate on a project with?
Probably Shonda Rhimes. I'm a writer as well and I would love to just soak up her genius, watch her do what she does best. She would be a dream collaborator.
Can you discuss some of the highlights of working with NAMI?
Sure! I've been working alongside NAMI for about four years now. I was diagnosed with an anxiety disorder at 14, so mental health and wellness is very close to my heart. As an ambassador for NAMI, I've been able to share my own story on so many platforms, hopefully encouraging others to ask for help when they need it. One of the highlights of working with NAMI was being able to lobby Congress for mental health reform. We went to Washington D.C and spoke with Senators and Congress members on how mental health needs to be prioritized the same way physical health is.
Are there any must-haves that have got you through quarantine?
I absolutely loved Queen's Gambit. I think Anya's performance was incredible, so I binged that pretty quickly. I was also so stoked that Taylor Swift put out two albums last year. I've been switching back and forth between Folklore and Evermore for the past couple of months.
What are you looking forward to in 2021?
I do think it will be sometime before things go back to "normal." But I have a trip to Japan planned for the end of next year that I'm keeping my hopes up for. I was supposed to take the trip in April of 2020, but had to put on hold. In terms of my projects, I'm going into the year feeling super creative. I'm excited to take all my ideas out of my head and make them a reality.
@VULKANmag
Talent CORINNE FOXX @corinnefoxx
Interview by ARIS PANGAN @arisjpangan