Inkover designer, Camillo Govoni made his SS20 Collection debut to a brimming crowd last night as the closing show at The Petersen Museum showcasing his streetwear designs on a diverse cast of models.
Govani explains that the tagline for the Inkover SS20 collection is "For many, but not for all," as the bold collection calls for those who wear it to embody coolness and confidence. Inkover was conceived from the passion that Govani has for tattoos, graffiti and sketch art, all of which utilize the creative process of ink transfer. Inkover's goal is to not just sell clothing, but to promote an idea of style and passion.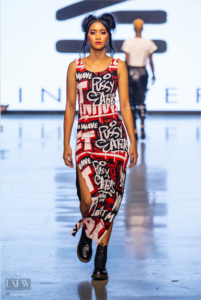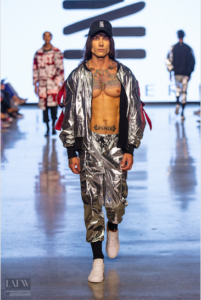 The SS20 collection draws inspiration from Japanese streetwear, blended with utilitarianism qualities of laminate and reflective mixed materials, making for a combination of streetwear, workwear and futurism. The designs are dominantly monochromatic, but broken up by pops of vivid red to create a striking contrast. Graffiti emblazoned oversized t-shirts, long line lightweight coats and joggers in unexpected textiles were strong themes on the runway. Many of the SS20 pieces are unisex and showcase flowing and oversized elements that are universally flattering.