Bevin Bru, who stars in the CW's "Batwoman," was so excited to play in the world of Gotham. Being part of a passionate and motivated team, there was never a dull moment on set! Inspired by the story and the stance it takes, the show truly highlights the power of women and takes on a stance for the LGBTQ community. Bevin Bru is talented, dedicated, and on her way to the top!
What was the best part of filming "Batwoman?" Do you have a favorite scene? 
There was so much I loved about filming Batwoman on and off camera. There are tons of "best parts". Here are just a few: Simply playing in the world of Gotham, incredible! The fact that the entire cast and crew were so talented and inspiring. From work ethic to independent projects, they were all writing, directing, producing, aiding non-profit organizations, the list goes on and on. Ultimately this speaks to how motivated everyone was that I had the pleasure to meet. Batwoman S2 will always hold a special part in my heart, as it was my first major recurring role in a TV series. My favorite scene, gosh there are so many, but definitely my stunt scene in episode 4. That was so much fun to film and when I watched the film project, I felt like such a badass!
Who did you connect with the most on set? How did working with the cast help you grow as an actress?
Some of the deepest relationships were formed while taking direction from and working with directors Menhaj Huda and Avi Youabian. Not only are they brilliant directors but they became dear friends to me since we were all staying in the same hotel. We became like a little family. Working with the cast on set has helped me grow as an actress. Of course, my time working with Javicia Leslie was monumental, she brought out only the best in me and taught me to trust my instincts. Just watching her on-set provided me such insight into what it takes to lead a role such as Batwoman.
What does this project mean to you personally? What do you hope the audience gets the most out of it?
Conceptually "Batwoman" spoke to me on several levels, especially the fact that they totally embraced a lesbian lead. In fact, I was raised by two powerful Cuban mothers in Miami Florida. It brings me such joy to see that strength portrayed on a network show! "Batwoman" is pushing the boundaries of what a superhero show can be and isn't afraid to touch on subjects that are controversial to the social conversations we are having in America right now. Having a lesbian Black Batwoman is groundbreaking! I hope the audience takes away how limitless we ALL are and how powerful we ALL can be.
How does this series help female empowerment in your own words? 
It gives all woman a superhero they can relate to who isn't flaunting their sex appeal, but instead are praised for their integrity, smarts, and resilience. We need more of that in the world!
Who are you outside of acting?
I'm a sassy little Cubana from Miami who loves to workout (I'm currently training for my first triathlon), spend time with my loved ones, create and tell interesting stories that are inspired by my personal experiences.
Share with us your journey up until now. What encounters have left a strong impact on you?
My journey has been a long one with many twists and turns, but ultimately my calling was to entertain. I vividly recall around 8 years old making that promise to myself. All these years later, I'm making my younger self proud! I am always impacted by the people I meet in real life, who have achieved their dreams with grace and integrity.
Being an active member of the LGBTQIA+ community, in what ways can people continue to help promote change?
To promote change we need to create a safe space for all. Find organizations that align with your values and donate so they may do the work needed on the largest scale possible. We need to keep sharing our stories through original content, books, podcast, etc., so we can educate non-members of the community and make the simple human connection. At the end of the day, we are all humans. We are made of the same material. We are all in this together.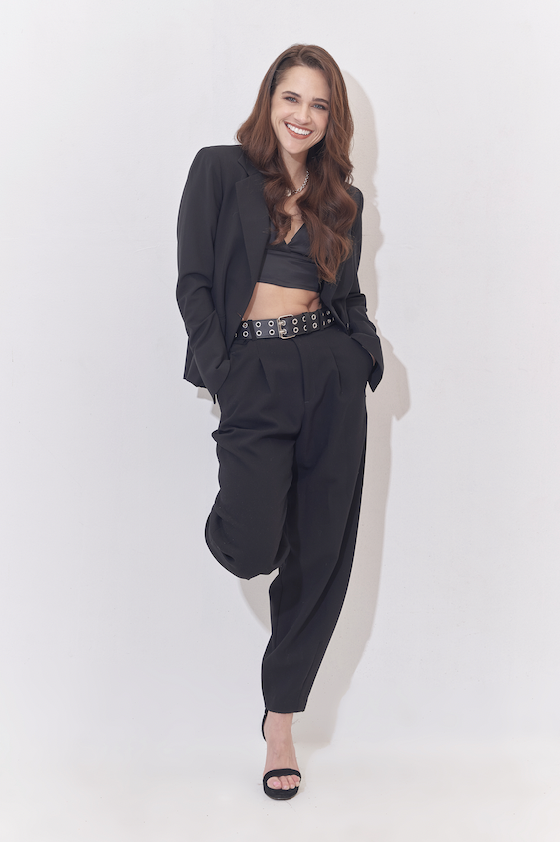 What does beauty mean to you?
To me, beauty is a reflection of the joy and fulfillment in your life. There is nothing more beautiful than a person at peace.
What comes next?
Aside from continuing to work on amazing shows and films, I'm really excited to produce my own works. I have so many concepts at different stages of completion. I can't wait to share them all with you!
@VULKANmag
Photography Bobby Quillard @bobbyquillard
Talent Bevin Bru @bevinbru
Interview Alexandra Bonnet @alexbonnetwrites