TIM ATLAS AND HONEYWHIP
SHARE THE MUSIC VIDEO FOR THEIR LATEST SINGLE
"PEACE AT LAST"
A USER-GENERATED COLLECTION OF CLIPS RESPONDING TO 2020
It's 2021. 2020 was "the year of disruption," a head-on confrontation with the climate crisis, and racial and social injustice amid a global pandemic. With the new year comes new hope.
Out today, Oakland-born, L.A.-based DIY writer/producer and multi-instrumentalist Tim Atlas and honeywhip, newcomer dream-pop indie duo that started in Tokyo share "Peace At Last," an upbeat, jangly song that reflects on the pandemic and protests but also celebrates diversity and the social movements spurred by an upending year. Of the song, Tim says, "we're all made up of a sum of experiences, and while those experiences shape who we are & how we perceive the world, it's a breath of fresh air when you feel like you have a chance to make some changes." Conceived, directed, and edited by Atlas, the official music video features user-generated video from friends and family expressing themselves to the song in response to different political, climate, social, and personal crises that have taken center stage after nearly a year in quarantine.
Watch The "Peace At Last" Official Music Video HERE:
In working with honeywhip, Atlas says, "I got together with honeywhip, and we got to talking about feeling like a shell of a person after a long tour. But when you finally get back home and you've taken several naps, and mental health days, you almost feel like you have a fresh start. That's how this last year has felt," says Tim.honeywhip adds, "it took a while to work on the song, virtually sending ideas back and forth. It honestly could've been lost in the shuffle since the world felt like it was falling apart. But things are feeling a little different now. Rebirth. Breaking things down to rebuild them again in a new light. There's always more work to do, but we have some hope again."

"Peace At Last" is available at all digital retailers here: https://timatlas.ffm.to/peaceatlast.
About Tim Atlas:
As a multi-faceted creative, Atlas is also a photographer, videographer, and graphic designer, Tim Atlas, known for his unique brand of downtempo R&B and Neo-soul akin to the sounds of Toro y Moi, Unknown Mortal Orchestra, and Rex Orange County initially made waves with his 2018 EP, All Talk! From there, Atlas went on to pick-up significant support among radio tastemakers including Zane Lowe on Beats 1, Arielle Free Radio One, and publications such as Paste, Complex, Under the Radar, Clash, EARMIK, Line of Best Fit, OnestoWatch, and many more.  After amassing over 40 million streams and love from Spotify, Apple Music, and more, Atlas embarked on a global tour marking key shows in London, New York, and Los Angeles, supporting The Magic City Hippies and Gold Room, debuting his first festival appearances at The Great Escape Festival in UK and Noise Pop in San Francisco. Tim Atlas is currently in the studio recording his forthcoming new EP to be released on Nettwerk Records in 2021. Check out previously released singles "Cold Shoulder" and "Wallflower."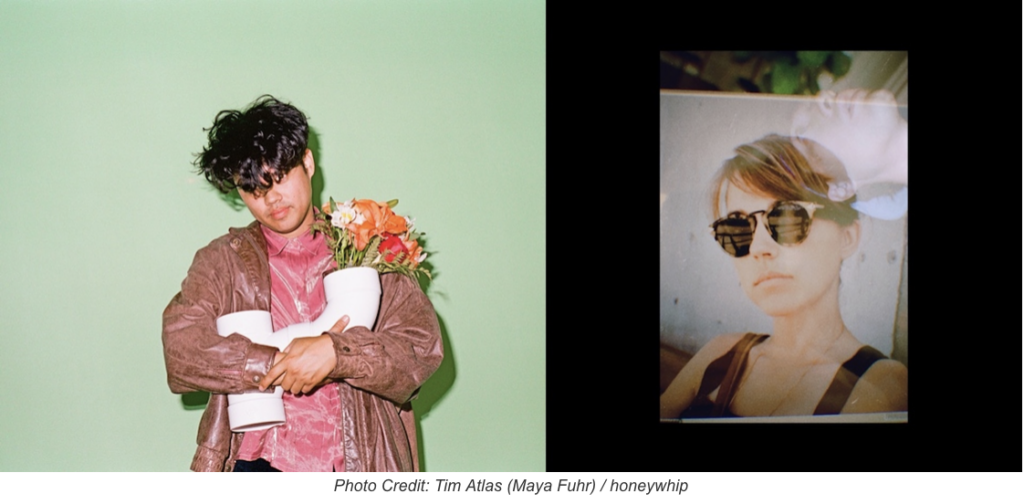 About honeywhip:
honeywhip is a duo, formed in Tokyo and currently based in Los Angeles. the project came out of a period of some culture shock and at times, deep isolation, but also a time where we were feeling intensely creative and inspired. the walls in our apartment in Shibuya were paper-thin, and we were afraid of being evicted, so we did all our early demos on headphones with whispered vocals. when our visas ran out we left Japan and ended up in LA, where we set about finishing all the songs we had written. we record, mix and master everything at home, and released our first song in 2020.
Website | Instagram | Twitter | Facebook | Spotify | YouTube