For modern wardrobe…
ANINE BING, fashion designer, former model and mom. In 2012, she created her brand through Instagram at her company's headquarters in Downtown, Los Angeles. 
In less than a decade, the fashion-influencer-turned-designer has amassed more than 791 K followers on Instagram. Inspired by the fusion of Scandinavian heritage and American spirit, Anine Bing offers luxurious staples, wardrobe basics and statement pieces that are current and timeless. The collection for women presents shoes, clothes, lingerie, jewelry and accessories. Every month, the talented designer creates new products where edgy, feminine, and unique.
Being the excellent ambassador that she is, she promotes her brand and also happened to have been a model at some point. Matched with her experience, she also has other talented models who love and promote her work such as Gigi Hadid and Kendall Jenner.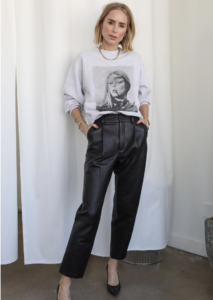 In 2014, Anine Bing opened her first store in Los Angeles, which then began to operate on a "see now, buy now" approach. The store is located in West Hollywood which is an amazing and vibrant location. The brand is sold in more than 300 boutiques worldwide. ANINE BING stores can be found in Los Angeles, New York, Paris, London, Barcelona, Madrid, Berlin, and more.  
Anine Bing: Where Fashion is Made Easy
Address : 8128 W 3rd St, Los Angeles, CA 90048
By Justine Duclaux
Photo : Website + Instagram