As we are still patiently awaiting for a reduction toward the many quarantine restrictions set within our communities, many people have turned to creative ways to stay productive, active, healthy, and entertained.
If you find yourself in need of assistance in any of those categories, no worries, we have you covered.
Open your phone (or computer), log into Weedmaps (or whatever cannabis distributor of your choice) and type into the search bar, Platinum Vape. What happens next is completely up to you, but take note of their selection of high quality and premium cannabis products, including their well sought out, Gummy Coins and Chocolate Bars.
Platinum's cannabis-infused gummy coins come in a variety of flavors including: Watermelon, Fruit Punch, Blue Raspberry, Green Apple Lime, Birthday Cake, as well as Banana Cream Pie. In addition to these wonderful flavors, each 100mg pack contains ten 10mg gummy coins that deliver a powerful and potent punch.
And if chocolate is more of your style, Platinum's selection of 100mg chocolate bars are the perfect microdosed treat, due to its 5mg perforated squares. The tasty chocolate bars have flavors that include: Sea Salt and Dark Chocolate, Raspberry Lemon Crunch, Thai Coffee Crunch, Milk Chocolate Caramel, and finally a delicious Cookies 'n Cream.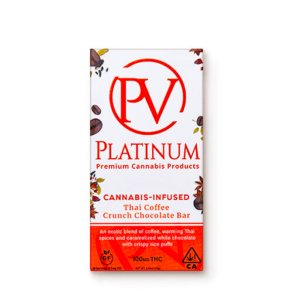 Platinum's Gummy Coins and Chocolate Bars retail for $16-20, and are available for purchase at participating dispensaries.
Photo: Platinum Vape
By Matt Koger