Fresh out the vault today is Joey Traps brand new album, A Playlist For The End Of The World, (via PIVTL Projects)—and with a collection of 23 high performing songs, Trap's album is sure to boost up your Friday or weekend.
Channeling the distinctive energy that put Joey on the map, A Playlist For The End Of The World is a natural evolution of his musical ability, thoughtfully curated and meticulously produced to resonate with his fans:
"This music is not to distract people from what's going on, but instead to aid them [with] a soundtrack [for] battle," Joey says, "[These are] memories we will never forget! 2020 is a time for a change."
With a following of over 224K followers on Instagram, and over a million monthly listeners on Spotify, Joey Trap has earned his title as one of rap's most prolific visionaries. His music is widely celebrated for its distinctive blend of range and style, with recent releases Wild West and STFU showcasing his genre-defying sound.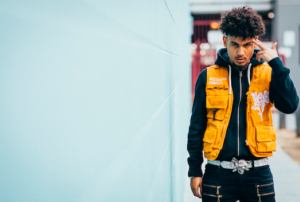 About Joey Trap:
Born in New York to Puerto Rican and African American heritage, Joey Trap (Take Risks and Prosper) is a promising young talent in rap whose sound is influenced by genre-defying artists such as Tyler, the Creator, XXXTentacion, Travis Scott and Young Thug. After moving from Harlem to San Diego at the age of 15, Joey became attracted to rap to escape the drug-dealing lifestyle he had become accustomed to. Realizing he had a knack for the art, he began producing, writing, and mixing his own raps with his closest friends. By 17, Joey publicly released a pair of catchy, breakout records, "Sesame Street" and "I Got Top In Bikini Bottom," along with several EPs that would garner the attention of Asylum Records. 
Still in 2020, Joey continues to offer infectious tracks—his latest 8-track project Wild West, aided solely by Mikey100k, showcases the range of Joey's addictive, bouncy sound and unique skill to manipulate his voice. Ahead of two new projects anticipated for 2020, Joey Trap's music shows promise to become increasingly vulnerable, anthemic, and urgent.
Stream Joey Trap's latest album, A Playlist For The End of the World below.
Photo: Joey Trap
By Matt Koger