Mike Morris had a dream, saw an opportunity, and seized it. Having started his career in the fashion world working with Lil Wayne on his Trukfit apparel, Morris had the opportunity to learn the works of the business and more. From that experience, the talented stylist went on to launch his own brand CWBY Studios, aka, "Cowboy Studios." Mike Morris has taken the next step and is climbing up to success!
Share with us how you have grown since you first started working with Lil Wayne on his Trukfit apparel. What lessons did you learn throughout that experience?
I've grown in so many ways since working on the TRUKFIT brand! I've learned how to balance working with investors, talent, and management team in a collective environment, all while being able to manage everyone's expectations. I feel like this experience was invaluable, and has provided insight on the brands internal culture, its importance, and the dynamics it had on the operation!
I've learned a lot about production, while understanding how retail operates in the space, specifically "charge backs". I also learned the importance of customer experiences, influencer marketing, product placement, all while being effective at overseeing the team. As an Independent designer now, I've learned how to design clothes, develop my own internal language, make patterns from sketches, and understand how to convert concept, fit and construction to a sellable product.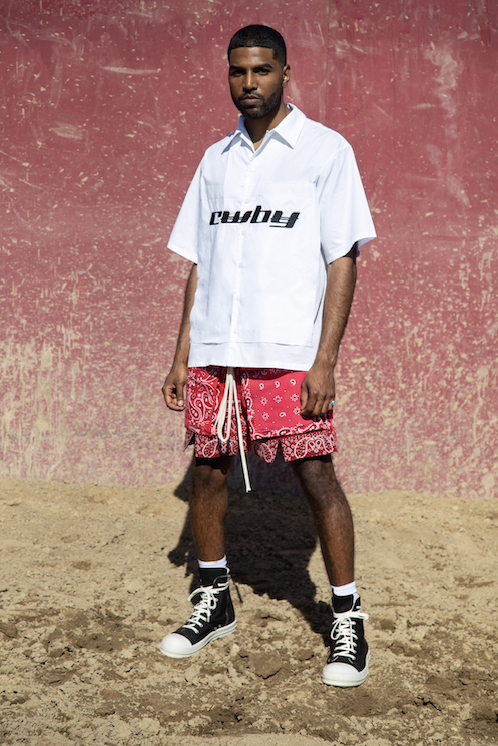 Describe to us your first day as a stylist. What was it for? What were you feeling? In what ways did you know this was what you were meant to do at the time?
My first day as a stylist was exciting! I must say, the opportunity to shop for an icon was a bit overwhelming and intense. I believe we were working on a music video at the time! I received a call from Marisa Flores (Wayne's Day to Day Stylist) who gave me the shot; she was instrumental in giving Wayne his unique look. My contribution varied each gig; because the team was relatively small; it afforded me the opportunity to do it all! What I like most about the job was thrifting for vintage tees, all while prematurely being exposed to pulling new products from brands like Gucci, Balenciaga, and Prada. Styling really helped me cultivate my own relationships; it also helped me understand construction better.
If you could go back in time to that moment, what advice would you give yourself? 
I would advise my younger self to be a student of the game; absorb as much as possible; In the moment of adversity, things may not make sense; eventually that teachable moment will resurface by way of an opportunity, which will reveal why that very moment was necessary.
During your transitional period between Trukfit and CWBY Studios, what did your average day look like? How did you find balance within yourself and the world around you? 
17 hour days; 5:00 AM calls, Non-Stop Hustling!! Each day varied, and still varies! The balance thing for me is something I'm still learning; I'm a novice on this subject! I'd say this…It wasn't until Covid-19 hit the US, where I actually had no choice but to confront the work, life balance thing; Because this field is so competitive, I find it hard to take it easy.
Tell us more about where CWBY Studios came from. What inspired you? What pushed you to actually create the brand? 
The name Cwby Studios is abbreviated for "COWBOY STUDIOS"; the name came about when attending College. I played drums in the band at Jackson State University; As a freshman in the band, I inherited the name Cowboy. While attending school in the south, I would wear all types of clothes, from Marc Bucanan leather jackets, Ralph Lauren flannels, and sweaters, to timberlands; and white-tees; I had in some ways lived up to the persona of a Cowboy, but I did it my way! When I transitioned into the Music space, the name Cowboy followed. In fact most people today don't know my government name. It's pretty funny!
Life experiences inspired me; I've had an opportunity to live in 10 different cities, and 6 States; in between living in multiple cities, I did a lot of traveling. I was also exposed to alot very young, most of which began when I decided to leave my parents house during high school. I worked 2 jobs to pay bills, buy clothes and sneakers! I was a walking billboard for Ralph Lauren for the most part. People would always ask where I would get my clothes from; I knew then, that If I could influence people with my selection of clothes, that I could do the same, if I created them.
What relationship do you have with fashion? How has it helped you in life?

Being a consumer of Fashion; As a kid I would hustle to buy all my clothes, and shoes. Since then, and 10 years later, I've accumulated 2 storage units of archive clothes and sneakers. I believe this is what helped me develop an eye for fashion; and has also helped me decide what direction I wanted to take in life.
Explain to us what you hope your customers will feel when wearing a piece from your brand. What is its mission/purpose?
Well made, quality constructed, and deconstructed clothes! This is extremely important to me. We also want our customers to feel unique, and distinguished when they're wearing our product. If our customers aren't inundated with questions about the garment they're wearing, then as a company we didn't do our job. Our mission is to influence the confident, and storytell each collection; These narratives will range from life experiences and music, to various youth subcultures, military, and western culture; Customers should expect these presentations in the form of art and some architectural aesthetics.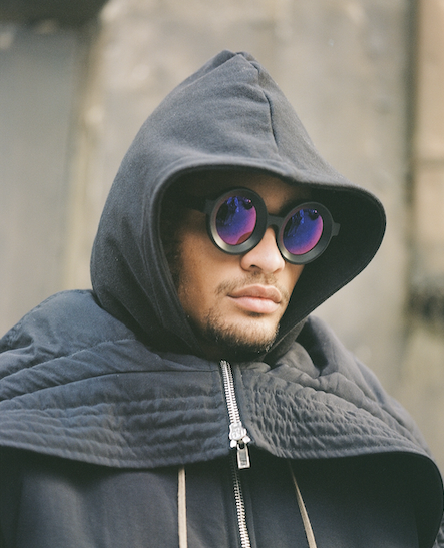 If you could describe your brand in one song, what would you pick and why? 
Off top, I can't think of any one song to describe the brand in its entirety; but if I were to pick a few artists both present and past, whose style speaks to me as a creative, it would be ASAP ROCKY, KANYE WEST and LOU REED OF THE VELVET UNDERGROUND. Rocky style is always unpredictable, multi-layered, and eccentric. The same is true for Kanye West! However, his colour palettes tend to favor neutral colours. Kanye is never afraid to make bold moves within the framework of fashion. He really gets it, and translates into the product he often creates. What I like most about LOU REED style is his rockstar aesthetic. Lou brings the energy for me; He's always worn tailored fitted clothes. If I were to take these 3 guys and combine there style into a title of a song it would be:  "FAR OUT"
Growing up, what was your family dynamic like? How did it help shape who you are today? 
I grew up in a big family on the Westside of Detroit, MI. My parents had 8 kids…lol. That's right "7 boys, and 1 girl". I had the pleasure of being the oldest; it came with great responsibility. My Mom and Grandmother held down the fort, while my Dad traveled to pay bills; They worked together like a refined machine; During my adolescence years, I'd watch my grandmother sew, and knit clothes by hand! As I got older my mom would travel with my Dad, leaving me in charge to keep things in line. Much of my interest for fashion developed then; I would sneak into my dad's closet to see what I could wear for the day. lol My Dad was a chameleon dresser, he had some dope pieces, anything from vintage Starter jackets, crazy Ralph Lauren sweaters, to a ton of Armani Suits could be found in the vault. I noticed that when my Dad came in and out of town, his closet would expand, making me one of the meanest dressers on the block. lol Long story, but I attribute my love for clothes through the influences of my Grandmother and Father!
Tell us more about what 2021 will look like for you and your brand. 
Our 2021 strategy will be to provide more essential ready to wear garments! We've noticed some trends in the consumer behavior area relative to consumption, and based on our market studies, our target audience are trending more to leisurewear, and graphic tees. We want to introduce a product in these categories in the way that CWBY STUDIOS does it, so stay tuned!
@Vulkanmag
Interviewee Mike Morris @morrism01
Interview by Alexandra Bonnet @alexbonnetwrites
CWBY Studios @cwby_studios