By Matt Koger
From skateboarding for fun, to skating in 2018's critically acclaimed film Skate Kitchen, and now HBO's BETTY—skateboarder, actor, and artist Alexander Cooper is here to show that with a little bit of patience, you can succeed at whatever you put your mind to. While still only in his twenties, Cooper managed to blend his passion for skateboarding and acting into an opportunity that landed him a role on both SkateKitchen, as well as HBO's BETTY as Charlie.But skateboarding and acting aren't the only talents Cooper possesses; he also is an extremely passionate artist and makes really vibey psychedelic music.
What first interested you in skateboarding?
Skateboarding has been a part of my life since I was a kid, I always played the Tony Hawk games and my mom bought me a Wal-Mart skateboard once. Then I moved to New York in 2007 and started Skating in 2009 heavily, always for the fun and freedom!
Did you ever think skateboarding would provide you with all the wonderful opportunities it has so far?
Never, I had no idea. I only ever wanted to be a part of skateboarding forever and now I'm in a movie that may be timeless. I'm Grateful and now know the power of manifesting and creating your reality.
Has it always been a goal of yours to blend skateboarding with your business and creative endeavors? Was acting always something you wanted to do?
When I was younger I didn't want to do anything else, Because I thought that you could only have one craft and that you needed to be born into acting or music. I have dreamed about those things, but I didn't believe them or myself. Now my mindset is different!
Let's talk about your work on 'Skate Kitchen' and 'Betty', how surreal was it to shoot such a large production in basically your own backyard?
Beautiful; literally a once in a lifetime feeling because things will never be the same. The whole set felt like one big family. During Skate Kitchen I was involved in casting, being a personal assistant to Crystal, and I even helped with the script because they liked my New York slang; Jaden had his west coast vibes. We had prank wars and food fights, late-night strolls after 10 hour shooting days, and all types of things. I could go on forever! Betty was also very fun, this set was a little more professional so things were very different; lots of love from the cast and other actors. Always a good time.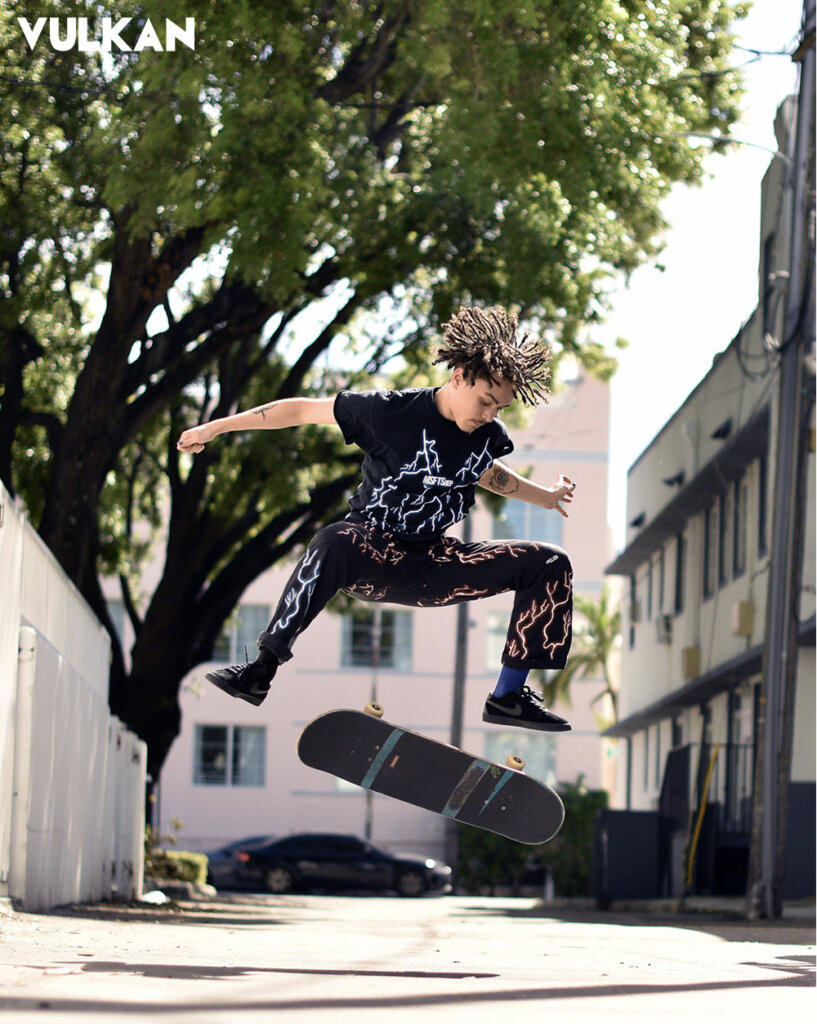 What has working on projects such as these, taught you about yourself, or perhaps inspired you to do?
I have learned a lot, be it in acting as well as in life. Lessons and blessings everywhere. I now see the unlimited potential we have as beings here, everything takes time and you need patients, also just have fun don't stress about it too much, that will slow your progress down. I will inspire the world through my crafts.
Skateboarding embraces creativity, freedom, and just being you—how has that spilled over into your overall sense of wellbeing? Would you say being a skateboarder defines who you are, or adds to who you are?

YES! Skateboarding is why and how I am the way I am; it has taught me so many lessons about life, such as patience, dedication, and drive. Trying a trick over and over and over getting hurt, sweating, bleeding, and usually getting talked down on by teachers and parents. So I stayed dedicated, I didn't listen to the no no no; yes it would be cool to be pro but it was never for that. It makes me feel good and free, like a form of meditation. Also so many cool people from all types of different places, various types of energy, love, rage, and all those in between. Skateboarding is a form of expression.
New York has always been home to some of the most talented and diverse creatives—what has growing up in New York done for your own goals and ambitions?
New York has given me strength and confidence. It was the main reason why I was able to skate and meet all of these amazing people. They say "If you can survive in New York you can survive anywhere." They weren't wrong. Also, the scenery is one of a kind, very grateful to have lived there for 10 years.

Speaking of goals and ambitions, can you tell us a little bit about your new brand?
Yes! I have a brand that I am working on with my friend called Coincidence. We believe everything happens for a reason, so we are going to put messages on our clothes, in our music, and in our way of life. I am also working on ACAI personally with music, clothing, and who I am. Always Create And Inspire.
Has the quarantine helped your creative process? Have you started any new hobbies or improved on any old talents?
Yes! The quarantine has helped my music. I have been able to lock in, freestyle, write, and actually make music. Also working on my clothing designs. I have been alone most of the quarantine learning about my creative arts and financial work.
What's a typical day like for you? (pre-quarantine and while currently in quarantine)

My days are always random, but I do have a small routine. For the most part, I live day by day. I wake up at 6 am for the stock market, then I work out or do yoga for a bit, shower, then either work on my skating, music, or acting. It all depends on the day, how I feel, and what I want to focus on the most at the moment. Quarantine or not it's all the same for me.
Can we expect to see some future music releases from you?
Yes, of course, lots of projects coming soon. I am working on an album right now, which should be released before the year ends. I also have songs on Soundcloud and I have videos on YouTube that you can watch and listen to in the meantime. Love.