This week Canada Goose announced internationally renowned supermodel, actress and activist, Kate Upton, as a 'Goose Person'. Goose People are a diverse group of brand ambassadors who embody the company's values, stand for something bigger than themselves and inspire others through their pursuit of greatness.
Upton was first introduced to the performance luxury brand back in 2013 when she modeled a popular Goose Bomber for a Sports Illustrated photoshoot. Ever since then she's been a friend of the brand, promoting Canada Goose both professionally and personally. In 2018, Upton became an ambassador for Polar Bears International, an organization that works alongside Canada Goose. A champion for women and a passionate advocate for polar bears, Upton will join the brand in empowering people to take action in environmental conservation.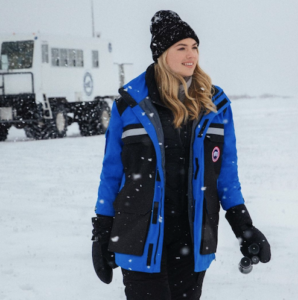 "I first discovered Canada Goose when I was in Antarctica and temperatures were as low as -20°F… that jacket kept me from freezing! I've used their products from the most extreme cold temperatures to rainy downpours and their quality is second-to-none," said Upton. "After being a long-time fan, I'm proud to officially partner together and to support the incredible work they do for the environment. I've learned that what's happening in the Arctic, doesn't stay in the Arctic – and Canada Goose is a company that is making a difference."
Upton is the face of the brand's Spring 2020 Campaign, which includes a seasonal expansion of the Polar Bears International collection. "Kate is a progressive thinker, a role model, and a passionate advocate who has a positive influence on the world. We admire and are inspired by her focus on making this a better place for future generations," said Dani Reiss, Canada Goose President & CEO. "As an authentic and driven entrepreneur who inspires those around her, Kate naturally exudes our brand values, and we are thrilled to have her represent this important collection."
The Canada Goose Polar Bears International collection is available now in Canada Goose stores around the world and online at canadagoose.com.
By Rachel Hallett
Photo Credit Canada Goose